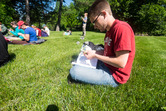 Recent Publications
Edwards, KF, Thomas, MK, Klausmeier, CA, Litchman, E. Light and growth in marine phytoplankton: allometric, taxonomic, and environmental variation. Limnology and Oceanography Volume: 60 Issue: 2 Pages: 540-552 Published: MAR 2015
Geddes, P. Experimental evidence that subsidy quality affects the temporal variability of recipient zooplankton communities. Aquatic Sciences. Vol 77(4) Pages: 609-621 Published: OCT 2015
Grman, E, Bassett, T, Zirbel, CR, Brudvig, LA. Dispersal and establishment filters influence the assembly of restored prairie plant communities. Restoration Ecology Volume: 23 Issue: 6 Pages: 892-899 Published: NOV 2015
Kinsman-Costello, LE, O'Brien, JM, Hamilton, SK. 2015. Natural stressors in uncontaminated sediments of shallow freshwaters: The prevalence of sulfide, ammonia, and reduced iron. Environmental toxicology and Chemistry 34(3):467-479 Published: MAR 2015
Litchman, E, Pinto, PD, Edwards, KF, Klausmeier, CA, Kremer, CT, Thomas, MK. Global biogeochemical impacts of phytoplankton: a trait-based perspective. Journal of Ecology Volume: 103 Issue: 6 Pages: 1384-1396 Published: NOV 2015
Rocca, JD, Hall, EK, Lennon, JT, Evans, SE, Waldrop, MP, Cotner, JB, Nemergut, DR, Graham, EB, Wallenstein, MD. Relationships between protein-encoding gene abundance and corresponding process are commonly assumed yet rarely observed. ISME Journal Volume: 9 Issue: 8 Pages: 1693-1699 Published: AUG 2015
Tenhumberg, B, Suwa, T, Tyre, AJ, Russell, FL, Louda, SM.
Integral projection models show exotic thistle is more limited than native thistle by ambient competition and herbivory. Ecoshpere. Vol.6(4) Article Number: 69 Published: APR 2015
Weese, DJ, Heath, KD, Dentinger, BTM, Lau, JA. Long-term nitrogen addition causes the evolution of less-cooperative mutualists. Evolution Volume: 69 Issue: 3 Pages: 631-642 Published: MAR 2015
Zhao, ZG, Liu, ZJ, Conner, JK. Plasticity of floral sex allocation within inflorescences of hermaphrodite Aconitum gymnandrum. Journal of Plant Ecology Vol. 8(2) Special Issue: SI Pages: 130-135 Published: APR 2015
Find additional publications on our website.