Aquatic Ecology Student Twardlocheb Funded by NASA
When most people think of NASA, they might think of astronauts on the International Space Station, a rover on Mars, or stars a million light years away – not necessarily freshwater insects in ponds at KBS!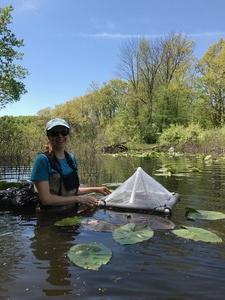 Aquatic ecology Ph.D. student Laura Twardochleb was recently awarded NASA's Earth and Space Science Fellowship, renewable for up to three years, to study freshwater biodiversity.

Her research could benefit the future of conservation and biodiversity planning in the face of climate and land use change. Her Fellowship will give her access to NASA satellite data, as well as support her research.

"If we can get a better idea of the diversity of freshwater insects, especially the insects that are most sensitive to pollution, across the US, then we'll have a better idea how urban development and agriculture across the whole US is influencing these insects and water quality, and potentially fish, as well," said Twardochleb.

Twardochleb is a graduate student in the Department of Fisheries and Wildlife in MSU's College of Natural Resources, advised by Phoebe Zarnetske. She has worked in Gary Mittelbach's lab at KBS for the past two summers, and Chris Klausmeier mentors her on her committee.

To read the full story, visit the KBS blog.

---
Learn about Windmills & Eat a Fine Farm-to-Table Meal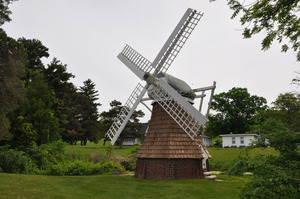 Did you know that there are two original Dutch windmills in Michigan? One of them is at KBS!

Learn from author and historian Alisa Crawford about the history of our windmill, and enjoy a delicious farm-to-table dinner at the Manor House on August 10.

The Windmill Walk and Talk Dinner will take place from 6:30 - 9:30 p.m. and will feature locally sourced farm fresh food. Be sure to make your reservation online soon, as space is limited! Register no later than August 2. To learn more, call 269-671-2400 or email the Conference Center.

---
Learn Together at Family Fishing Day at the Sanctuary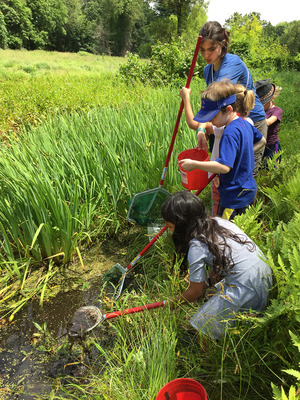 Fishing is a special pastime that brings many families together. For the first time ever, the Bird Sanctuary is offering families the chance to fish together at Wintergreen Lake and learn from a KBS faculty member!

On July 14 from 9 a.m. to 2:30 p.m., assistant professor Sarah Fitzpatrick will be leading a Family Fishing Day and teaching children and adults about food webs. Participants will go fishing and learn what eats what, discovering how energy moves through the environment. Lunch will be provided.

Advance registration is required. For members, the cost is $50 for one adult and one child, and $15 for each additional child. For non-members, the price is $60 for one adult and one child, and $20 for each additional child. The cost of admission covers lunch and all fishing supplies, including fishing rods and bait. To learn more, call 269-671-2510.

---
For More Information
KBS Community Relations

: (269) 671-2015
communityrelations@kbs.msu.edu


KBS Conference Center

: (269) 671-2400
conference@kbs.msu.edu


W.K. Kellogg Bird Sanctuary

: (269) 671-2510
birdsanctuary@kbs.msu.edu


W.K. Kellogg Experimental Forest

: (269) 731-4597
kelloggforest@kbs.msu.edu


W.K. Kellogg Farm

: (269) 671-2402
kelloggfarm@kbs.msu.edu


W.K. Kellogg Manor House

: (269) 671-2160
manorhouse@kbs.msu.edu