Dessert with Discussion focuses on urban sustainability

Join KBS on Thursday, October 22 at 6:30 p.m. in welcoming Dr. Rick Foster, Michigan State University Professor in Food, Society and Sustainability. Dr. Foster's free talk, titled "Urban Sustainability: Lessons from Michigan" will share examples of urban agriculture in some of Michigan's largest cities.

By 2050, we expect that there will be 9.5 billion people on earth, 70% of which will live in urban areas. To sustain this population, we need to make drastic changes to our consumption and production of food, water and energy, and create solutions for our cities. Learn about the extraordinary impact of urban sustainability and food production efforts of MSU faculty in Detroit and Kalamazoo.

Doors open at 6:00 p.m. and the talk begins at 6:30. Enjoy coffee, tea and delicious locally sourced desserts, provided free of charge by the W.K. Kellogg Biological Station Conference Center. A cash bar featuring house wines and Michigan craft beer will be open at 6:00 p.m.

This free community event is presented through KBS's signature Dessert with Discussion lecture series and is sponsored in part by MSU's Center for Regional Food Systems. Before and after the talk, visit exhibitors including Sprout Urban Farms, Food Bank of South Central Michigan, International Food Protection Training Institute, and Kalamazoo Valley Community College Sustainable Culinary Arts & Sustainable Food Systems Program.

The event is free, but registration is required by visiting bit.ly//DwDOct2015 or calling (269)671-2015.
---
KBS celebrates volunteers' contributions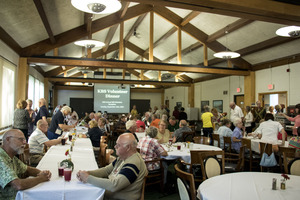 On September 15, KBS held its annual volunteer reception in McCrary Hall. Volunteers were treated to a delicious autumn dinner and enjoyed presentations from KBS's volunteer mentors, and Misty Klotz, KBS Volunteer Coordinator. Dr. Jennifer Lau also shared exciting news about the Prairie Restoration Project and the project's need for volunteers in a Citizen Scientists capacity.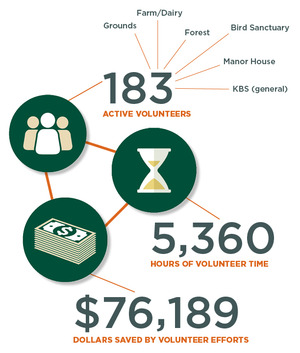 This year, we celebrated 183 active volunteers, who gave 5,360 hours of their time. Our volunteers served at the Bird Sanctuary, Farm, Forest, Grounds, and Manor House. Overall, volunteers saved KBS $76,189 through their efforts.

"What the volunteers do is really invaluable," said Misty Klotz. "We try to put dollar signs on what they do just so that they can know the impact of their assistance, but really, there is so much that happens at KBS that would not be possible if it were not for them."

The volunteer program coordinates volunteeers who share their individual skills and enthusiasm with KBS staff, students and faculty to assist in achieving goals related to natural resources and environmental quality. KBS offers a variety of opportunities to volunteer, and we are tremendously grateful for every hour volunteers invest in our mission. For more information about volunteering at KBS, contact Misty Klotz.

---
Grant to help increase biofuel yield while limiting fertilizer use
Michigan State University has netted a $5 million grant from the U.S. Department of Energy to better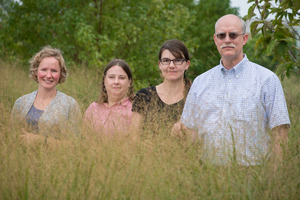 understand how biofuel crops acquire nitrogen. Insights from this study could help maximize yields while minimizing fertilizer use.

Sarah Evans, an integrative biologist at MSU's Kellogg Biological Station, and a team of MSU colleagues will study how plants interact with microbes living near their roots to obtain nutrients, especially biofuel crops growing in abandoned farmlands or marginal lands. Read more at MSU Today.
---
For More Information
Community Relations

: (269) 671-2015
communityrelations@kbs.msu.edu
KBS Conference Center

: (269) 671-2400
conference@kbs.msu.edu


Kellogg Bird Sanctuary

: (269) 671-2510
birdsanctuary@kbs.msu.edu
W.K. Kellogg Experimental Forest

: (269) 731-4597
kelloggforest@kbs.msu.edu
Kellogg Farm

: (269) 671-2402
kelloggfarm@kbs.msu.edu


W.K. Kellogg Manor House

: (269) 671-2160
manorhouse@kbs.msu.edu