Teachers Study Ecology at K-12 Partnership Workshop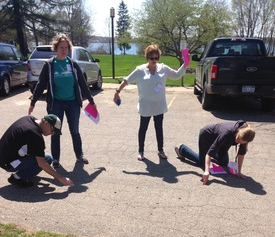 Grass-fed cars, electric fish, and marbles, anyone? Using those tools, on April 18, local K-12 teachers came to KBS for a day of professional development (PD) and learned about ecology and evolution education. Teachers participated from 16 districts, including Battle Creek Public, Comstock, and Gull Lake.
The K-12 Partnership Spring Workshop is an opportunity for teachers to get up close and personal with science in a real and accessible way. According to KBS Science Education Fellow Heather Kittredge, "Workshop sessions always introduce a hands-on activity involving data collection and analysis, which is important in helping students understand the scientific process and that scientific conclusions are data-driven inferences."

The workshop featured sessions designed for middle and high school teachers, as well as for elementary school teachers, with demonstrations of activities that teachers could bring to their classrooms. Participants also enjoyed a presentation from Kay Holekamp about her research on hyenas, which was a unique opportunity to learn directly from a scientist.

To read the full story about the Spring Workshop, visit the KBS Blog. To learn more about the KBS K-12 Partnership, visit the KBS Website.
---
Pollinator Garden Expands at the Bird Sanctuary

If you've visited the Bird Sanctuary in the past six months, you might have noticed that things are looking a little different! The expanse of juniper bushes that were at the entrance have been removed so that the native pollinator garden can expand beyond its former boundaries.

"The garden is designed to be a space where we can educate people about the benefits and beauty of plants that are native to southwest Michigan," said Kimberly Ginn, the Sanctuary's Resource Center Coordinator and primary manager of the garden. The expansion of the garden will feature new bushes and grasses, as well as more of the flowering plants found in the existing garden.

Ginn hopes that visitors are able to see the clear correlation between pollinators and native plants in the garden, which are more hospitable for pollinators than non-native varieties. Visitors will be able to see the benefits of native plants through interpretive signs created by volunteer Mary Robertson, and hopefully choose to include these plants in their own gardens.

Ginn, who was a dedicated community volunteer for 12 years prior to being hired as a staff member in 2013, says that volunteers have and will continue to play a very imporant role in the garden's ongoing success. Volunteers help with planting, weeding and watering, because even though native plants require lower maintenance in the long run, their care is critical in the first-year establishment of new plants.

Garden volunteer orientations take place this week at the Bird Sanctuary, with regular Thursday morning group work sessions from 10 a.m. to non beginning May 4. Volunteers can also sign up for times to work in the garden individually. To learn more about the pollinator garden, or about volunteering at the Bird Sanctuary, call (269)671-2510.

---
TechGyrls Experience Science in Many Forms at KBS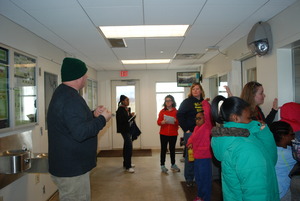 The Kalamazoo YWCA program TechGyrls came to visit KBS on April 2-3 to learn about technological advancements that make ecology and evolution research possible at KBS. This program aims to develop interest and skills in STEM (Science, Technology, Engineering & Mathmatics) fields for girls and young women.

They brought 15 girls ages 9-10 to explore the robotic milking facility (pictured above right), tour the science labs, and walk the Bird Sanctuary's trails. The TechGyrls enjoyed building underwater robots with MSU extension agent Tracy D'Augustino and building bird nests from materials they found outdoors with Misty Klotz.

One of the TechGyrls, who aspires to be an engineer, reported that her favorite part of the trip was the robotic milking facility and said that she would enjoy working on robots one day. Another participant reported that her favorite part of the weekend was feeding the birds and learning about their different adaptations at the Bird Sanctuary, as she wants to be a biologist in the future.

One thing was clear from the weekend - all the TechGyrls said they were inspired by the women around them leading the weekend. Regardless of whether the leader was a scientist, engineer, or YWCA employee, it seems evident that seeing and interacting with women interested in science stirred an important enthusiasm for a future career in a STEM field.

---
For More Information
KBS Community Relations

: (269) 671-2015
communityrelations@kbs.msu.edu


KBS Conference Center

: (269) 671-2400
conference@kbs.msu.edu


W.K. Kellogg Bird Sanctuary

: (269) 671-2510
birdsanctuary@kbs.msu.edu


W.K. Kellogg Experimental Forest

: (269) 731-4597
kelloggforest@kbs.msu.edu


W.K. Kellogg Farm

: (269) 671-2402
kelloggfarm@kbs.msu.edu


W.K. Kellogg Manor House

: (269) 671-2160
manorhouse@kbs.msu.edu