KBS Science Spotlight: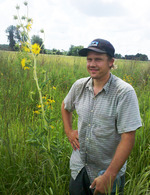 Prairies with a Personal Touch

Prairies prevent topsoil erosion, preserve groundwater quality and provide key habitat for many species- just a few of the benefits now driving increased interest in prairie restoration on former agricultural lands.

Many landowners restore with specific goals in mind, such as supporting rare birds or sources for cellulosic biofuel. But prairies can be restored and managed in a variety of ways and deciding how to best meet one's goals can be challenging.

Tyler Bassett, a KBS graduate student of Plant Biology, hopes to improve the process of restoration by studying the links between restoration practices and the ecosystem benefits they provide. He interviewed the owners of 29 restored prairies in Southwest Michigan to learn more about what drives people to restore. He keeps track of native seed varieties used at the plots, as well as prescribed burns, and enlists citizen-scientist birdwatchers to help monitor biodiversity.

"While establishing a prairie is fairly straightforward, establishing a prairie that satisfies landowner expectations is more challenging," Tyler said. "My research helps to define those expectations… and aids in understanding how to get there."
---
Lakeside Concert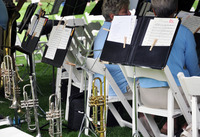 Our popular summer tradition returns!
Bring a blanket or lawn chairs and a picnic lunch and relax by the shore of Gull Lake for a performance by the Cereal City Concert Band. This year, the concert salutes Women Who Care, a philanthropic project supporting Battle Creek-area arts. Special guest performers include Edye Evans Hyde (vocalist), Terry Lower (keyboard) and Larry Ochiltree (drums) with guest conductor, Ed Zentera. Following the concert, tours of the historic W.K. Kellogg Manor House are offered from 4:30-6:30 p.m. Tours begin every 20 minutes, with the last tour departing at 6:00pm.

A new botanical guide showcasing some of the estate's award-winning trees and gardens is now available free of charge in the Manor House.
The
Lakeside Concert
is scheduled for
Sunday, August 24 from 3-5 p.m.
Admission is free; donations are appreciated. Call (269) 671-2160 or email manorhouse@kbs.msu.edu for more information.
---
'Operation Military Kids'
Soars into the Sanctuary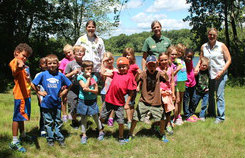 Fifteen children of U.S. military personnel from Michigan enjoyed a full day of fun during "Operation Military Kids" (OMK), a program held at the Kellogg Bird Sanctuary on Wednesday, July 2.

The campers, all between the ages of 6 and 8, took part in the Sanctuary's Winged Adventures day camp through OMK, a collaborative effort by the U.S. Army, Army Reserves, National Guard and local communities, co-organized locally by KBS and MSU Extension's 4-H program. A tour, lunch and hands-on educational activities were free for every participant.

Read more about the project in this article from the Battle Creek Enquirer.
---