Calling all Druids, Dryads, Faeries andSpecters…
Come Shamans, Sorcerers, Spooks and Spirits!
On this Special Night we will Celebrate all that Nature has Endowed
and Honor Spirits Past and Present…
North E
ast Trees invites you to join us for a Halloween costume party to help raise money to turn a 37-acre parcel in North East Los Angeles into an open space park and location where we can train and hire local youths. In keeping with the spirit of the event, costumes or masks are required.

- Dance to the exciting sounds of a rockin' 19-piece big band - This Ain't Your Daddy's Big Band, featuring Rex Merriweather
- Indulge in tasty things to eat and drink, including craft beers, California wines, specialty cocktails and more
- Win fantastic prizes in our raffle
- Swoon when Nocturama shakes things up
- Vogue in our photo booth and tag your friends on Facebook
Only a limited number of tickets are available, so make your reservations now, and get ready for a fun time ahead. We hope to sell all tickets in advance.
Tickets: $75 per person, includes 10 drink/raffle tickets
Druid Master Ticket: $125 per person, includes 50
drink/raffle tickets
(treat friends to additional drinks or increase your odds at getting those raffle items you really want!)
5 additional drink/raffle tickets: $10
15 additional drink/raffle tickets $20
At the event, one ticket gets you a chance to win one raffle item. The more tickets you put in the pot for that item, the better your chances of winning. Wine, beer and most cocktails will be 3 tickets, and a few specialty cocktails will be available at 4 tickets.
We expected the LA Rec and Parks Department to take title from us and we would do the work to turn this land into a park. The city has not done so. Meanwhile, NET has paid for brush clearance, taxes, security over the July 4th holiday, gate repairs and more. This fundraiser is to help us secure funds so we can install a gate that's up to code, do some erosion control and begin work on the park, and cover the expenses of next year's brush clearance.
It will take about $1 million to turn this land into an open space park with trails, habitat restoration and a site where we can train and hire local youth. It's a big dream, but North East Trees has always dreamed big.
Over 20 years ago we began planting trees and designing and building pocket parks along the Los Angeles River. At the time, few saw the vision that Scott Wilson and Lewis McAdams shared for the river. But we turned miles of the river banks, which used to be trash, broken glass and blight into greenways. The trees we planted then now provide shade to the bike path. The work we did paved the way for more people recognizing the river as an incredible resource. And now there's kayaking in the river and camping excursions along its banks.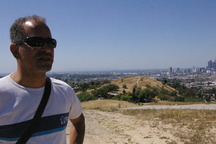 NET's Aaron Thomas surveys the amazing views from Flat Top.
Flat Top has some of the best views in Los Angeles
Although the land is steep and unimproved, with hiking trails and additional access points, it could become something very much like Baldwin HIlls Scenic Outlook State Park on the west side. From the top, you can see down the San Gabriel Valley, South to Downtown and beyond to Long Beach. On a clear day, Catalina Island is visible. The view includes the Los Angeles River Basin to Griffith Park and north up the Arroyo Seco to the San Gabriel Mountains. It's been used for photo shoots- the season finale of Ray Donovan had a scene shot on Flat Top, and there's a car commercial airing now that was shot there.
If you can't come to our Halloween Party, then consider contributing to North East Trees so this land can become a park. We're a 501(c)3 non-profit, so contributions are tax deductible.