Dear Preserve Calavera Supporter
Together We Can Make A Difference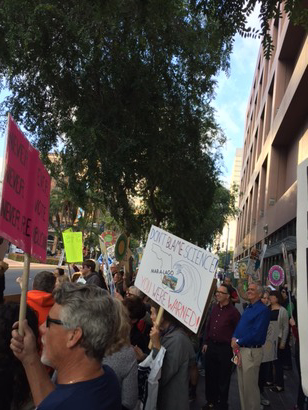 Photo: Holly Moyer
June first was a day for reflection. The afternoon started with a celebration honoring Dan Silver and Michael Beck of EHL for their over 20 years of effort in support of our regional conservation plans. Twenty years of hard work that resulted in landmark plans that raised the bar for the rest of the country. But after twenty years we still have only completed 3 of the 4 plans for our region, the funding source promised by SANDAG remains an empty promise, and we struggle every day to make sure the plans we do have are monitored and enforced.
Then later we joined about 200 people in front of the Federal Bldg in San Diego to raise our voices against President Trump's decision to remove the United States from the Paris Climate Agreement. Our country has contributed more to the cumulative GHG in the atmosphere than any other country on earth. We can contribute to the problem, but ignore our responsibility to be part of the solution? We can ignore science and put future generations at risk ?
We all need to find ways to turn our frustration into positive action that will lead us to the kind of future we want for our children and grandchildren. We have hope because we see the differences our actions can make. Whether it is Solana Beach being the first city in the region to move forward with Community Choice Energy, Carlsbad residents rejecting a billionaire's plan for a shopping mall on a lagoon, or Oceanside setting aside over 400 acres of land for a park. Together we have, and will continue to make a difference. Now lets go take a hike, smell the sage, listen to the call of a gnatcatcher and come back renewed and ready to take on the challenges tomorrow will bring.
---
A Few Updates...

Cartoon: Wikipedia
Land Acquisition Fund:
We raised another $ 2,380 in May- Thank YOU ! We are now within $ 5,000 of reaching our goal and getting the full $ 15k in matching funds. If you haven't yet donated please know every dollar counts and will get us that much closer to our goal - and to saving more of our priceless local natural lands. For more information, please see our
Flyer
.
Lake Calavera Dam Repairs:
The city of Carlsbad has developed a plan for an interim fix to stop the lake level from lowering even more. Parts are on order and hopefully we will see results soon.
Malk Grant:
We were one of seven organizations to receive funds from a new grant program through Buena Vista Audubon. We will be teaming with SD CanyonLands to develop a new land stewardship program- supporting community groups getting involved in protecting the natural lands in their own backyards. Let us know if there is a project in your neighborhood that you want to include.
---
Introducing Non Toxic Carlsbad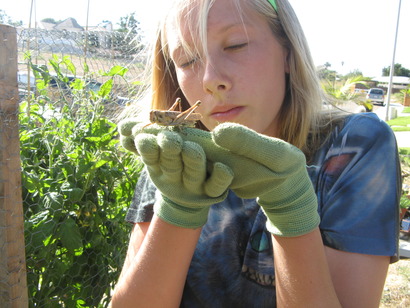 Photo: Karen Merrill
Recently the Non Toxic Carlsbad core group met with City of Carlsbad Parks&Rec Staff regarding concerns with pesticide use in City of Carlsbad public spaces, and its recommended changes to current city landscape maintenance practices. Non Toxic Carlsbad's goal is to eliminate the use of toxic pesticides in city public open spaces such as city playgrounds, athletic fields, parks, preserves and trails, and use organic landscape maintenance practices instead. City of Carlsbad Parks&Rec Staff are open to changes to current city landscape maintenance practices. We are looking forward to our next meeting as we research and explore options and will keep you posted as we move forward. See
here
for inquiries and more information.
---
Do We Celebrate Adaptable Wildlife or Deem Them Pests???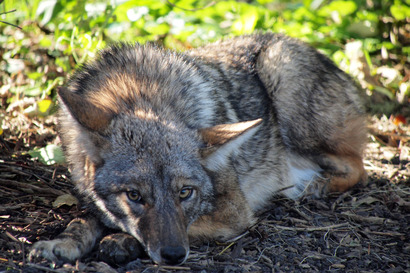 A coyote in Chicago's Lincoln Park-Wikipedia
There is a branch of the U.S. Dept. of Agriculture with the questionable title Wildlife Services. One of their functions is to deal with complaints about wild animals. Often, it is a livestock related conflict; a dead or injured animal and the Service's job is to eliminate the culprit. In an urban setting, it is more commonly a threat to pets or property damage. Their methods include traps, lethal chemicals and gunning. While there are instances that are truly deserving of intervention, it certainly seems like a lot of the time they are dealing with inconveniences…you know….pests! A big target for these actions is our neighbor coyote….smart, adaptable and too often reviled.
PC supporter Mike Stivers told us about a recent event that happened to his friends in Idaho. The
news story
reports a cyanide canister intended for problem wildlife was accidently set off by a teenage boy and his dog. They were on their own property. The dog was killed. This unintended damage from these methods is usually the only time we hear about these practices.
It is absolutely mind-boggling when you see the numbers of animals killed each year in the US by the Wildlife Service! Look at the
coyote numbers for 2016
especially and the number of states involved. You can also sort by state to see how California stacks up-it is sorted by method used.
Bear in mind that these are reported numbers. Many people take matters into their own hands. In Coyote America, Dan Flores estimates around 500,000 coyotes are killed each year in this country!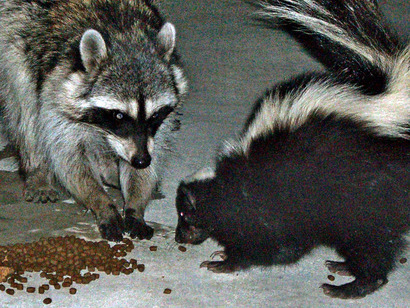 A skunk and a California raccoon (P. s. psora)
share cat food morsels in a Hollywood, California,
back yard-Wikipedia
when public education would be a far better approach. If it was common knowledge how to deal with wildlife in your backyard, instead of fear and misunderstanding, we could co-exist and marvel that we still actually have wildlife nearby.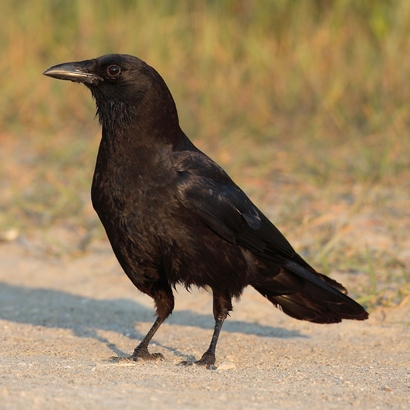 Why is it that those critters that do so well around us are often so demonized? Why don't we appreciate the amazing adaptability that allows some animals to thrive when so many others are in decline? I, for one, love to hear coyote song in the evening; watch the antics of a curious raccoon rifling through a bucket of backyard debris; and yes, I even get a kick out of watching the crows figure out how to open a discarded food container! So smart!
Story by Karen Merrill
June and July Activities
Sat June 15 9:30 AM - 2:30 PM
Sierra Club Training Session on CEQA
Want to stop/change that terrible project being proposed in your neighborhood? Want to learn how to write a CEQA comment letter that gets results? This half day workshop is open to all Sierra Club members for the low price of $45. (Not a member- special rate of $ 15 to join) Contact us for the details info@preservecalavera.org.
Sat June 17 8:00 - 9:30 AM
Village H Volunteer Work
Join us for what we hope will be a regular monthly work session- engaging this Calavera Hills neighborhood (and others) to care for the open space in their own backyard. This month will be light work- good for all ages. We will continue raking up the eucalyptus debris around plants in part of the site being restored. This will be a quick, focused work session starting early to avoid the heat- and finishing early to leave most of your day free for other activities. Wear closed toe shoes- and long pants and shirt sleeves are best. Bring your own gloves, water, and a rake if you have one. (We will have supplies also). We meet at the trail head off Carlsbad Village Drive west of Victoria in Carlsbad. Please RSVP to let us know if you can come at info@preservecalavera.org.
Tues June 20 9:00 AM
Carlsbad City Hall
1200 Carlsbad Village Dr, Carlsbad, CA 92008
City Council workshop on the trails Master Plan Update. See our comments
here
.
Wed July 12 7:30 – 9:00 AM
El Corazon Bird Walk
Join us and expert birders from Buena Vista Audubon for this monthly birding walk along Garrison Creek in Oceanside. Meet at the trailhead parking lot in El Corazon. Enter from driveway off of Oceanside Blvd, just east of El Camino Real. Parking lot immediately on your left.
July 11 7:00 – 8:30 PM
Sierra Club Quarterly Meeting
Oceanside Library Community Room
Oceanside, CA
Local food production and Proposed North River Farms project.
Sat July 22 8:00 - 9:30 AM Work Session; 9:30 - 10 am Hike
Village H Work Session/Hike
Join us for this regular monthly work session at the Village H site. We will continue raking up the eucalyptus debris around plants in the restoration area. This will be a quick, focused work session starting early to avoid the heat. Then we will follow it with a hike on the traditional dog walking trail and discuss future plans for this area. Wear closed toe shoes - and long pants and shirt sleeves are best. Bring your own gloves, water, and a rake if you have one. (We will have supplies also). We meet at the trail head off Carlsbad Village Drive west of Victoria in Carlsbad. Please RSVP to let us know if you can come at info@preservecalavera.org.
Fri July 28 5:00 - 7:30 PM Blue Moon Celebration for Friends of El Corazon
Help celebrate the creation of the largest new park in north county- El Corazon in Oceanside, Informational exhibits, food, adult beverages and music will make this an evening to remember. Cost is $10 for members (and you can join for $15 if you aren't already a member). See
www.friendsofelcorazon.org
for more information.
Future Events
Sat Aug 19 8:00 - 9:30 AM
Regular Village H Work Session
September 30 - Carlsbad Trail Volunteer Event and National Public Lands Day @ Lake Calavera Preserve
Our all-volunteer organization can not do what we do without your help. Your time, talent and donation can make a difference right in your own backyard. Call or email us to see how else you could get involved.