Dear Preserve Calavera Supporter
A Few Highlights of 2017
Land Acquisition/Protection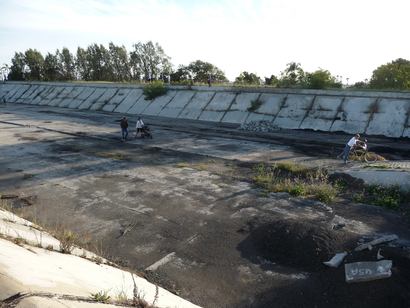 Image Source: Friends of Buena Vista Reservoir
How often do you get to create a new park ! We are proud of our participation in the Community Benefit Agreement that allowed the Poinsettia 61 project to proceed while giving the community some real, permanent benefits-especially the Buena Vista Reservoir Park. This land was going to be sold for development, but willl now be permanently preserved. Our Land Acquisition Fund will allow us to save even more of our priceless local lands. It takes years of advance work for these to happen and several more acquisitions are in process. But we can't do it without your help. All donations through December 31, 2017 will be matched- doubling your impact and preserving at least some of our natural heritage for future generations.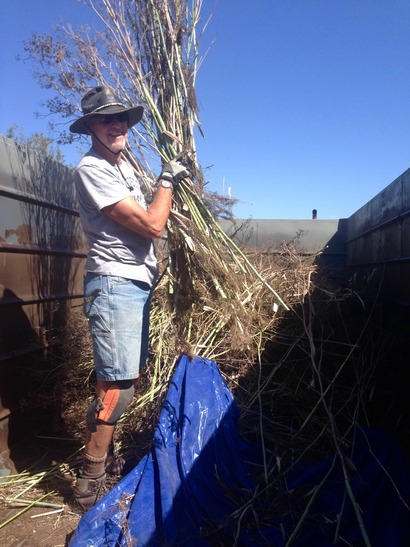 Dirk Ackema adds to the growing collection during our first removal event in October.
Image Source: Sami Collins, Preserve Calavera North County Community Organizer
Thanks to the Buena Vista Audubon Malk grant, and San Diego Canyonlands we were able to hire our first employee, Sami Collins. Sami has continued our monthly work sessions at Village H, and initiated a new project removing invasive fennel from sensitive habitat pn El Corazon. Currently underway - planning for a native grasslands restoration in La Costa. She is coordinating our volunteers on all of these projects. Imagine how much more can be done if you can help a few hours on one of these ongoing projects this next year !
Land Management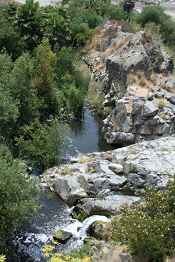 Image Source: US Fish & Wildlife
It takes ongoing effort to make sure the lands that have been set aside for preservation are actually protected. The sacred El Salto Waterfall had been a target for vandalism for years. But after months of work, a dliligent Code Enforcement Officer, and a new developer, years of damage were reversed. The new Ranger demonstration program by the city of Carlsbad is an important step in the right direction- increasing community education about the rules designed to protect these lands- and issuing citations when needed. Our interventions with the Palm tree removal and dam repair projects at Lake Calavera, and supporting the toxic free movement are part of our commitment to make sure these resources are protected.
Wildlife Protection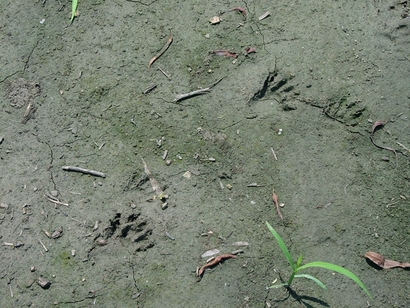 Image Source: Wikipedia
Our Wildlife Tracking Team retired some old transects and is launching a new monitoring program. We continue to be challenged to find locations where monitoring cameras can be placed where they can capture images of wildlife, but not be captured by vandals.
Outreach and Education

We completed our second (and the only one in southern Califonia) California Naturalist certificate training program through UCSD Extension. 25 new "naturalists" are now better prepared to help steward our natural lands. Our on-going collaboration with BVAS resulted in another successful Endangered Species Day event - the only one in San Diego county.
And that's not all…our annual wildlfower hikes, field trips for school children, stream water quality assessments, and relentless efforts to reduce the adverse impacts of development through comment letters, testimony and holding developers and government agencies accountable. With your continued support all of this work and more will continue next year.
---
Image Source: Janell Cannon 2017 King Tide Photo Documentation
Preserve Calavera and partners are hosting an additional event highlighting the effects of king tides along our coast. These extreme high tides are a preview to ongoing climate change and sea level rise. For each event we will discuss how climate change is impacting our communities and some ways to mitigate those effects along the coast through Sea Level Rise Vulnerability studies. The motivation behind these gatherings is to generate photo documentation.
Date: Tuesday, January 2, 7:30 AM
Meet at the Batiquitos Lagoon Nature Center (7380 Gabbiano Ln, Carlsbad) for coffee/tea and hear about climate change and what Carlsbad is proposing on doing with their SLR Vulnerability plan; city staff will be on hand to facilitate the discussion. Jim Brown will lead the group afterwards to the coast for our photo opt.
---
Where Have All the Insects Gone?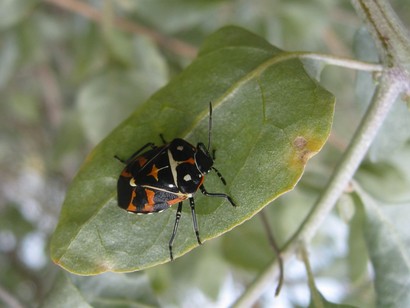 While most of us are aware of the plight of the honey bee and the decline of the Monarch butterfly, I'd bet few of us pay much attention to all the other insects flitting about. Insects account for about 2/3rds of all life on Earth. If you can get past the pest-factor, they provide some significant benefits to all of us-as pollinators, pest control and a food source for a lot of other animals.
A recent study in nature reserves in Germany found a whopping 75% decline in flying insects in the last 25 years! No conclusions were reached as to the cause of such a massive decline, but habitat loss and pesticide use and probably climate change are factors. The scientists estimate an even greater decline outside the managed nature reserves. Professor Dave Goulson, co-author of the study, said "If we lose the insects then everything is going to collapse."
So, let's be mindful of all the 'little' life going on around us every day…what is common today may not be here tomorrow. I am reminded of the fireflies I saw every evening in the summer as a child…that is now a fairly rare occurrence…something very hard to imagine.
---
Mother Nature's Christmas Gift To Us All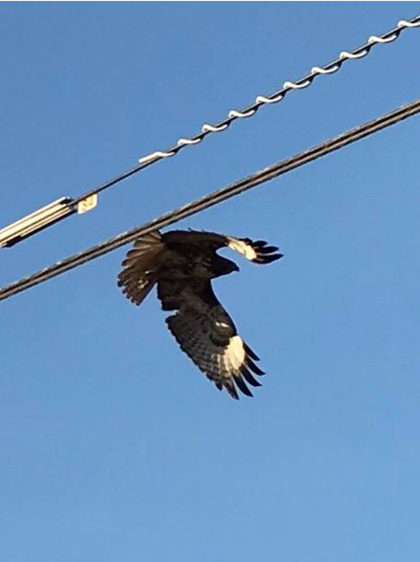 Mother Nature 's Christmas gift to us all- a Golden Eagle photographed just east of Lake Calavera on November 21st.
Our best wishes for the holidays and for a new year that brings us closer to achieving our mission - to preserve, protect and enhance the natural resources of coastal north county.
December Activities
Sat Dec 9 8:00 - 9:30 AM
Village H Cleanup
This event will focus on trash collection, weeding, and eucalyptus debris removal.
Meet at the trail head off Carlsbad Village Drive west of Victoria Ave. in Carlsbad. Parking is available on Victoria Ave.
Wear closed toe shoes- and long pants and shirt sleeves are best. Bring your own gloves, water, and a rake if you have one. (We will have supplies also).
To RSVP, contact Sami Collins sami@sdcanyonlands.org
Sat Dec 9 8:30 AM - 11:30 AM Carlsbad Trail Volunteer Event at Old RSF Road
The volunteer work at RSF Road will include:
• Weed removal
• Vegetation trimming
• Trail erosion repairs
• Litter pickup
The city will provide new volunteers with a short training on use of tools. The city will also provide shovels, McClouds, rakes, water and snacks. Please wear closed-toe shoes, sunscreen and gloves. In the event of rain, the event will be canceled.
For more information and directions, see
flyer
.
Future Events
Tues Jan 2, 7:30 AM:
King Tide Event
Meet at the Batiquitos Lagoon Nature Center (7380 Gabbiano Lane, Carlsbad) for coffee/tea and hear about climate change and what Carlsbad is proposing on doing with their SLR Vulnerability plan; city staff will be on hand to facilitate the discussion. Jim Brown will lead the group afterwards to the coast for our photo opt.
For more information: http://california.kingtides.net
Ongoing:
Second Sat of the month- begining Jan 13:
Monthly Village H and Fennel Removal work
Our all-volunteer organization can not do what we do without your help. Your time, talent and donation can make a difference right in your own backyard. Call or email us to see how else you could get involved.