Dear Preserve Calavera Supporter

Yo Text Here
Thank You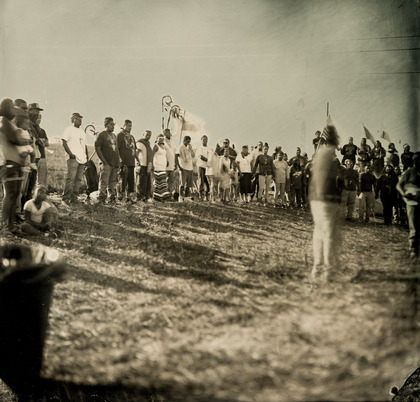 We'd like to express our gratitude to all of those working in different ways and places to preserve and protect our open space and all who inhabit it. Below are just a few examples of the many local heros doing so.
---
Bat Box Installation at Lake Calavera Preserve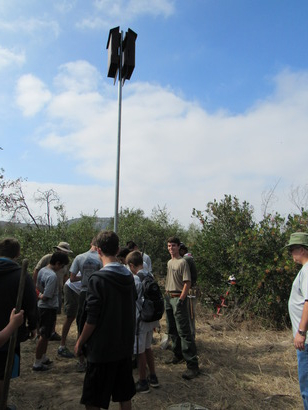 Thanks to Karen Merrill for leading this project working with the Eagle Scouts, who created these impressive homes for bats whose habitat had been lost due to the palm tree grove removal. The photo shows two multi-chambered bat boxes mounted on a twenty foot high pole.
---
Celebrating Bats Event at the Buena Vista Audubon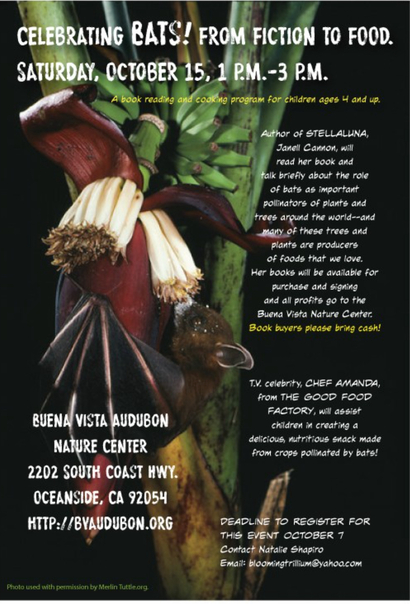 Thanks to children's author and illustrator Janell Cannon and Amanda Mascia, creator of The Good Food Factory children's healthy cooking show, who teamed up together at the BVAS Nature Center on Saturday, October 15th to create a special children's Halloween event. Janell read from her book Stellaluna, the story of a lost bat who finds her way home. Chef Amanda shared her cooking expertise with the kids, who got to cook up a healthy snack packed full of foods that have been pollinated by bats.
---
Rattlesnake Safety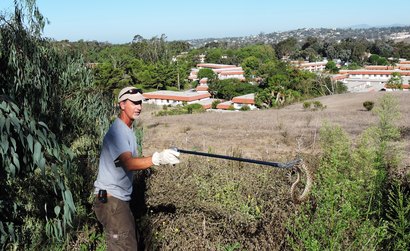 Photo by Todd Nordness
Thanks to the Center for Natural Lands Management for making sure that at all their volunteer events the importance of safety is always brought up to all the volunteers and staff. If encountering a rattlesnake during a volunteer event, please back away and alert staff, who will safely remove it and transplant it to a new environment.
---
Please Vote On November 8th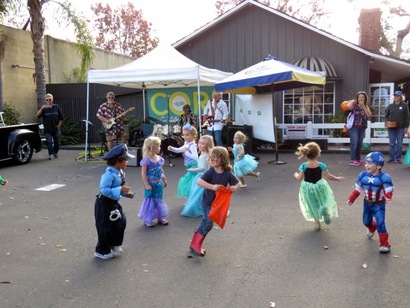 Photo by Janell Cannon
Preserve Calavera recomends No on Measure A and No on Mesure B.
No on A - This is the SANDAG sponsored 1/2 cent, 40 year sales tax for transportation. It will accelerate climate change, increase air pollution and related health impacts- especially on children and seniors, increase taxes, and lock in outdated approaches that will not reduce traffic congestion. Our children and grandchildren deserve better than this !
No on B - This would approve over 1700 homes in sprawl development near Valley Center. This developer followed the Caruso model- put a bad project on the ballot, try to deceive voters, and leave taxpayers footing the bill for roads, water and sewage plants.
---
Wildlife Corner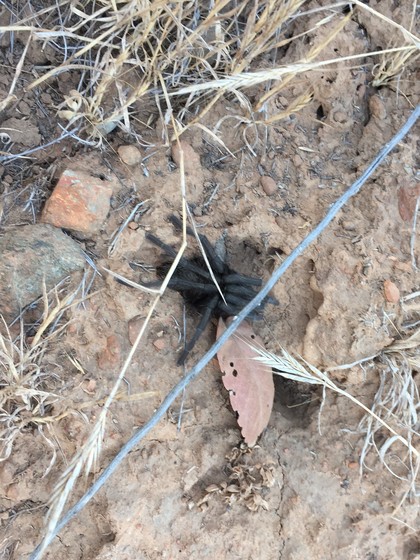 March of the Tarantula
For the last few weeks the male Tarantula has been on the march seeking out females in their silk-lined burrows. He may travel long distances, up to 4 miles. He's about 7 or 8 years old and will only live a few weeks longer even if his mate doesn't make a meal of him! When he finds a burrow, he will strum the silk web outside. The female may or may not respond. If she does, she will accept the sperm and use it to fertilize her eggs. She will brood, or care for her eggs, by turning the silken egg sack for the next 6 to 8 weeks.
Female tarantulas can live for 25 years and are larger than the males.
The local species are the California Ebony (Aphonopelma steinachneri) and the San Diego Bronze (Aphonopelma reversum). While these are fairly docile creatures, they can bite and release irritating belly hairs if frightened. Do not capture as a pet. We want all of our wildlife left wild! They are considered beneficial since they eat a wide variety of insects, as well as lizards, scorpions and baby rattlesnakes.
By Karen Merrill
November Activities

Sat Nov 5 8:30 - 11:30 AM Buena Vista Creek Cleanup
Help remove debris and trash along the section of Buena Vista Creek not open to the public. Wear long pants and closed-toe shoes. Gloves, bags and snacks will be provided. Meet past the Carlsbad Golf Center (2711 Haymar) where the street deadends. Please RSVP to pdecino@preservecalavera.org.
Sat Nov 19 8:30 - 11:30 AM Volunteer Trail Cleanup at Hosp Grove
The City of Carlsbad trail cleanup event at Hosp Grove will include trail erosion repairs, vegetation trimming and litter removal.
The city will provide the work plan and safety training at the start of the event along with tools, gloves, water and snacks.
Please wear closed-toe shoes suitable for hiking, sunscreen and a hat. In the event of rain, trail work will be canceled.
For more information and directions, see
flyer
.
Future Events
Dec 30 Fri 9 am - 1 PM Annual Christmas Bird Count with BVAS
Jan 10, 2017 - Ca Naturalist Class beginsl
---
Our all-volunteer organization can not do what we do without your help. Your time, talent and donation can make a difference right in your own backyard. Call or email us to see how else you could get involved.