Dear Preserve Calavera Supporter
The Opportunities and Challenges of 2018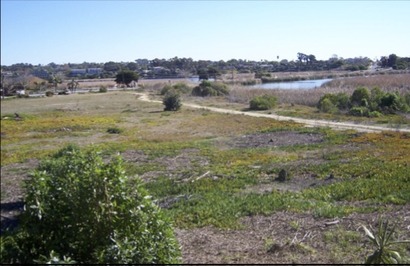 At this time of year we review our past and try to focus on the challenges and opportunities of the next year. We would love to hear your thoughts on what we can all do together to better protect, enhance and preserve the natural resources of coastal north county. Please tell us what you think we should focus on in 2018.
Protecting open space is part of our core mission- and agricultural lands are part of the open space heritage of this region. We rightly consider preserving natural habitat as critical to protecting our local native plants and wildlife. But agricultural lands are also key- providing cover, forage, and watershed protection. And who knows how important those plowed fields adjacent to the San Luis Rey River were to helping control the spread of the Lilac Hills fire? We ask you to start 2018 with a commitment to put time and effort into preserving our local natural resources.
We can start by supporting the SOAR initiative in Oceanside. Over 12k signatures are needed by March 10th to get this on the ballot- and give the people of Oceanside the right to vote on projects that will convert open space or agricultural lands to other uses. Let us know if you would like to help. Reply to this email or go to the campaign website for more information at
www.Oceanside-SOAR.org
.
Happy 2018 to all of the native plants, wildlife and people of north county !
---
Southwestern Willow Flycatcher to remain on the Endangered Species List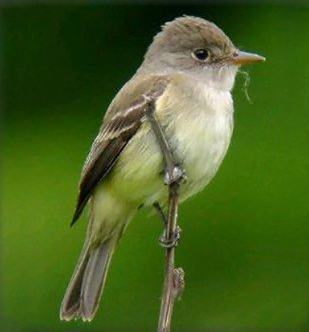 (Empidonax traillii extimus)
The US Fish & Wildlife Service recently upheld the endangered status of this once common little songbird. It breeds in wetland and riparian habitat in May and June. It's no surprise their numbers are in such decline because we already know we have lost 90% of those habitats in San Diego County. Further pressure from Brown-headed Cowbirds that parasitize nests and degradation from non-native/invasive species make recovery for this flycatcher a real challenge.
We are hopeful the Southwestern Willow Flycatcher population will increase over time and that it remains protected for the long term. Let's hope we can all hear the distinctive "fitz-bew" call fairly regularly in the not too distant future.
---
January Activities
Tues Jan 2, 8:00 AM:
King Tide Event
Participate in citizen science at your local beach. Come to a King Tide Event on Tuesday, January 2, 2018 at Ponto Beach in Carlsbad at 8:00 AM. Meet at the parking lot on the west side of Coast Highway just North of LaCosta Avenue, look for the canopy. This is an opportunity to see the impact of a king tide....a preview of what climate change will bring.
Bring your cameras and coffee, see you all there!
Sat Jan 13 8:00 - 9:30 AM
Village H Cleanup
This event will focus on trash collection, weeding, and eucalyptus debris removal.
Meet at the trail head off Carlsbad Village Drive west of Victoria Ave. in Carlsbad. Parking is available on Victoria Ave.
Wear closed toe shoes- and long pants and shirt sleeves are best. Bring your own gloves, water, and a rake if you have one. (We will have supplies also).
To RSVP, contact Sami Collins: sami@sdcanyonlands.org
Sat Jan 13 11:00 AM - 12:30 PM
Fennel Removal at El Corazon
Join Preserve Calavera and Friends of El Corazon for a long-term effort to remove invasive fennel from the hillsides of the El Corazon Nature Park. Event includes fennel seed removal and cutting/stacking of the fennel plants. Fennel seed preparation and baking recipes with collected seed available upon request!
Event is appropriate for all ages and physical abilities.
Please bring: Water, gloves, and a hat. Wear long sleeves and sturdy, closed-toe shoes. Tools, supplies, and additional water will be provided.
Walk in from: Trail head along Oceanside Blvd, just east of El Camino Real (0.80 miles in) or Mesa Drive trailhead (0.20 miles in).
Directions: Trail head parking lot is on Oceanside Blvd, just east of El Camino Real (entrance to Green Waste). Parking also available at The Villages of Monterey apartment complex in non-numbered visitor spots. Park and walk along the Garrison Creek trail to the work site.
Please RSVP by Jan. 11 to: Sami Collins: sami@sdcanyonlands.org
Sat Jan 20 8:30 - 11:30 AM
City of Carlsbad Coastal Rail Trail Cleanup Event
The volunteer trail work at Coastal Rail Trail will include:
shrub planting, trail maintenance and erosion control.
The city will provide new volunteers with a short training on the use of tools. The city will also provide shovels, McClouds, rakes, water and snacks.
Please wear closed-toe shoes, sunscreen and gloves. In the event of rain, the event will be canceled.
For more information and directions, see
flyer
.
Future Events
Ongoing:
Second Sat of the month- begining Jan 13:
Monthly Village H and Fennel Removal work
Our all-volunteer organization can not do what we do without your help. Your time, talent and donation can make a difference right in your own backyard. Call or email us to see how else you could get involved.