Dear Preserve Calavera Supporter
What's Happening to Lake Calavera?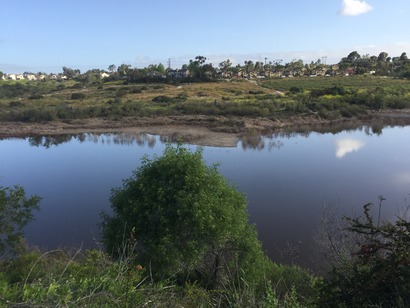 Photo: Amanda Mascia
Many of you have expressed concern about the lake that seems to be disappearing before our eyes. The valves on the Lake Calavera Dam have been a problem for some time- and because they can't be fully closed water is released. When more water goes out the dam (or gets evaporated as we get into our hot weather) than comes in from the watershed, the lake level goes down. The City has a project to do a permanent fix- but it will take months to get it approved (has to go through the State of CA Division of Dam Safety- and they are kind of busy with Oroville Dam right now), contracted for and constructed. We have been working with them to both expedite the permanent fix and take some immediate temporary action to reduce the on-going loss of water. They now have a plan for a temporary sleeve around one of the valves. How fast that can be done- and how effective it will be are still TBD. Without corrective action soon the impacts will only get worse- and these sensitive wetlands could experience a permanent impairment. One bright spot- the restoration plantings where the palm trees were removed are doing great.
---
Land Acquisition Fund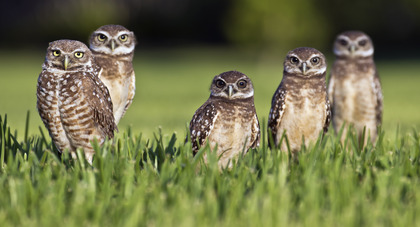 Photo: Wikipedia
Thank you so much to everyone who has already sent in a donation to our Land Acquisition Fund! A special thank you to North County Advocates who donated $10,000 - without requiring a match. With all of your help we are now at $18,138 towards our $30k goal - over 60%. It now looks very promising that at least one of the acquisitions we are targeting will happen - and with your support we can do even more. Please download the flyer and share with others who care about saving our priceless local natural lands. Your check or on-line donation will leave a lasting legacy- for us and future generations!
---
Climate What?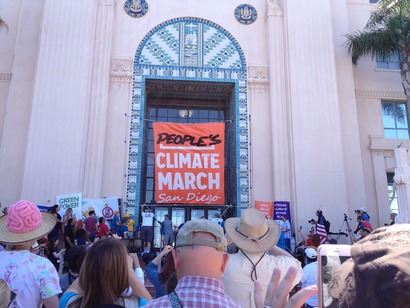 Photo: Karen Merrill
On April 29th we joined thousands to march for a world that takes real action to address climate change. In these times where our President purges the term "climate change" from government websites, issues Executive Orders to support coal mining, drilling off the coast of California, and putting public lands at risk we can all be thankful we live in California. California- a state with priceless natural resources and people who care about protecting them. So we will all keep doing what we have been doing and ride that wave, take that hike, smell the sage, listen to the call of a gnatcatcher and do what we can to preserve what we have for future generations. Watch this less than 5-minute long video about why the Citizens United Supreme Court decision is at the heart of the decline of bipartisan Congressional support for climate action:
https://www.youtube.com/watch?v=nPew-_8HdhI
---
Local Species Highlighted This Endangered Species Day
Endangered Species Day is May 19.
Our goal is to educate about the importance of protecting our local sensitive species. We will celebrate ESD on May 20 from 10:00 AM until 2:00 PM at the Buena Vista Nature Center. Free family event. Learn what you can do!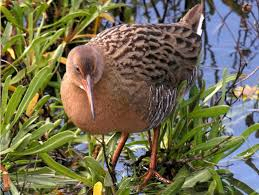 Ridgway Rail
Rallus obsoletus
-Federally endangered due to habitat loss, pollution, exotic predators like rats, cats and dogs, and urbanization. They live in saltwater and freshwater marshes. Special glands enable them to drink salt water.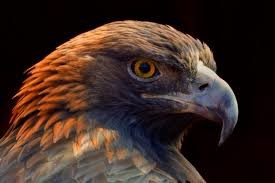 Golden Eagle Aquila chrysaetos -Federally protected, this large raptor is a year round resident of San Diego County. Their numbers have dropped in half since the 1900's, with about 46 breeding pairs remaining. They nest on cliffs and forage semi-open and grassland habitats. Golden eagles are sensitive to human disturbance.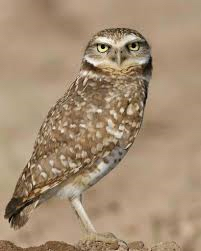 Burrowing Owl Athene cunicularia-Federal species of concern, our San Diego population is at risk of local extinction. These ground dwelling charismatic raptors require short native grassland, a rarity here, and the burrows of ground squirrels (which have been extirpated in many suitable areas).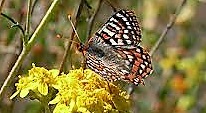 Quino Checkerspot
Euphydryas editha quino
-Federally endangered. Once common, this beautiful brushfoot was close to extinction; captive breeding and recent release in the SD Wildlife Refuge may give it a second
chance.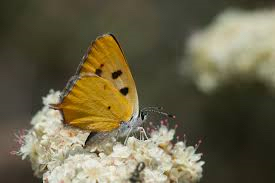 Hermes Copper Butterfly
Lycaena hermes
-Candidate for federal listing. Rare endemic to So. Ca. and northern Baja, habitat loss and recent wildfires have reduced its range to a fraction with no evidence of recovery.
These are just a few of the incredible critters that are our neighbors. In fact, San Diego county is the most biologically diverse county in all of the contiguous US!
Let's embrace this distinction and do all we can to ensure their survival for our children and future generations. For more information, see
flyer
.
Story by Karen Merrill
May Activities
Sat May 13 8:30 AM - 11:30 AM
Robertson Ranch West Trail Cleanup Event
The volunteer trail work at Robertson Ranch will include:
• Clearing the trail of overgrown brush
• Trail surface improvements
• Litter pickup
The city will provide new volunteers with a short training on use of tools. The city will also provide shovels, McClouds, rakes, water and snacks. Please wear closed-toe shoes, sunscreen and gloves. In the event of rain, the event will be canceled. Formore information and driving directions, see
flyer
.
Sat May 13 1:00 PM - 3:00 PM
Village H Volunteer Work
We have supported a number of restoration projects on the Village H land on the north side of CBV. But mother nature continues to need a helping hand here- and we hope some of those hands will be yours! We hope to start a volunteer team of nearby residents who can do monthly work sessions-starting with raking and removing the eucalyptus debris around new plants. This will be quick two hour work session. Wear closed toe shoes- and long pants and shirt sleeves are best. Bring your own gloves, water, and a rake if you have one. (We will have supplies also). We meet at the trail head off Carlsbad Village Drive west of Victoria in Carlsbad. Please RSVP to Paige to let us know if you can come at pdecino@preservecalavera.org.
Endangered Species Day Event
Sat May 20, 2017 10:00 AM – 2:00 PM
Location: Buena Vista Audubon Nature Center
2202 S. Coast Hwy
Oceanside, CA
Join us for our annual Endangered Species Day event with lots of free activities from raptors and reptiles to basketmaking (Native Americans), scavenger hunts and more. NEW this year is a Bioblitz so please check us out.
Future Events
June 3 - National Trails Day
July 11 - Sierra Club Quarterly Meeting
September 30 - Carlsbad Trail Volunteer Event and National Public Lands Day @ Lake Calavera Preserve
Our all-volunteer organization can not do what we do without your help. Your time, talent and donation can make a difference right in your own backyard. Call or email us to see how else you could get involved.