Dear Preserve Calavera Supporter
Protecting Our Watersheds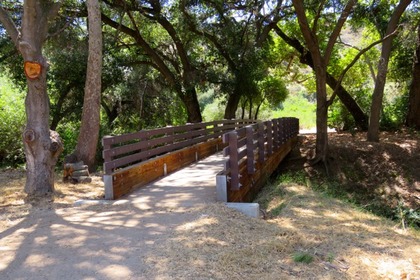 Photo by Janell Cannon
The goal of Preserve Calavera is to preserve, protect and enhance the natural resources of coastal north county. One of the critical elements of that is water. Our local creeks and weltands are part of an integrated watershed that discharges at the coast. All of our local watersheds are "impaired" with pollutants that impact pubic health and the health of our local plants and wildlife Surfers know why no one should swim along the coast for 72 hours after significant rainfall. The coliform bacteria flushed out by rainfall can cause serious illnesses. Experts estimate we have lost 95% of the historic wetlands of San Diego county. These natural wetlands were the kidneys of a healthy watershed- removing pollutants in the way Mother Nature intended.
But the few remaining natural wetlands can no longer keep our increasingly polluted watersheds healthy- without a lot of help. State law and the Regional Water Quality Control Board establish overall requirements. Each city is obligated to participate in planning and corrective action through the Carlsbad Watershed Water Quality Improvement Plan (
WQIP
).
There are things we all can do- like picking up and properly disposing of pet waste, limiting the use of herbicides and pesticides, and not washing down driveways. For those who really want to help make a difference, considering joining one of our local water quality testing teams.
For 8 years, a team of local volunteers has been performing bimonthly testing of the Buena Vista Creek to evaluate its health. The team, as part of and trained by San Diego Coastkeeper, collects water samples for analysis and tests for measurements such as dissolved oxygen, pH and conductivity. Other measurements include Nitrates, Ammonia, Phosphorus, and bacteria. This citizen science project allows a long-term view of any changes, good and bad, to the watershed that ends in Buena Vista Lagoon.
SD Coastkeeper teams monitor watersheds throughout the region on either monthly or bimonthly schedules. A new team was just added to assess water quality for creeks running into Agua Hedionda Lagoon, due to concern from local residents about toxins found at the bottom of the inner lagoon basin. This team has plenty of volunteers but if you are interested in joining other teams including the Buena Vista Creek team, there is a training being held in January, 2018. Please contact
SD Coastkeeper
.
---
What's Growing at Village H?
What: Next Village H Work (CleanUp) Session:
When: Saturday, October 21, 8:00 AM - 9:30 AM
Where: Village H North Trail
Meet at the trailhead off Carlsbad Village Drive, west of Victoria Avenue.
Please walk/bike from the lower Village H trailhead near Hope School or along Carlsbad Village Dr. to the Upper Village H North trailhead. Parking available at Victoria Ave.
Help us kick-start what will become a monthly endeavor to cleanup, maintain, and restore precious North County open space right in your own backyard!
This cleanup event will focus on trash collection, weeding, and eucalyptus debris removal around our native plant restoration site and into the canyon below.
Please bring: water, gloves, and a rake (if available). Wear long sleeves and sturdy, closed-toed shoes. Event is appropriate for all ages. RSVP by Oct. 19 to Sami Collins: sami@sdcanyonlands.org.
---
What's Happening
Land Acquisition Fund
Thanks to many of you we are are close to making our goal to raise funds for land acquisition ! We have raised $ 25,290 toward our $ 30,000 goal. Please donate whatever you can toward permanent acquisition of open space - just note your donation is for the Land Acquisition Fund and know it will be part of your permanent legacy- for us and future generations. Our future hikes can be on land you helped preserve ! To donate, see this
link
.
Chula Vista is 4th City in SD to Set 100% Clean Energy Goal
A big shout out to Chula Vista for being the 4th city in the SD region to set this important aspirational goal ! Let's all continue working to get every city on board with this. Carlsbad, Encinitas, Del Mar, and Oceanside issued their joint RFP to do the Feasibility Study for Community Choice Energy. That is one of the best ways, with no taxpayer cost, to achieve this. Thank your city council members for being part of this.
New Ranger Program Launched in Carlsbad
After 13 years of effort the long promised Ranger Program has started! The one year pilot program funds two Rangers who will be patrolling natural lands, parks and beaches. They will provide education and gentle reminders to those who are not following the few rules that protect the precious resources of these lands for all of us. The good news is they can actually issue citations for the few problem folks who don't respond. Say "Hi" when you see them on the trail- and let them know about any problems you have observed.
Lake Calavera
While we continue to raise concerns about the lowering of the lake level- there is progress. The state Division of Dam Safety has reviewed the proposal to repair the dam . More work is needed, but construction of the permanent repair is expected to begin in the fall of 2018.
---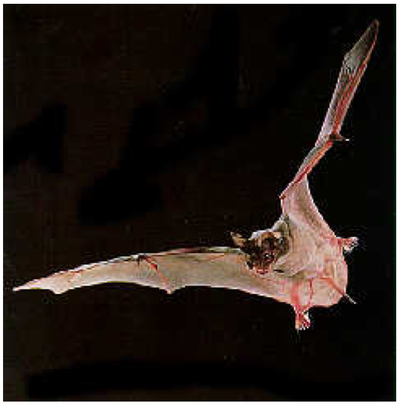 Mexican Free-tailed Bat
An iconic symbol of Halloween, most of what we think we know about bats is based on 3 species found in Central and South America. These vampire bats do feed on the blood of mammals and birds but the saliva has anticoagulant properties that have led to engineered drugs for stroke victims.
There are 1200 species of bats, that's a quarter of all known mammal species! They provide what is known as 'ecosystem services'-pest control, seed dispersal and pollination. We have 22 species here in San Diego County. All but one of them are insectivores, eating thousands of insects including mosquitos each evening. We need more bats for vector control so we won't have to spray insecticides for mosquitos!!! The Mexican Long-tongued bat eats pollen and nectar of cacti and agave and is an important pollinator of desert plants.
These underappreciated and misunderstood neighbors are another sad story of species in decline-40% of American species are at risk. Let's celebrate these important contributors to healthy ecosystems and do what we can to ensure they remain our neighbors!
Bats of San Diego County:
What can you do to help our local bats? Here are some ideas:
October Activities
Tues Oct 10 7:00 - 9:00 PM
Sierra Club North County Coastal Group Sea Level Rise Presentation and Panel Discussion
Please join the Sierra Club North County Coastal Group for an opportunity to learn about the science of sea level rise and the major issues surrounding this topic. Everyone is welcome to this presentation entitled "Sea Level Rise - What to Expect".
Location is the Del Mar Powerhouse Community Park, 1658 Coast Boulevard, Del Mar. For more information and directions, see this
website
.
Sat Oct 14 8:30 AM - 11:30 AM
Carlsbad Trail Volunteer Event at Hosp Grove
The volunteer trail work at Hosp Grove Trail will include:
• Weed removal
• Vegetation trimming
• Trail erosion repairs
• Litter pickup
The city will provide new volunteers with a short training on use of tools. The city will also provide shovels, McClouds, rakes, water and snacks. Please wear closed-toe shoes, sunscreen and gloves.
In the event of rain, the event will be canceled. For more information and directions, see
flyer
.
Sat Oct 21 8:00 AM - 9:30 AM
Village H Work (CleanUp) Session at Village H North Trail
This event will focus on trash collection, weeding, and eucalyptus debris removal.
Meet at the trail head off Carlsbad Village Drive west of Victoria Ave. in Carlsbad. Parking is available on Victoria Ave.
Wear closed toe shoes- and long pants and shirt sleeves are best. Bring your own gloves, water, and a rake if you have one. (We will have supplies also).
Please RSVP by October 19 to Sami Collins: sami@sdcanyonlands.org.
Sat Oct 28 1:00 PM - 3:00 PM
Buena Vista Audubon Nature Center Bat Event
Join author Janell Cannon and Chef Amanda for a reading and cooking program for children ages 5 years old and up.
Registration and prepayment of $2.00 per child is required. Deadline to register/ pay for this event is October 21. Email bvlagoon@gmail.com.
For more information and location, see
flyer
.
Future Events
November 7 - tentatively scheduled for City of Carlsbad Council Meeting with agenda item for the Buena Vista Lagoon Environmental Impact Review (EIR).
November 18 - Carlsbad Trail Volunteer Event at LaCosta Glen.
December 9 - Carlsbad Trail Volunteer Event at Old RSF Road.
Our all-volunteer organization can not do what we do without your help. Your time, talent and donation can make a difference right in your own backyard. Call or email us to see how else you could get involved.