Dear Preserve Calavera Supporter

Some activities to consider for January: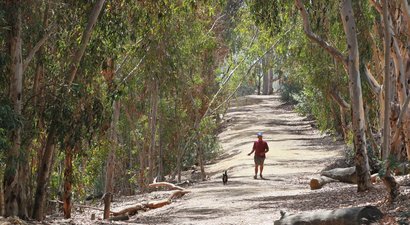 WHAT: RESTORATION SITE CLEANUP AT VILLAGE H
Join us for this work session to remove eucalyptus debris from our restoration site on Village H.
WHEN: Sat Jan 14 8:30 AM - 10:30 AM
WHERE:
Meet at the work site near the trailhead at Victoria and Carlsbad Village Dr. Parking on Victoria and nearby residential streets.
700 new plants were added in December -- but they need a little TLC on this site where the eucs have changed soil chemistry. We will be hand removing euc debris around each of the new plants and raking the site to reduce the on-going amount of accumulating euc debris. Preserve Calavera and our friends at CNLM have made a long-term committment to give this area some extra care and attention.

Best to wear long- sleeved shirt and pants, and sturdy work shoes, hat and sun screen. Bring water, gloves and a rake if you have one. We will have extra water, gloves and tools also.

Please RSVP to info@preservecalavera.org so we know how many to plan for.
WHAT: BIKE AND WELLNESS EXPOSITION
Sponsored by Walk&Bike Carlsbad
WHEN: Sat Jan 28 Noon until 3:00 PM
WHERE:
Alga Norte Community Park,
6565 Alicante Road
in Carlsbad
Please join Preserve Calavera, who will have a booth at this free event.

Several bicycle shops will be providing a variety of bikes to test ride, and cycling representatives from the Carlsbad community will share safety tips about biking. Learn about local bike routes, upcoming group bike rides and why biking is a great transportation option. Local businesses and organizations will provide interactive activities and information on how to improve your well-being in the New Year.

For more information, see https://www.meetup.com/Walk-Bike-Carlsbad-CA/events/236073159/
Our all-volunteer organization can not do what we do without your help. Your time, talent and donation can make a difference right in your own backyard. Call or email us to see how else you could get involved.

http://preservecalavera.org