Dear Preserve Calavera Supporter
Ways to Engage in Our

Local Community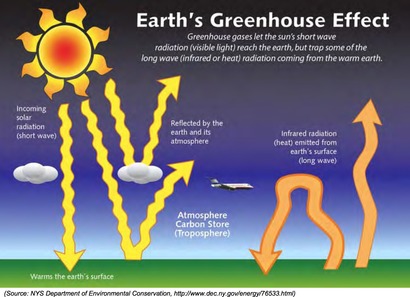 Does it seem hot to you? For anyone who doubted climate change we can already see the impacts locally. Last week I walked across a bridge over Agua Hedionda Creek in Vista - there was no creek flowing. This watershed drains an area of over 29 sq. miles. For perhaps thousands of years this creek would have been intermittent - flowing in the winter when it rained and drying up in the summer. Then man began altering the landscape and we saw flowing creeks year round from our urban drool. Now our manmade impacts are moving us the other direction. Creeks with little water, rising sea levels, higher temperatures changing when plants bloom - all impacting the complex web of life.
Preserve Calavera added climate change to our priorities several years ago. If we do not address that then all of the rest of our conservation work will be meaningless. We oppose the proposed Transnet 1/2 cent sales tax that will be on the November ballot. Expanding freeways will not relieve congestion. But it will increase our GHG emissions and move us the wrong direction toward addressing climate change. Those of us living today will pay for this for the next 40 years. But our children and grandchildren will pay for it for generations. See Sierra Club news release for why they oppose the Sandag
Transnet 1/2 cent sales tax.
So, even in the heat of summer we urge you to get engaged. Join us restoring one small piece of our local natural lands at Village H, or help raise awareness about CCE or get involved in an issue that matters to you. Future generations are counting on us.
---
Help Lower Greenhouse Gases by Participating in Community Choice Energy (CCE)
In California one of the most effective ways for cities to lower their greenhouse gas emissions is by participating in an alternative to for-profit utilities (e.g., SDG&E) called Community Choice Energy (CCE). This would be a not-for-profit organization comprised of local cities which would strive for more renewable energy at competitive rates, offer local control and jobs, and be more transparent and accountable than the closed door board room decisions of SDG&E. Customers would now have an option for power rather than just the current monopoly. CCE is up and running in Marin, Sonoma, Lancaster and, most recently, San Francisco. Cities across the state are at various stages of investigating/adopting CCE.
Over the last 2 months Carlsbad, Oceanside, Encinitas, Solana Beach, Del Mar, Poway and Escondido representatives have met to discuss the possibility of creating our own CCE. The next step is for each city council to pass a resolution asking SDG&E to release customer data so it can be analyzed in a technical study. In Carlsbad a Sierra Club team has been collecting signatures for a petition/letter to the city council supporting the creation of CCE. No matter what San Diego region you live in, if you haven't had the chance to sign the petition, you can do so online at
Community Choice Energy.
We're hoping to have city councils pass their resolutions early in the fall so we can move forward. For more information or to attend a house party to learn more about CCE, please email pdecino@hotmail.com.
---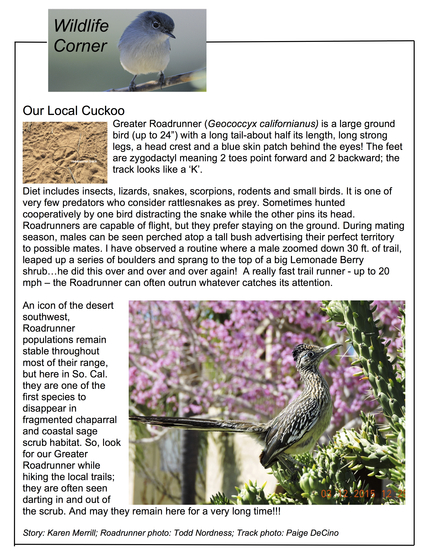 ---
Residents' Herbicide Concerns Ignored at Lake Calvera Preserve Meeting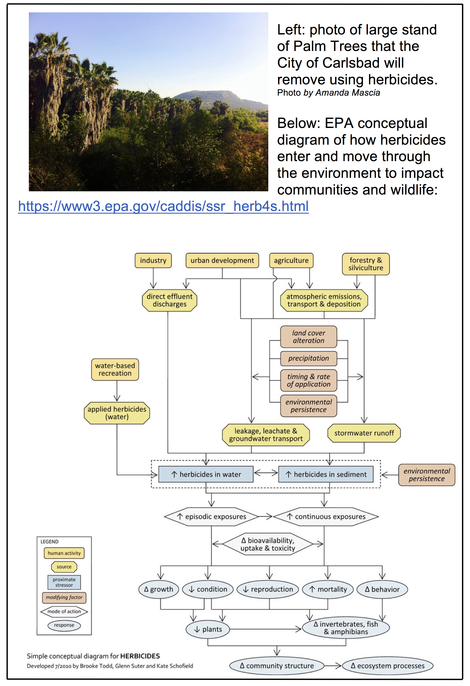 The City of Carlsbad panel presented many project details about the improvements to the preserve, but closeby neighbors feel their concerns about herbicide use to remove the Palm tree grove continue to be ignored:
http://www.sandiegouniontribune.com/news/2016/jul/20/residents-renew-concerns-about-herbicide/
Despite residents sending letters beforehand to the City of Carlsbad requesting answers to questions about herbicide toxicity to people and wildlife at the preserve, no independent expert was present on the panel to address those concerns. Over 100 palm trees will be injected with herbicide and removed, after which there will be a native plant restoration of the area, a 120-day plant re-establishment period, and then a 5-year maintenance period. Herbicide use for weed removal will be permitted throughout those periods. The Lake Calavera Improvements project was initiated in 2011, but the public only heard about it this past June. The City of Carlsbad apologized at the meeting because it had not intended to let the public know about the removal of the Palm tree grove. A resident noticed the contract approval at a council meeting and requested the project be postponed until the public could be informed, which the city subsequently agreed to. We support the project to remove these trees but are working with the city to fix a number of problems with the way it is being done, and have met with city staff to discuss installing signs indicating when/where herbicides will be sprayed, as well as a long-term strategy to greatly minimize and/ or stop the use of synthetic herbicides at city-wide preserves and public spaces. For a fact sheet from the EPA website about the herbicide:
http://npic.orst.edu/factsheets/glyphogen.html
August Calendar
August 20 Sat 7
:30 - 10 AM
Restoration Site Clean-up at Village H
Join us for this work session to remove eucalyptus debris from our restoration site on Village H. Our 2 year grant project to restore this land has ended, but Preserve Calavera and our friends at CNLM have made a long term commitment to give this area some extra care and attention. Best to wear long- sleeved shirt and pants, and sturdy work shoes, hat and sun screen. Bring water, gloves and a rake if you have one. We will have extra water, gloves and tools also. Meet at the work site near the trailhead at Victoria and Carlsbad Village Dr. Parking on Victoria and nearby residential streets. This clean-up will help fall planting be more successful. Our native plants do not like growing under eucs!
Future EventsSept 17 Sat 9 AM - 12 Noon
Coastal Cleanup Day
This is the 32nd Annual Cleanup Day and we're hoping to bring over 7,000 volunteers throughout 100 sites in San Diego County!
The sites will range from beaches, trails, parks, and neighborhoods.
Last year Coastal Cleanup Day volunteers removed over 170,000 pounds of litter and debris, as well as painting, planting, and removing invasive plants to help restore our environments. Registration opens at
www.CleanupDay.org
on August 1st!
All available locations will be posted on the website
with directions and maps included. More information about our event, like the Bling Your Bucket contest, Sony Photo Contest, Bring Your Own Reusables Campaign, scout patches, and the event waiver required by all participants (parent/guardian signature mandatory for eighteen) will also be available at the website
shortly.
Sept 24 Sat
Trail work at Hidden Canyon Park
Trail work at Lake Calavera

---
Our all-volunteer organization can not do what we do without your help. Your time, talent and donation can make a difference right in your own backyard. Call or email us to see how else you could get involved.