Dear Preserve Calavera Supporter
Brookfield Development Makes Changes to Help Protect Our Wildlife
Thank you to Brookfield for taking our concerns about protecting our wildlife corridors seriously. They agreed to a number of changes to their last project at Robertson Ranch that will help this 98 unit senior project be a better neighbor. This will now be the second neighborhood in Carlsbad with coyote roller bars installed on fences next to wildlife corridors. This is one way to keep our pets in and wildlife out that helps us all be better neighbors to our wildlife.
Panel Presentation on Sea Level Rise in Carlsbad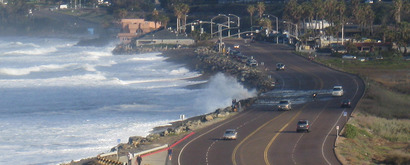 Thanks to everyone who attended the recent panel presentation on sea level rise in Carlsbad. Regardless of how successful we are in reducing GHG all of our coastal cities will feel the impact from rising sea levels. We met with the consultant team and shared our concerns about armoring the coast, loss of connecting land linkages for wildlife movement, intrusion of sea water into freshwater wetlands and the need to educate the public about the adverse impacts of many of the traditional ways of protecting beaches and bluffs. We cannot build walls around our coasts. But we can plan to accommodate Mother Nature and still preserve a healthy coast. If you were unable to attend, the video of the meeting and the presentations are now available on the
city's website
.
Community Meeting for Lake Calavera Invasive Palm Tree Stand Removal and Native Plant Restoration Work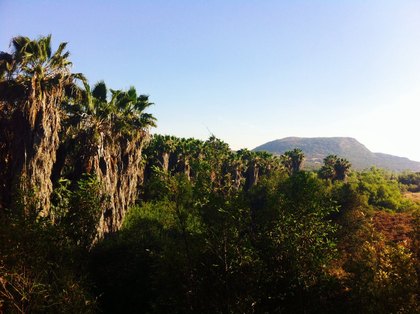 Photo: Amanda Mascia
Thanks to the efforts of a few diligent Lake Calavera neighbors, the City of Carlsbad will delay the removal of a large Palm tree stand until after the Community Outreach meeting, now scheduled for 6:00 PM on July 19 at the Calavera Hills Park Community Center. The work, which includes building a bathroom for trail users and the replacement of the Palm trees with native plants such as oaks, sycamores, cottonwoods and willows, will also require some temporary trail closures this fall once work gets under way. Construction will begin in September after bird nesting season has concluded, and is scheduled for completion by the end of December. The plan is to remove the Palm trees using an herbicide. For information on non-herbicidal invasive species control:
http://www.starrranch.org/invasives.html
and call the Audubon California Starr Ranch Sanctuary at 949-858-0309 to inquire about their non-herbicidal method for palm tree removal.
We support the project to remove these trees but are working with the city to fix a number of problems with the way it is being done.
For more information on the City of Carlsbad work at Lake Calavera and the community outreach meeting:
http://www.carlsbadca.gov/services/depts/parks/open/trails/lcpimprovements.asp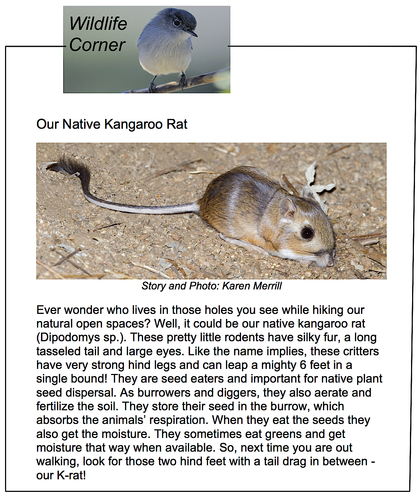 Other News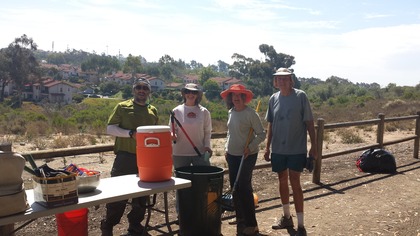 Photo: Todd Nordness
The Sierra Club is circulating a petition in support of local Community Choice Energy. Go to the website at http://www.sierraclub.org/ready-for-100 to sign or for more info. The November ballot is likely to include a number of issues of concern- from the Lilac Hills Developer following the Caruso model of using an initiative to secure approval of a damaging project and bypass CEQA, to SANDAG's new 1/2 cent sales tax measure that ignores the reality of climate change and paves more of paradise in an endless cycle that is not sustainable. There was a disturbing report of shots fired at a coyote. Let us know if you hear of wildlife/human interface poblems- we have helped many neighborhoods avoid such extreme actions and instead learn what they can do to avoid conflicts with our local wildlife. And last but not least- thanks to the volunteers who helped with the restoration of Village H- raking and removing eucalyptus debris from around our little native plants. We can't do anything with out the willing hands and hearts of out volunteers!