Dear Preserve Calavera Supporter
Algal Blooms In Lake Calavera Preserve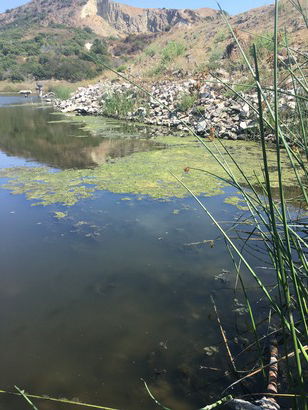 We alerted the San Diego Regional Water Quality Control Board about the algal blooms near the dam at Lake Calavera Preserve. The RWQCB have now taken samples to identify the algal blooms and determine if they are harmful to people or pets. Typically they aren't harmful but sometimes they can be, so please avoid the algal blooms and don't let your pet swim near or eat the algal bloom.
Feedback from the RWQCB so far has been that the algal blooms do not appear to be the harmful kind from looking at microscopic samples of them, but RWQCB have sent the samples out for testing anyway, just to be safe. They will let us know the final results as soon as they come in.
---
You're Invited to

an Evening with Tom Steyer on September 7th in San Diego; S

anDiego350 is Co-Hosting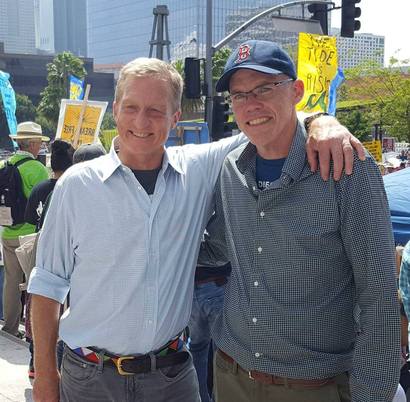 Please note: NEW START TIME of PROGRAM IS 6:30 pm (not 7pm).
What: An evening with Tom Steyer and Council Member Barbara Bry
When: Thursday, September 7 from 6:30 - 8:30 PM (Refreshments and nonprofit tables starting at 6:00).
Where: St. Paul's Cathedral, 2728 Sixth Avenue, San Diego, 92103 (enter on 5th Ave).
Tickets
: Click
here
to reserve your seat (suggested donation of $10, but no one will be turned away for lack of funds)
We'll offer refreshments and also host a wide range of cosponsors at informational tables in the courtyard before and after the talk. See RSVP page for more details.
Tom is a business leader, activist, and philanthropist who believes we have a moral responsibility to ensure that every family has access to economic opportunity, education, and a healthy climate. He is President of NextGen America, previously NextGen Climate, which he founded in 2013 to prevent climate disaster, promote prosperity, and protect the rights of every American.
Tom has appeared at numerous rallies and conferences to promote action on climate change, including BreakFree LA in 2016.
Tom will be joined by San Diego Council Member Barbara Bry (District 1), who will give an update on implementing a Community Choice Energy program in San Diego in order to meet our goal of 100% clean energy -- and how San Diegans can help make it happen.
---
Updates
Citizen Science and Carlsbad Watersheds
San Diego Coastkeeper has recently partnered with a group of Carlsbad resident citizen scientists to test and monitor the Aqua Hedionda Creek, the main creek that empties into the Agua Hedionda Lagoon. This new team will help track pollutants flowing into Agua Hedionda Lagoon. For more information about the Agua Hedionda Creek citizen science group, contact MaryAnneViney@dslextreme.com.
There are currently four other existing citizen scientist groups that do monitoring of Carlsbad watersheds: Buena Vista Creek (draining into Buena Vista Lagoon), San Marcos Creek (draining into Batiquitos Lagoon), Lower Escondido Creek and Upper Escondido Creek (draining into the San Elijo Lagoon). For more information about these teams, contact info@preservecalavera.org.
New Community Organizer Starts on September 5th
Thanks to a grant from the Malk Nature Fund, our first employee will be starting work on September 5th. Sami Collins will be working on creating volunteer groups to steward the natural lands in their backyards. More about her and this exciting new program next month.
Veteran's Park
On August 22 the CB City Council officially cancelled plans for a regional "adventure park". Veteran's Park had been the likely location until the consultant rightly recognized that the kind of "adventure" they were talking about would be a conflict with the sensitive habitat that covers close to half the site. That now creates the opportunity to plan for real neighborhood parks in each quadrant - close to where people live and want to recreate. Let us know what we can do to help make that happen in your quadrant.
Trump's Proposed Budget and Impacts to EPA
The gist of Trump's proposed "back-to-basics" budget for the EPA is this – shift responsibility for enforcement to states and tribes but don't give them any money to do that. This justifies cutting the EPA's budget by almost 1/3 because they won't have so much to do – like protecting clean air and water, wildlife and natural open spaces. Laced throughout his budget is the idea that the EPA's mandated mission to protect human health and the environment must also "enhance economic growth." That was not part of the original plan put forth by Nixon in 1970.
Some of the consequences from the proposed budget for the EPA:
1. Reduces an already thin EPA staff by 3200 positions
2. "Reorients EPA's air program to protect the air we breathe without unduly burdening the American economy". Forget about American health from air pollution it's all about the bottom line.
3. Decreases funding for Superfund cleanup by 1/3. CA has 50 Superfund sites and over 1400 brownfields that need fixing.
4. Decreases funding for enforcement of environmental laws and regulations by ¼.
5. Reduces federal investments in state environmental activities.
6. Discontinues funding for Obama's Clean Power Plan, international climate change programs, climate change research
As someone concerned about the future for my grandchildren, this last one is particularly irksome. Trump doesn't seem to know the difference between climate and weather. His denial of climate change insults the intelligence of those of us who support science. It shows a complete disregard for the welfare of the American public and of generations to come. In the US we are experiencing 1-in-500 and 1-in-1000 downpours, floods, storms at an unprecedented rate.
Let's us be clear, the EPA regulations are PROTECTIONS for our air, our water, our wildlife, our health. This budget would undermine the original purpose of the EPA.
Kids and Nature
Here is one person's perspective about how we can overcome traditional barriers so everyone can enjoy our national parks- and a lot is relevant at the local level too. Lets all take some kids outdoors!
---
Tarantulas are on the march….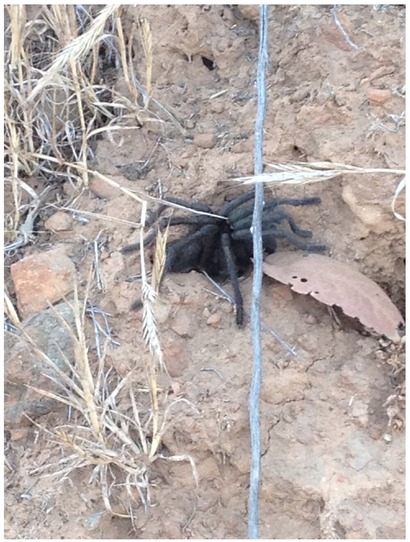 It's that time of year when the males seek out the females in their burrows. We've had reports of several sighting already! Look for them in the evening in sparse fields and grasslands with dry soil. The males are up to 2.5 inches (females are larger) so they are fairly easy to spot.
The fellas live about 7-8 years but the ladies can reach 25 years of age! Tarantulas are not aggressive but can bite (similar to wasp or bee sting) and release irritating belly hairs if handled. Please do not try to capture as a pet. They are beneficial creatures; eating a variety of insects and sometimes lizards, scorpions and even young rattlesnakes!
September Activities
Sat Sept 9 8:00 - 9:30 AM
Village H Volunteer Work
Join us for what we hope will be a regular monthly work session- engaging this Calavera Hills neighborhood (and others) to care for the open space in their own backyard. This month will be light work- good for all ages. We will continue raking up the eucalyptus debris around plants in part of the site being restored. This will be a quick, focused work session starting early to avoid the heat- and finishing early to leave most of your day free for other activities. Wear closed toe shoes- and long pants and shirt sleeves are best. Bring your own gloves, water, and a rake if you have one. (We will have supplies also). We meet at the trail head off Carlsbad Village Drive west of Victoria in Carlsbad. Please RSVP to let us know if you can come at info@preservecalavera.org.
Sat Sept 16 9:00 AM - 12:00 PM
Coastal Cleanup Day 2017
Join us on Saturday, September 16th from 9:00 AM – 12:00 PM as we clean up and beautify over 100 sites throughout San Diego County! Last year, an incredible 7,550 volunteers came out to our 114 coastal and inland sites and successfully removed 185,000 pounds of litter. Our volunteers channeled their appreciation for San Diego's environment into action to protect it. Join us this year and be a part of this international event!
Registration is now open! For more information and registration, head over to
CleanupDay.org
.
Sat Sept 30 8:30 AM - 11:30 AM
Carlsbad Trail Volunteer Event and National Public Lands Day at Lake Calavera
The City of Carlsbad will celebrate National Public Lands Day with a volunteer trail cleanup at Calavera Preserve.
Volunteer work will include vegetation trimming, trail erosion repairs, weed and litter removal, and other
miscellaneous trail maintenance. Staff will be on hand to provide information on the city's trail system and to assist with the day's work activities.
The city will provide tools, water and light snacks.
Volunteers should bring gloves and wear long pants, hats, sunscreen and closed toe shoes.
Registration for the Sept. 30 event is not required. For more information, see
flyer
.
Future Events
October 14 - Carlsbad Trail Volunteer Event at Hosp Grove.
October 21 - Village H Volunteer Work
November 18 - Carlsbad Trail Volunteer Event at LaCosta Glen.
December 9 - Carlsbad Trail Volunteer Event at Old RSF Road.
Our all-volunteer organization can not do what we do without your help. Your time, talent and donation can make a difference right in your own backyard. Call or email us to see how else you could get involved.