Dear Preserve Calavera Supporter
Gnatcatcher Saved from Endangered Species Delisting Attempt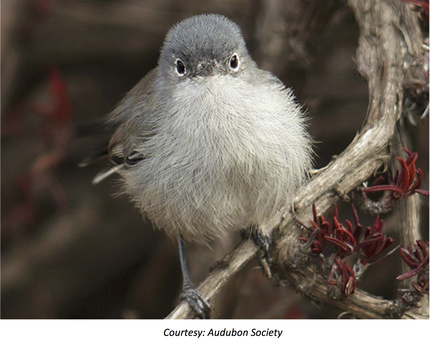 A year-and-a-half ago, in February 2015, Audubon alerted the public that property developers were petitioning to remove the threatened Coastal California Gnatcatcher from the Endangered Species list. The petition was based on deeply flawed science, and more than 33,000 Audubon supporters wrote to the U.S. Fish and Wildlife Service (FWS), urging them to keep the protections in place. Yesterday, FWS announced it rejected the delisting request.
The FWS ruled that the bird is a unique subspecies and warrants its listing as threatened. This decision affirms years of peer-reviewed research and Audubon's position that the Coastal California Gnatcatcher is a distinct subspecies that must be protected.
The decision isn't just a triumph for the California Gnatcatcher, but a win for all species that rely upon coastal sage scrub for survival.
---
Thank you for Helping Remove Eucalyptus Debris From Our Village H Restoration Area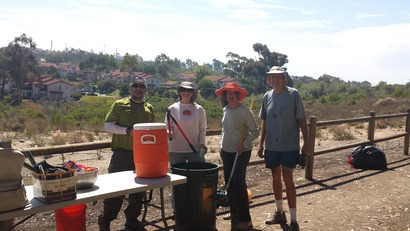 Thank you to Gary, Tim, Todd and Diane for another work session to remove eucalyptus debris from our Village H restoration area. It takes a sustained effort over a long period of time to restore our natural lands. But it is the hearts and hands of volunteers that make the difference. Thank you to everyone who pulls those weeds, plants natives, collects ladybugs to save them from herbicides, repairs trails, picks up dog poop and trash and does all of the other things that give Mother Nature a hand.
---
Mother Nature's Warning: Pay Attention to Climate Change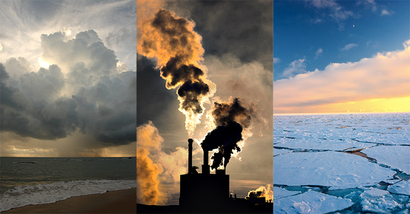 Speaking of giving a hand, Mother Nature is telling us every day that we need to pay attention to climate change. Here are some of the latest, startling images:
https://www.climaterealityproject.org/video/ten-clear-signs-our-climate-changing?utm_source=Email-10-clear-indicators-video&utm_medium=Email&utm_campaign=General
---
Other News

Measure B Lilac Hills
The initiative process is happening again- with Measure B Lilac Hills on the Nov ballot- bypassing good planning and CEQA. This will change an area zoned for 110 homes to over 1,700 and leave the taxpayers footing the bill for all of the needed infrastructure. For more information go to
http://www.transitsandiego.org/vote_no_on_a_b
.
Fortunately there is an effort underway to close the loophole in the initiative law that allows projects like this to get to the ballot.
---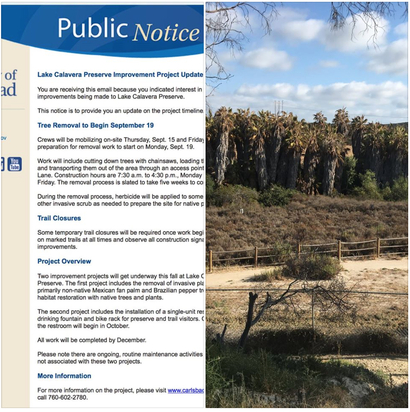 The removal of the palm trees at the Lake Calavera Preserve will begin about mid September. We are happy to see these non-native species removed. We have had several follow-up meetings with the city and expect that community outreach will be improved and further chemical use will be reduced. This is one of many restoration projects needed in this preserve. We hope that future ones will have a more collaborative process from the beginning. For updated Q and A see our website at our
Lake Calavera Preserve page
.
---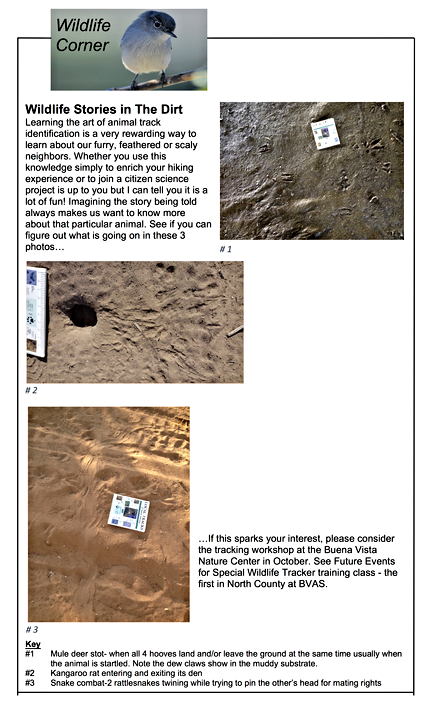 Wildlife Stories In The Dirt by Karen Merrill
Sept Activities
Sept 16 Sat. 9 AM - 12 Noon
Buena Creek Clean-up in Vista
Meet at Burlington Coat Factory parking lot (at intersection of Sycamore Ave. and Shadowridge Dr.) Please wear long pants, long sleeves and sturdy shoes. (No flip-flops!) Latex gloves available or bring your own garden gloves. Sign up: Here's the link for registration:
http://creektobay.org/registration.php
Sept 24, Sat 8:30 - 11:30 am
National Public Lands Day
Trails Work at Hidden Canyon Park In Carlsbad
National Public Lands Day is the nation's largest, single-day volunteer effort aimed at educating the public about the environment and natural resources to improve public lands for outdoor recreation.
The volunteer trail work will include planting native plants, fencing installation, weeding, and trail repair- plenty of work for everyone !
---
Future Events
10/15 Sat - Kids event celebrating bats and food at Buena Vista Nature Center
---
Our all-volunteer organization can not do what we do without your help. Your time, talent and donation can make a difference right in your own backyard. Call or email us to see how else you could get involved.