Dear Preserve Calavera Supporter

Treasure The Natural Lands We Still Have

I treasure my regular walks through the Calavera Preserve. A quiet respite from our usual loud and hectic lives. But today was different - with the sounds of backup warning beepers, heavy trucks and chain saws replacing the treasured quiet usually only punctuated by the call of a bird. Most of us have some quiet area we escape to - but we cannot take these places for granted. We all have to be stewards of these special places - the eyes and ears that pay attention to changes and report those that need attention. At Calavera this temporary condition will remove the invasive palms and pave the way for the restoration of this area back to what it should be. But in too many other places the changes are part of the permanent loss of one more piece of open space. One more that cannot be replaced. One more that future generations will never be able to experience. Let us all treasure the natural lands we still have - from our majestic national parks, to the empty lot around the corner.
---
Help Protect El Salto Waterfall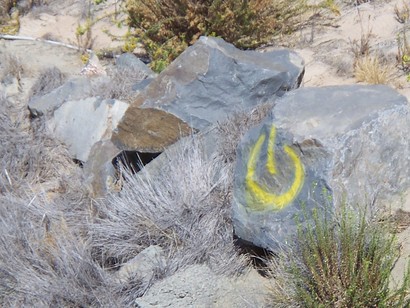 Here is one of many areas we help steward. The El Salto waterfall at the head of the Buena Vista Creek Valley has been subjected to another round of graffiti. Here is one place where more eyes are needed to help protect this site that is sacred to Native Americans and treasured by us all.
---
Coastal Cleanup Day at Buena Creek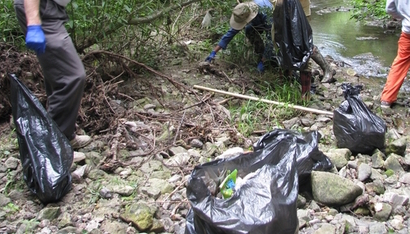 Coastal Clean-up Day is not just for the coast! About 100 people helped at Buena Creek in Vista. Two dumpsters couldn't hold all of the "stuff" pulled out of one little reach of creek in the Agua Hedionda watershed. Thanks to the 1,000's of volunteers at sites like this all across the region.
---
No Way On Measure A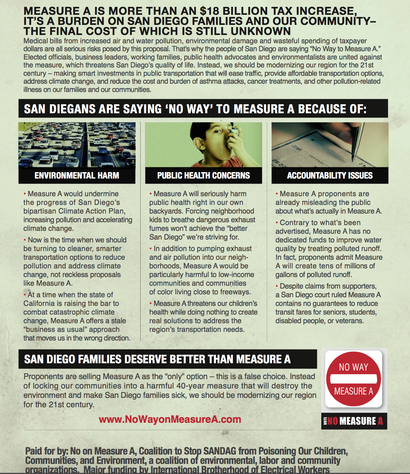 The No on Measure A (40 year Transnet sales tax) campaign held their kick-off event last week. This county wide ballot measure will impact all of us. Preserve Calavera is part of the coalition of environmental, public health and social justice organizations, transit advocates, elected leaders, businesses and working families from across San Diego County that oppose Measure A. This harmful 40-year tax gives a blank check to government bureaucrats with no guarantee to relieve traffic congestion, reduce air pollution or meet state targets to address climate change. We have a better vision for the future of this region - one that addresses climate and modernizes our transportation system for the 21st century. Learn more at
www.NoWayonMeasureA.com
---
Coexisting With Our Wild Neighbors…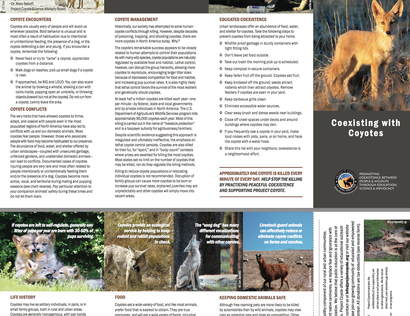 In our ongoing effort to educate folks about the importance of understanding the value of our local wildlife, especially coyote, to our coastal sage scrub and chaparral ecosystems and the problems that occur when they find our neighborhoods good hunting grounds, we have compiled some resources that may be helpful.
California Fish & Wildlife has information on how to avoid conflict.
brochure:
Project Coyote, a national non-profit organization, is a North American coalition of scientists, educators, ranchers and citizen leaders promoting compassionate conservation and coexistence between people and wildlife through education, science and advocacy. They have a wealth of information on their website:
brochure:
Let's all be good neighbors and do our part to keep our pets safe and our wildlife wild!
October Activities
Oct 15 Sat 8:30 - 11:30 AM
Lake Calavera Preserve Trail Cleanup Event
This is the regular monthly trail volunteer event with the city of Carlsbad. Work will include: trail erosion repairs, trailhead improvements, vegetation trimming and weed removal, and trash pick up. You will also have a chance to see the installation of "bat boxes" and learn how these can help this little critter maintain a healthy ecosystem. Please wear closed-toe shoes, sunscreen and gloves. Tools will be provided.
October 15 Sat 1:00 PM
Free Kids SPECIAL EVENT Celebrating Bats and Bat-pollinated Food!
Children's author and illustrator Janell Cannon teams up with Amanda Mascia, creator of
The Good Food Factory
children's healthy cooking show, at the BVAS Nature Center. Janell will read from her book Stellaluna, the story of a lost bat who finds her way home. Amanda will help participants cook up a snack packed full of foods that have been pollinated by bats. Open to children 4+ years old. Please RSVP by October 7, either at the sign-up sheet at the Nature Center or by email to buenavistanature@gmail.co. Also see
Celebrating Bats and Bat-pollinated Foods
for more information.
Oct 21 Fri 6 - 9 PM and Oct 22 Sat 9:00 AM - 12 Noon
The Art and Science of Wildlife Tracking
Learn basic track and sign identification, avoid the pitfalls of perception, learn how to distinguish between mountain lion and domestic dog tracks and more at this 2-day class. Class will be taught by San Diego Audubon volunteer Jill Cooper. Jill is a trained biologist who has been tracking wildlife for over 10 years. Fri night class is at the BVAS Nature Center (2202 South Coast Hwy in Oceanside). Sat field day will be at Daley Ranch . Cost is $40 for students and limited income, $60 for San Diego Audubon or BVAS members, and $80 for general public. Please register at:
http://www.sandiegoaudubon.org/events/workshops
or email cooper@sandiegoaudubon.org.
---
Special Events Coming Up...
January 2017 California Naturalist Certification Class:
Registration Now Open!
Preserve Calavera in partnership with UCSD Natural Reserve Systems will offer the California Naturalist Certification program (developed by UC Continuing Education) in January 2017. The course is now posted on the
California Naturalist
website.
For more information, please view the flier
here
.
To register for the class, please go to this
link
.
---
11Th Annual Kayak Batiquitos Lagoon Cleanup Registration Now Open!
This Batiquitos Foundation event is the only time of the year when kayaks are allowed on the lagoon.
Bring your own kayak or use one provided by REI. (Please note the minimum age for participating in kayaking on the lagoon is 12).
When: Saturday and Sunday, November 5 and 6, 2016
Kayak launch times from 7:30 a.m. to 3:30 pm
Where: Meet at LaCosta Park and Ride (I-5 and LaCosta Avenue)
Cost: $60 per person for two hours which includes registration, water safety instruction and time on the lagoon (tax-deductible!)
---
More Future Events
Nov 5 Sat - Clean-up of Buena Vista Creek valley
Nov 8 Tues - Election Day
Nov 12 Sat - Trail Work at Hosp Grove
Jan 10, 2017 - Ca Naturalist Class beginsl
---
Our all-volunteer organization can not do what we do without your help. Your time, talent and donation can make a difference right in your own backyard. Call or email us to see how else you could get involved.