Getting Informed and Taking Action on Climate Change:
Do you need to learn more about the science behind climate change? On August 3rd former Vice President Al Gore's new film An Inconvenient Sequel will be released locally. Preserve Calavera will be purchasing a block of discounted tickets for the August 6 evening showing of this informative film. Contact Paige at pdecino@preservecalavera.org by Aug. 4, if you'd like to join us at the Carlsbad Regal Theater (The Shoppes at Carlsbad), time to be announced later. Tickets are $14.50 for adults, $11.75 for children under 12; we'll need at least 25 participants for this event.
Also, one of our board members recently went through a Climate Reality Project training for presenting the same information as the movie and is willing to give presentations locally. Please contact us at pdecino@preservecalavera.org if you are interested.
Lastly, a newly published book looks at the causes and solutions to the most critical sources of greenhouse gases, some of which may surprise you. Check out Drawdown: The Most Comprehensive Plan Even Proposed to Reverse Global Warming edited by Paul Hawken.
Community Choice Energy:
Good news for locals pushing for steps to combat climate change: On July 11, the Carlsbad city council joined Del Mar and Encinitas in unanimously approving an implementation study about regional Community Choice Energy (CCE). As we've reported recently, CCE is a cornerstone for municipalities being able to reduce greenhouse gas emissions. It also introduces competition for SDG&E, something local business owners appreciate. The city of San Diego recently completed its
study
which predicts reaching 100% renewable energy by 2035 while likely lowering electricity rates. Our regional group is awaiting Oceanside's decision to join the effort. The study will hopefully be completed by early 2018.
Climate Action Plans:
We're fortunate to live in a state where climate change is taken seriously. California is undergoing
significant impacts
due to a changing climate from unpredictable water supplies, increased wildfires, rising sea levels and economic concerns in agriculture shifts due to changing water sources and rising temperatures.
To lower greenhouse gas emissions mandated by AB 32, cities and counties are adopting Climate Action Plans or CAPs. "Climate action plans are comprehensive roadmaps that outline the specific activities that an agency will undertake to reduce greenhouse gas emissions. Climate action plans build upon the information gathered by greenhouse gas inventories and generally focus on those activities that can achieve the relatively greatest emission reductions in the most cost effective manner." (See:
Climate Action Plans--Institute for Local Government)
. To date the following cities' progress is:
- Vista adopted its CAP – Nov. 2012
- San Marcos adopted its CAP – Sept. 2013
- Carlsbad has adopted its CAP - Sept. 2015
- San Diego adopted its CAP – Dec. 2015
- Del Mar adopted its CAP - June 2016
- Encinitas released its draft CAP - June 2017
- Oceanside – a work in progress; contact the
Oceanside CAPers
if you want to get involved.
As in many things in life, the devil is in the details. You may want to check out your city's CAP probably available on their website.
Invasive Species: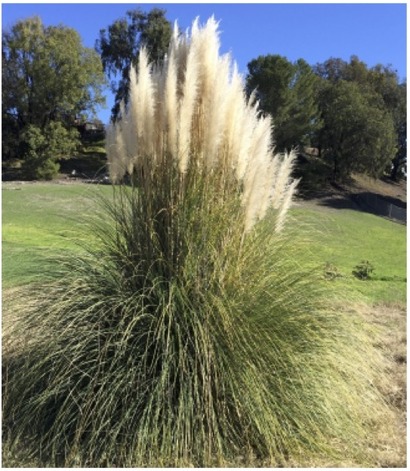 For conservationists, invasive species are those non-native organisms that upset the balance of natural ecosystems. They become a problem because they can out-compete native organisms by corralling resources (water, food, etc.). With climate change, invasive plants may be better adapted to the temperature shifts in a given region. New pathogens capable of attacking native species may also emerge with a warming climate. This is another assault on our shrinking natural lands. For a more thorough discussion on invasive species read this article from:
Mother Nature Network
,
about Pampas grass, Cortaderia selloana.