Click to view this email in a browser
Our Foster Kitten was Stolen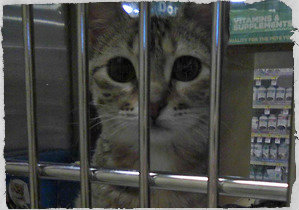 Firefly was stolen on March 14th

We had a terrible event happen today at our adoption center at Frisco PetSmart.

Two teenage boys cut open a lock on one of our kitten's cages and stole our sweet kitten, named Firefly.

We are working with the police, and doing everything we can to find her, but realistically the odds of getting her back are not good.

She deserved the life we were trying to find for her.
Type Title Here
You can see a video of Firefly on our
website
Please keep your eyes and ears open for anyone who has recently acquired a kitten or is trying to give away a kitten.
You can contact us through our
website
or leave a message on our voicemail 972-498-8980
We are all hoping Firefly will be returned to her foster home or at least have a safe life.

Frisco Humane Society

Phone: 972-498-8980
FHSAdmin@FriscoHumaneSociety.com

---