---
---
MIOH Staff



Marla Brucker, DCH, R.HA
Executive Director
(858) 587-0422
---
---

---
---

Stephanie Langlais
Administrative Assistant
(858) 587-0422
---
---
LAUGHTER YOGA: Special thanks to Jill Knox
Our Open House last week was a great success. We had a presentation on Laughter Yoga and its many benefits. I want to thank Jill Knox, a certified laugh leader, for helping lead the group in laughter. It was a great evening of learning, sharing, and laughter. Jill, your take charge, fun, easy going manner helped make the evening a success. Thank you again….Alohaaaaaa.
---
---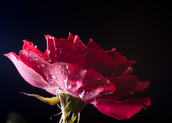 Inspirational Quotes
"You can alter your life by altering your mind. Change your thoughts and you change your world."
- Norman Vincent Peale
"Nothing has power over you other than that which you give it through your conscious thoughts."
- Anthony Robbins
"Of all the things you wear, your expression (smile) is the most important."
- Janet Lane
---
---
Testimonials
"I find NLP an extremely effective way to help my clients let go of thought patterns and beliefs that are no longer working for them, which opens them up to entirely new possibilities in their lives. The NLP process brings about profound change in a short time and I cannot imagine my practice without it."
- Gillian
---
---
Did You Know?
Hum a Happy Tune: The vibration you feel along the roof of your mouth and in your nasal cavity and sinuses when you hum can clear sinuses no matter the cause of congestion. By humming, the gas exchange (swapping stale, damp, infected air for fresh air) between the nasal passage and sinuses can be as high as 98% during one exhalation. By contrast, the gas exchange rate during normal exhalation is only about 5%. Poor gas exchange and poor circulation in the sinus cavities can promote bacterial growth and infection. Therefore hum several times a day and watch for improvement. (Natural Solutions Magazine)
---
---
---
---


Letter from the Executive Director

Hi Everyone,
Your personal belief system creates your reality.
Our thoughts, when combined with feelings, are creating our world. Whatever we think about and have strong feelings for, will manifest in our life experience. If we think about what we don't want, it seems that we create it anyway. So what is it that you want...?
Here's an example of how changing one's mindset and belief system created a shift in one's reality.
I had a grandmother who lived past the age of 100. During visits to my parents in Los Angeles, my Grandmother (who lived on her own) would often sleep-over so we would have the quality and quantity time to spend together. One morning while I was getting ready, I heard from the adjoining room, "MWA, MWA, I love you, don't hurt." I thought, "OK, she's old."
I then proceeded to open the door to her bedroom and she's still in bed, kissing her ring finger, and rubbing it, repeating; " MWA, MWA, I love you, don't hurt." I then interjected by saying, "Grandma, what are you doing?" …
Her answer was; "For 98 years-old I have my aches and pains, but I have arthritis in this finger, and I can either be angry that it hurts or love and kiss it in hopes that it would go away." (And the pain left her within three weeks.)
Our next training in Therapeutic Neuro-Linguistic Programming is a powerful transformation and self development program filled with tools and techniques for both you and others. If you've wanted to create more success, and personal transformation, as well as to shift old thoughts and behaviors and help others do the same, this is the program for you. Click here to read more!
Life is not a dress rehearsal, so begin to live it now. Belief in yourself and surround yourself with others that believe in you.
The future belongs to those who believe in their dreams…keep believing.
To Your Success,
Marla Brucker, DCH, R.HA
(858) 587-0422

---

Upcoming Certification Trainings
Beginning March 24th, 2012
CE credits available
Achieve greater lasting success both professionally and personally. Learn easy, simple techniques to expand your mind as you achieve more success, happiness and prosperity. Develop greater communication skills to tap into your inner potential to behave consistently with your goals. Increase your effectiveness at work and within relationships as you learn to look at life's challenges as opportunities.
This hands-on interactive training in Therapeutic Neuro-Linguistic Programming will help:
• Assist you and others to have greater success;
• Accomplish goals;
• Increase your income;
• Expand your gifts and talents
• Release old limiting beliefs about your abilities, confidence, and self-worth;
If you want to make changes in your life and help others do the same, this training is for you!
Click here to find out more about the NLP training
Receive a $100 discount

if you register on or before March 14th!
SEATING IS LIMITED. Due to popular demand these certification trainings Sell Out quickly. Call to reserve your space now.
---
---
Energy Psychology Class - February 2012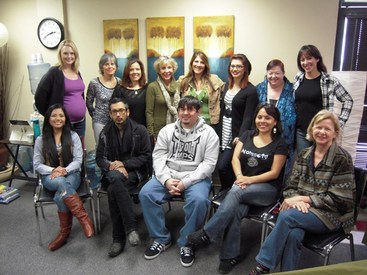 Top row:
Louise Pattie, Nina Sights, Pricilla Osso, Marla Brucker, Ayellet Tsadeek, Brittany Theisman, Susan Gerhart, Nicole Cadden
Back row:
Divine Capitle, Rafael Reyes, Joel Lombera, Jennifer Castaneda, Barbara Michalec
---
"Mind Over Metal"
Spoonbending Workshop: May 24th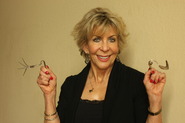 6:30p.m. – 9:00 p.m.
Marina Village
Room E12
936 Quivira Way, San Diego, CA 92109
Unleash your hidden powers through psychokinesis
In this incredible hands-on workshop, you'll learn how to access more of your creativity, intuition and healing abilities as you begin connecting with the 90% of the unused portion of your mind's power. You'll achieve a sense of empowerment and come away with bent spoons and forks to remind you every day of just how powerful you really are!
Cost (includes all materials):
$39 before April 10, 2012
$49 April 10, 2012 and after
$55 at the door
Workshop description available online:
To Register:
Contact Dr. Marla Brucker: (858) 587 – 0422
Email: Marla@SDHypnosisTraining.com
---
Please share this with others!