Mayor Lee Enacts City Ordinance Developed
And Championed By Lawyers' Committee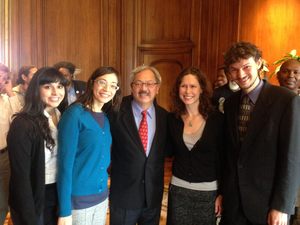 Roxanne Dominguez-Shell of LCCR, Michelle Rodriguez of National Employment Law Project, LCCR Staff Attorney Meredith Desautels, and Jesse Stout from Legal Services for Prisoners with Children join SF Mayor Ed Lee at the signing of the Fair Chance Ordinance.
Capping a long and arduous effort led by the Lawyers' Committee, Mayor Ed Lee signed into law the Fair Chance Ordinance. Introduced by Supervisor Jane Kim, and co-sponsored by Supervisor Malia Cohen, the Fair Chance Ordinance will extend the City's current fair hiring policies, known commonly as "ban the box" to private businesses, affordable housing, and contracting. The Lawyers' Committee developed and championed the ordinance because we know how critical it is to remove unnecessary barriers to stable housing and employment for individuals with conviction records. Click here for a summary of the legislation and here for the full text.

Our success in securing passage of the Fair Chance Ordinance is the latest victory in a growing, nationwide civil rights effort to create fairer standards and procedures for employers and affordable housing providers when they inquire into an applicant's conviction history. The ordinance seeks to address the barriers faced by the estimated 1 in 4 Californians with an arrest or conviction record, allowing these individuals an opportunity to compete for jobs and housing. In particular, the ordinance will help to open up opportunities for low-income people and people of color, who are disproportionately affected by the criminal justice system.
The Lawyers' Committee is at the forefront of this wave of civil rights advocacy. Through the Second Chance Legal Clinic, the Lawyers' Committee and our pro bono partners work directly with people impacted by the stigma of a prior record, providing free legal assistance to people with prior arrests and convictions who are struggling to overcome their past mistakes and become equal and contributing members of the community. "What we see in our clients' experiences is that too often the background check trumps everything, and qualified employees are categorically screened out of jobs. This clinic work informs our policy advocacy as we see the real world implications of barriers to successful re-entry," says Lawyers' Committee staff attorney Meredith Desautels. "We need common sense policies, like this ordinance, that delay the background check and allow people to be considered based on their qualifications, not solely on the check mark in the criminal convictions box."
The Lawyers' Committee led this effort in partnership with Legal Services for Prisoners with Children, National Employment Law Project, and numerous community partners, including: All of Us or None, Community Housing Partnership, and the Coalition on Homelessness. Additional stakeholders who supported passage of this legislation, include the San Francisco Chamber of Commerce, the Sheriff's department, the Public Defender's Office, and the District Attorney's office.

###