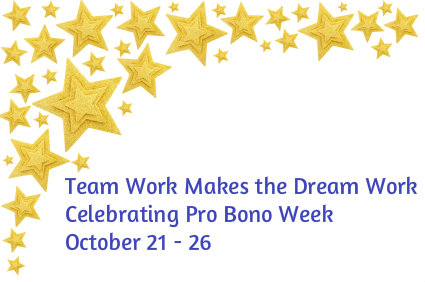 Dear Friends,

In celebration of Pro Bono Week, the Lawyers' Committee honors the outstanding work of the many volunteers who offer their services throughout the year to meet the needs of the most vulnerable in our communities. Whether through direct service, impact litigation, mentoring, interpreting, or any number of other ways, you continue to show up and share your knowledge, wisdom and training. Because of your tireless dedication, you make a real difference in the lives of our clients who would otherwise be unable to access or navigate the justice system. You enable us to actualize our mission to protect and promote civil rights to ensure justice for all. We are humbled by the generosity of our pro bono community and, we simply say "thank you".

Pro Bono Week not only reminds us of all the great work being done, it reinforces how essential your role is in expanding services to all in need. Help us continue providing high quality legal services to those living on the social margins by taking on a new pro bono matter in the days ahead. Please contact our Pro Bono Coordinator, Paul Chavez, at: pchavez@lccr.com.

Over the course of this week, we'll be reaching out to some of our most active partners with in-person acknowledgements. Don't be surprised if we show up on your doorstep with a special treat! And, even if we don't come to your door, know that you are appreciated beyond measure and we look forward to a future of powerful collaboration.

Keep On,





Kimberly Thomas Rapp
Executive Director
Lawyers' Committee for Civil Rights of the San Francisco Bay Area, founded in 1968, works to advance, protect and promote the legal rights of communities of color, and low-income persons, immigrants, and refugees. Assisted by hundreds of pro bono attorneys, LCCR provides free legal assistance and representation to individuals on civil legal matters through direct services, impact litigation and policy advocacy.