Fri, Mar 2
5 - 7 pm Returned Peace Corps Volunteer Reception

6 - 9 pm Fort Collins Gallery Walk

1/2 price Admission
Returned Peace Corps Volunteers (RPCV) are cordially invited to a reception in their honor at the Global Village Museum of Arts and Cultures. With the theme "Highlighting Host Homes," attendees will exchange stories and share experiences from 5-7 pm on Friday, March 2.
Food and drinks provided to celebrate Peace Corps Week.
Please RSVP to Erin Cubley, Peace Corps Representative for Colorado State University, at
peacecorps@colostate.edu
or 315-854-4958.
Live African Music at Global Village Museum
Experience cultural collections and awe-inspiring artifacts at the Global Village Museum of Arts and Cultures for half-price admission from 6-9 pm on Friday, March 2, as part of Fort Collins Gallery Walk. From 6-8 pm visitors will enjoy the African beat of marimbas and drums with performers from Fort Collins Marimba and the African Drum and Dance Collective of Fort Collins.

---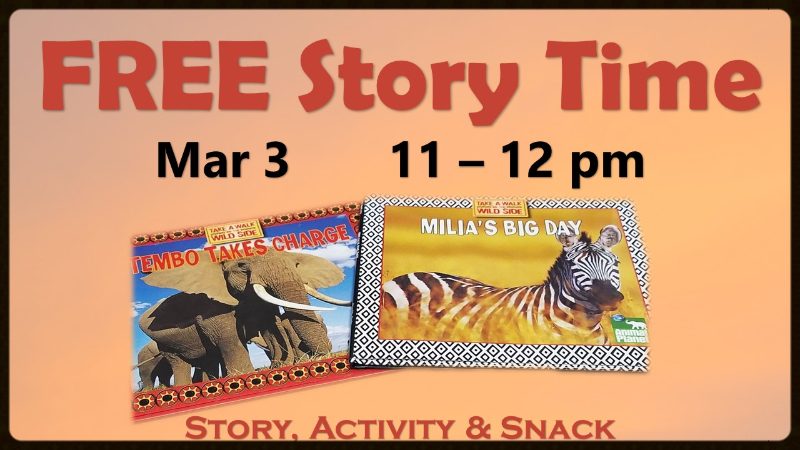 FREE Storytime at GVM
Sat, Mar 3 11 – 12 pm
Jacqueline Kennedy Onassis said, "There are many little ways to enlarge your child's world. Love of books is the best of all." The Global Village Museum of Arts and Cultures offers a FREE Storytime the first Saturday of every month from 11 am to noon. Join the talented storyteller for an exciting and dynamic hour of imagination and creativity. Two parents and/or guardians are admitted free with each child.
Readings, an African scavenger hunt, and a yummy snack will delight youth ages 3-10.
See you at 11! Admission = FREE

---
History Harvest
Sat, Mar 3 2 – 4 pm
The CSU Museum Methods graduate class will be holding a "harvest" for family heirlooms, documents, photographs, letters, etc. that speak to the history of immigration in Fort Collins for their upcoming exhibit at Global Village Museum, Bags Packed and Headed to the Rockies: The Legacy of Immigration in Fort Collins. Please bring items to loan and questions you may have to the Museum on March 3 between 2 - 4 pm. We would be honored to exhibit items from your legacy in the GVM Hall Gallery April 6 to April 28.
---
A Maasai Through the Decades & Experiences in Uganda
Mar 10 1 - 3 pm
Two experts from Colorado State University will explore facets of Kenya and Uganda from 1-3 pm Saturday, March 10, at the Global Village Museum. James DeMartini, Professor Emeritus, will relate the story of Moses, a Maasai in Kenya. Gregory Vogl, a CSU Middleware Developer, will highlight his experiences in Uganda. Admission is $5/person and includes admission to five galleries along with Dr. Gerald Olsen's photographs of East Africa. The program is part two of the Museum's East Africa Program Series in conjunction with its Main Gallery exhibit, Colors of East Africa.
Admission $5 ~ Members FREE
---
Last Day Hall Exhibit Photographic Colors of East Africa
Mar 17

All great exhibits must come to an end, including Dr. Gerald Olsen's extraordinary photographs from his adventures in Africa.

From lions and giraffes in Tanzania to indigenous cultures in Ethiopia's Omo Valley, Gerald Olsen's photographs capture the vibrant and fascinating nature of East Africa. "I have used nine different cameras over the years," explained Olsen. "I concentrated on the faces of people and the wildlife in Africa. I got close to lions, but never had a problem. That said, I've had three close calls with elephants who were not pleased that we got so close to them."
---
Hall Exhibit Opening
Bags Packed and Headed to the Rockies: The Legacy of Immigration in Fort Collins
| | |
| --- | --- |
| Apr 6 | 4 - 6 pm - VIP/Members Reception |
| | 6 - 9 pm - Fort Collins Gallery Walk |
The Global Village Museum and CSU Museum Methods graduate students have partnered to curate an exhibit celebrating the legacy of immigration in Fort Collins. The exhibit, Bags Packed and Headed to the Rockies: The Legacy of Immigration in Fort Collins, opens April 6. The exhibit will focus on various groups including Native Americans and ethnic communities from the 1850s to the end of the 20th century. This displays will highlight the valuable contributions of immigrant groups to the culture of modern Fort Collins.
---
Calling All Foodies

GVM is seeking unique, ethnic, and/or historic cooking, drinking, and eating utensils used around the globe. The Main Gallery exhibit, Serve it up! International Utensils, will showcase nearly 100 utensils with interactive displays from June 2 to Sept 22. We prefer to feature handmade, one-of-a-kind, or unusual items and collections.
If you have interesting utensils to share with the community,
please call Dawn or LaVon at 221.4600.
---
John & Kathleen's (Global Village Board Members) Great Adventure....Dec 15, 2017 - May 12, 2018. Crossing the Tasman Sea they encountered 25-foot waves and swells that knocked the ship around like a cork in the bathtub, causing most of the crew and passengers to be sick. They enjoyed the culture of New Zealand and Australia (Kathleen enjoyed a kangaroo steak). They were able to see these gorgeous locations before the decimation of Cyclone Gita.
In March they will explore countries along the China Sea.
Below are a few pictures of their trip!
---
64th Annual World Unity Fair: Celebrating the Cultures of CSU
Mar 3 ► 2 – 9 pm Lory Student Center Ballroom & Theatre

Join this community-wide, globally-focused celebration at the 64th Annual World Unity Fair! With entertainment and activities for all ages, this event unites more than 25 culture and nationality groups from both CSU and the Fort Collins community. Immerse yourself in the rich traditions, alluring tastes, and the lively music and dance throughout the evening.
Families are especially encouraged to attend and will find engaging activities for the young ones at the Youth World Tour. Children will receive a passport to fill as they visit different cultural booths and try the activity, craft, or games especially for kids.
International Women's Day - Dining For Women
Mar 8 ►

5 pm at Global Village Museum


Admission $3

Local chapters of Dining for Women (DFW) will gather at the Global Village Museum at 5:00 pm to view the exhibits, share international appetizers, and join with DFW chapters from around the country in a virtual meeting. At 5:30 pm the webcast "Putting Women and Girls at the Center of U.S. Foreign Aid " features a panel discussion on the importance of U.S. foreign aid for women and girls in the developing world. Oxfam America is co-hosting the meeting, which takes place at Oxfam's office in Washington, DC. Open to the public by reservation and $3 fee.
Deadline: March 5. Contact: Judy Lane at judylane62.jl@gmail.com or (970)797-2532

United Nations Association NoCO Annual Meeting
March 10

►

11 am at Plymouth Congregational Church - 916 W Prospect 80526

UNA NoCO Annual Meeting will feature guest speaker Melisa Esposti. They will also present an update on their Adopt-A-Future campaign to raise funds for the Kakuma School in Dadaab Refugee Camp, Kenya. Please RSVP to Bob Jeffrey at jeffrey2co@gmail.com or 970-443-2428. It is a potluck lunch. More information.
International Book Club
March 18 ► 5 pm at Global Village Museum

The International Book Club will be discussing Under the Udala Trees by Chinelo Okparanta. Any questions email interntionalbookclub80521@gmail.com.