WCCP Members:

Barcelona, Spain
Boston, USA
Dublin, Ireland
Haifa, Israel

Lyon, France
Associate Members:

Guadalajara/Zapopan, Mexico

Hamburg, Germany
Lisbon, Portugal
Vancouver, Canada

---

WCCP Staff

Michael Lake
Executive Director

Daniel Spiess
Research Director

Ian Sample
Operations Coordinator


The World Class Cities Partnership is hosted at Northeastern University's School of Public Policy & Urban Affairs.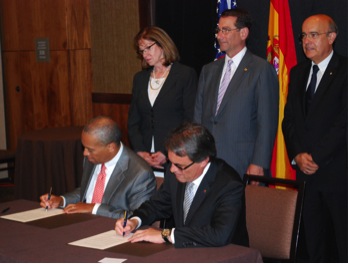 WCCP Facilitates Historic Trade Agreement
On June 20th, Governor Deval Patrick and Catalonian President Artur Mas signed a formal trade agreement between Massachusetts and Catalonia. WCCP is proud to have played a key role along with representatives from both the Catalan and Massachusetts' governments in facilitating these successful trade talks, which were officially initiated during the WCCP Policy Exchange Mission to Barcelona in November of 2011.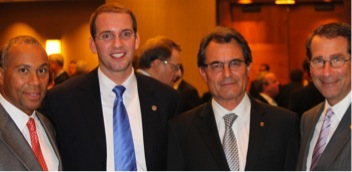 WCCP Executive Director Mike Lake appearing with Gov. Deval Patrick, President Artur Mas and U.S. Ambassador Alan Solomont celebrating the historic signing ceremony.
---
WCCP Partners Conclude research on Talent Attraction and Retention and Initiate New Study on "Co-creating Sustainable Cities"
The second annual WCCP Summit was held June 27-29, 2012 in Barcelona, Spain. Members of the WCCP Network, representing 9 cities from around the world, gathered to share their research findings regarding this past year's topic of talent attraction and retention, explore first-hand some of the successful programs initiated in Barcelona, and design the WCCP research agenda for the coming year.
---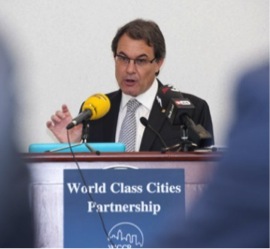 President of Catalonia Artur Mas
WCCP Explores Transportation Opportunities with President Mas of Catalonia and Governor Dukakis
The WCCP was pleased to host President Mas of Catalonia, U.S. Ambassador to Spain Alan Solomont, and Governor Michael Dukakis on Northeastern's campus for the WCCP's Transportation Seminar, "The Catalan Model: Infrastructure & Public Transport," in June. These distinguished guests were joined by Massachusetts Secretary of Transportation Richard Davey, Somerville Mayor Joseph Curtatone and members of President Mas' Cabinet along with several senior executives of the Catalan transportation industry who presented the Catalan approach to create sustainable transportation. "President Mas said he would like Catalonia to be the Massachusetts of Europe as a knowledge capital, but Massachusetts should strive to be the Catalonia of the U.S. in terms of sustainable transportation," said Stephanie Pollack.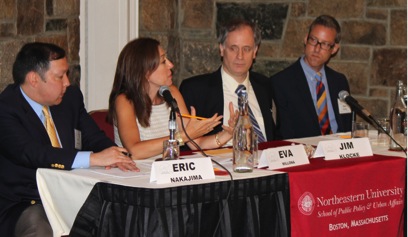 Summer Forum: Talent Attraction & Retention Strategies, the Key to Global Competition
Boston leaders met in Weston, MA to follow up on and advance the exciting projects launched at WCCP's Chatham Forum unConference (AwesomeBoston.org, Freshman @ Fenway, and Launch Week). WCCP Research Director Dan Spiess presented a sneak preview of WCCP's research on talent attraction and retention in Boston and across the WCCP global network. Panelists Eva Millona (Executive Director, MIRA Coalition), Eric Nakajima (Senior Innovation Advisor, Commonwealth of MA), and Jim Klocke (Vice President, Greater Boston Chamber of Commerce) were joined by moderator Dante Ramos (Deputy Editorial Page Editor, The Boston Globe) to discuss the importance of addressing the talent-related challenges and opportunities in our region.

Related Media Coverage

Smart Planet
U.S. Turning Away Talent Needed for Innovation
---
WCCP Builds Bridges Connecting MA Business Leaders to Opportunities in Spain
During President Mas' visit to Boston, the WCCP hosted local business leaders to meet with President Mas and other senior cabinet officials of the Catalan Government to discuss deepening trade and investments between Catalonia and MA. "With today's trade agreement signing we are opening doors for business growth and development, leading to the creation of jobs and the strengthening of relations between our regions," said Mike Lake.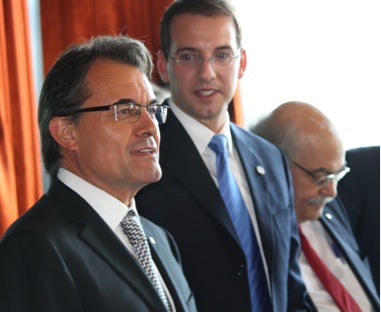 ---
Other News
Upcoming Policy Exchange Mission to Portugal
Up next for the WCCP is a six day Policy Exchange Mission to Lisbon and the Azores, Portugal. Leading a delegation of business and civic leaders from Boston, we will be examining the rise of Lisbon as a global city with a particular focus on Promoting the Innovative City, Creating the Entrepreneurial City and Building the Waterfront City.
Lyon, France becomes Newest Member in the WCCP Network
World Class Cities Partnership continues to grow and is now thrilled to welcome Lyon, France as our newest partner city. During a recent visit to Lyon by Mike Lake and Joan Fitzgerald, Dean of the School of Public Policy and Urban Affairs, a signing ceremony took place officially inducting the municipality of Lyon and our academic partner, Science Po Lyon into the WCCP network.