IN THIS ISSUE:
SHARE OUR NEWS!
Please
e-mail
or call us (541-888-5922) to make a donation!
- Lumber - used or new
- Plywood
- Screws
- Garden hose
- Door hinges (4-8)
- PVC pipe and fittings
- Fiberglass sink or wash basin
- Folding tables and chairs
- Plastic storage totes
- Trailer, 5'x10', road safe, double axle
These items will be used to build work tables, a tool shed, and other items to prepare Matson Preserve for another semester of youth programming.
You can also make a donation to CoosWA. Click the button below.
August 17th, 7:00 PM, Coos Bay Library
View the PDF flyer for details
Sandy beach surf zones provide juvenile fish with an abundance of prey and protection from predators. This habitat occurs along more than 60% of Oregon coastline, yet the role of surf zones in Chinook salmon life history remains unclear.
How do juvenile Chinook use this habitat? How will that change with rising freshwater temperatures?
Join us to hear Jose R. Marin Jarrin, OSU Ph.D. candidate, discuss these questions and more at our first Water Wise event.
Rebecca DeGreyt, VISTA Team Leader at Umpqua Communities Action Network (UCAN), made a video for an AmeriCorps competition featuring footage of our Master Watershed Stewards Youth Program. Watch the video and place your vote for Rebecca!
Link to video
Jon Souder, CoosWA's Executive Director, has started a blog to reach out to the Coos Watershed community and beyond about our activities and programs.
Visit the site
to read his messages and sign up to follow the blog:
www.cooswatershed.wordpress.com
Projects Heat up this Season!
Dear CoosWA Friend,
As summer days heat up, so do CoosWA projects. From culvert replacements to intern programs, each week brings interesting challenges and rewarding progress.
Take a break and read about all of our activities, and how you can get involved. Check your schedule to see if you can join us for our first
Water Wise event
on August 17th.
Watch a video
featuring our Youth Watershed Stewards and vote for it in a contest. Check your toolshed to see if you have an item on our
Wish List
, or consider making a financial contribution to support CoosWA's programs.
However you choose to participate, we welcome you to join our efforts in supporting environmental integrity and economic stability within the Coos watershed.
See you in the field!
The CoosWA Team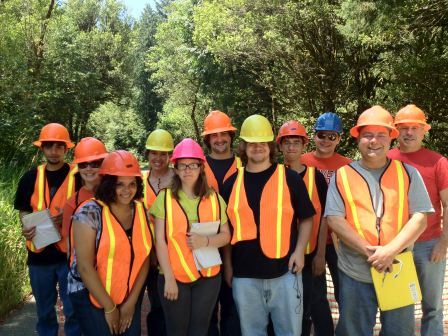 Ten SWOCC students studying biology and computer sciences have jumped into CoosWA's Coho life-cycle monitoring project. As interns in the new Coho Salmon Field Studies program, they are studying fish migration in Palouse and Larson Creeks and improving data collection efficiency by using mobile communications technology. In addition, the interns are taking a class to learn about the history and biology of salmon, and conducting their own independent research projects--what a handful!
Follow the students' progress on the
program blog
.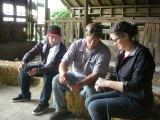 Meanwhile, our 5-member Oregon Youth Conservation Corps (OYCC) crew has been working hard to maintain our plantings at our riparian restoration sites. Led by Dave Nelson and Aaron Cook, they are clearing weeds and brush on the Coos and Millicoma Rivers and their tributaries.
T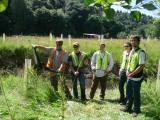 hey are also learning about careers in natural resources and participating in job shadowing opportunities with local organizations.
Above left: Dave shows crew members how to tie useful knots.
Left: Crew members show off a turkey vulture they found on a worksite.

Natural Resources Internship Program, in partnership with SWOCC, received an Oregon Parks Foundation Fund grant to provide tuition waivers for SWOCC interns at local natural resources agencies, organizations, and companies.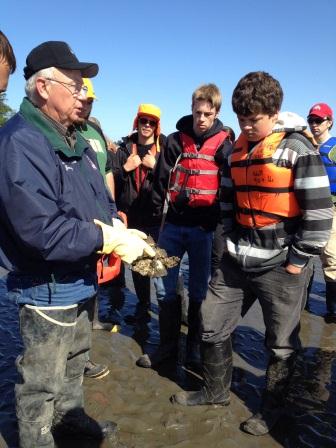 CoosWA's Fridays program for 8th-12th grade students in the Coos Bay School District is currently open to register for the Fall 2012 semester. The program offers high school and college credit and takes place on 12 Fridays throughout the semester.
Visit the program website
to learn more:
www.cooswatershed.org/youth.html
Students should register for the class with their high school counselor.
Contact CoosWA at
bjoyce@cooswatershed.org
with questions.