IN THIS ISSUE:

SHARE OUR NEWS!





...by contributing to CoosWA's 2012 Annual Campaign. Join your neighbors to help us reach our fundraising goal by clicking the button below and make a donation today.




WHEN: Friday, January 18, 7:00 pm

WHERE: Coos Bay Library
Myrtlewood Room FREE & OPEN TO THE PUBLIC

You may be a coho buff, but do you know about the local wild fall chinook run? Get the facts from local Oregon Department of Fish & Wildlife Habitat Protection Biologist, Christopher Claire.

If you would like to help organize for this event, please contact Emily at

ewright@cooswatershed.org

.

Please

e-mail

or call us at 541-888-5922 to make a donation!

Fiberglass sink or wash basin
Folding tables and chairs
Trailer, 5'x10', road safe, double axle



Fall kicks off youth program, annual campaign
Dear CoosWA Friend,

The rains have started and we are excited to welcome salmon as they return home. Hopefully all of you, our CoosWA friends, are able to visit a nearby stream to see salmon complete their life cycle and start the beginning of the next generation.

We invite you to take a moment, read our recent news, and learn how you can get involved. However you choose to participate, we welcome you to join our efforts in supporting environmental integrity and economic stability within the Coos watershed.

See you in the streams!
The CoosWA Team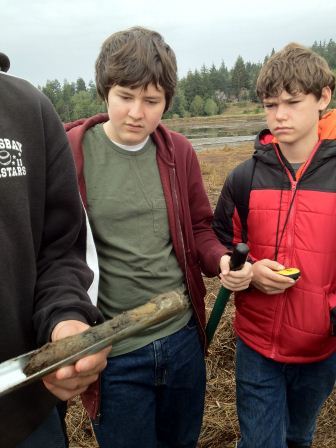 The second semester of CoosWA's Master Watershed Stewards Youth Program is in full swing. This fall, the 18 Coos Bay 8th-12th grade students are spending most Fridays at Matson Creek Wetland Preserve, located up Catching Slough.
The students are collecting all types of data, including soils, vegetation, water quality, streamflow, and macroinvertebrates. They are focusing their monitoring efforts on an upper valley of Matson Creek that has the potential to be a future stream restoration site for the Coos Watershed Association. The students' data will be compiled into an early baseline assessment of conditions to aid planning efforts for the Matson Preserve.
Stay up-to-date on student activities by visiting the program website,
www.cooswatershed.org/youth.html
.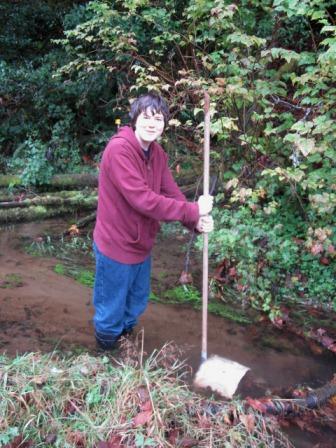 Above right: Students pulled up the auger to find a tube of soil with different layers, or horizons.

Left: Student collects a stream sample to identify macroinvertebrates.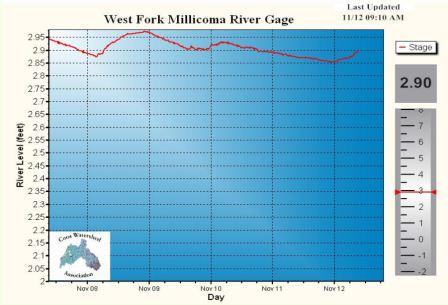 CoosWA Monitoring Technician, Freelin Reasor, has set up real-time data transfer for the gaging station on the West Fork Millicoma River. The river's water level is collected every 15 minutes and automatically transferred wirelessly to the Coos Watershed Association's office in Charleston. A new computer software, called WISKI, then adds the latest data to a graph showing water level over time and refreshes the graph on the CoosWA website. While there are still some technical kinks to sort out, you can view the real-time graph at
www.cooswatershed.org/Gaging_WFK.html
.
Freelin is working on setting up the East and South Forks of the Millicoma River in the same format. Once all three gaging stations are running smoothly, CoosWA will formally announce the site to the watershed community, and possibly seek business sponsors.
Look forward to more information soon!
While you may not notice a difference as you leave the Coos watershed and enter another on your way to Newport, Roseburg, or the Sixes River, our watershed is actually quite unique. From our rural-urban interface to our working waterfront and forests to our salmon runs, the Coos Watershed is a special place in Oregon.
Our community members know this best, which is why we invite you to share your stories about salmon experiences. We would like to collect these stories and share them with others on our website, so people in and out of the Coos watershed can learn just how great it is.
To submit your salmon story, e-mail Emily at
ewright@cooswatershed.org
. Stories should be roughly 1-3 paragraphs. Pictures, drawings, videos, and handmade maps are welcome.