Supporter Spotlight: Consigli Construction
In 1905 Peter Consigli, a skilled mason, established Peter Consigli & Sons in Milford, Massachusetts on the cornerstones of hard work, integrity and pride in craftsmanship. Over a century later,
Consigli
has grown from a local business into one of the largest general contractors in the Northeast. The Consigli culture is about caring and being involved in the communities the employees work and live in. In 2017, and continuing into this year, our local Pleasant Valley Consigli has supported Rebuilding Together and the work we do for our community.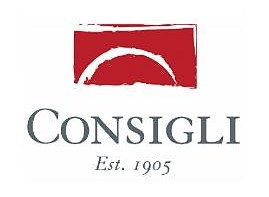 Thank you again for your support and partnership with Rebuilding Together Dutchess County, we look forward to the great work to be done in the years to come.

---
Senator Serino Supporting our Work
New York State Senator Sue Serino stopped by the Rebuilding Together office to chat with our Executive Director about our Rebuilding Days program and the impact it has had on Dutchess County homeowners.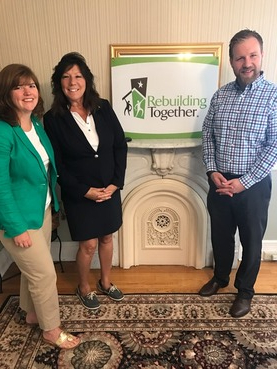 Left to right: RTDC Executive Director Christina Boryk, Senator Sue Serino, and RTDC Board President Christ Pels.
Application Deadline: September is the Last Month to Apply!
Our organization is committed to making sure individuals can live in a safe and healthy home. Our services are provided at no-cost to qualified homeowners and focus on ensuring that individuals can live independently in safe, warm, dry and healthy homes.
The deadline for applications to be considered for our 2019 Rebuilding Day programs is September 30, 2018.
To receive an application or to find out how you can help support RTDC's home repair program visit
www.RTDutchess.org
or call 845-454-7310.
---

Program Assistant:
Rebuilding Together Dutchess County is looking for a full-time Program Assistant in Poughkeepsie, NY. This individual will play an integral part in our community impact engaging over 300 volunteers annually while helping hundreds of our neighbors in need. For more information, view the
full position description on our website
.
Team Lead:
Rebuilding Together Dutchess County is looking for a passionate, organized, and dedicated student leader who will assume a coordination position for the Home Safety and Fire Prevention program. Alongside the AmeriCorps program coordinator, the candidate will be responsible for leading teams of volunteers on our installation days and documenting the services provided. This is a great volunteer or internship opportunity,
for more information go to our website
.
---
Community Revitalization Collaboration:
Carpe Aestatem
(Seize the Summer)
A vibrant and determined groundswell of community activism and collaboration in Poughkeepsie's Northside has seized the warm summer months. Grassroots organizations and local nonprofits continue their efforts to mobilize individuals in the community to take part in cleaning, repairing, and creating shared spaces and infrastructure, asserting the energetic and close-knit nature of the neighborhood, and fighting for its visibility and autonomy with collective action.
Last Saturday's restoration day at College Hill Park – a united effort among the City's public works department,
Community Matters 2
, and the local affiliate of
MASS Design Group
, the Hudson Valley Design Lab – brought together scores of volunteers to implement a colorful local design submission for the park's basketball court on North Clinton Street. The park restoration stands a testament to the power of the city's residents to reclaim neglected and under-maintained areas and redirect them toward united goals, fostering a unique sense of place and ultimately deterring displacement. As the summer comes to a close, the energy and determination to secure affordable housing and promote a safe and healthy place to live for all is far from dimming – be sure to have a look at the
Community Matters 2 Facebook page
as well as
our Facebook page
for before and after photos of the court, many happy friendship-bracelet makers at our table, and exciting announcements of more community days and projects to come!
---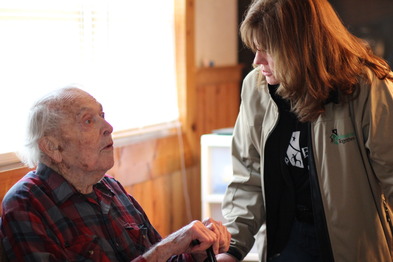 Repairs for a WWII Veteran
This past National Rebuilding Day, Rebuilding Together Dutchess County had the pleasure to serve Frank - a WWII Navy Veteran. Seniors and veterans are two groups we really focus on helping with our Rebuilding Days program. You can
click here to read
or
watch
more about his experience with our Rebuilding Days program. Please share Frank's story so we can help other veterans and seniors in our community. Learn more about
our program here
or call our office at 845-454-7310.
---
Fall Rebuilding Day is Around the Corner
On Saturday, October 27th volunteers will be throughout Dutchess County providing critical home repairs, accessibility modifications, and home safety installations for Make a Difference Day. As well, an additional group of volunteers will be providing homeowners with fire safety measures through the installation of smoke and carbon monoxide detectors, fire extinguishers, and house numbers via our
Home Safety and Fire Prevention program
.
For more than two decades, Make A Difference Day has been celebrated annually on the fourth Saturday in October and connects people with opportunities to serve, increases the strength of communities and promotes civic engagement. Keep an eye out on our social media pages (
Facebook
,
Twitter
, and
Instagram
) for more about Make a Difference Day.

---

Upcoming Events
Tabling at the Office for the Aging's Senior Picnic Program - every Wednesday June through August
The Senior Golden Gathering Event at Arlington High School - 9/22
Rebuilding Days Application Deadline - 9/30
---
---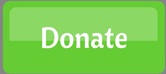 There's Different Ways to Donate!
Make a Donation
1. Make a one-time or recurring tax-deductible
donation
online.
2.
Become a Housing Hero!
By making a monthly pledge of $30 online, you will help Rebuilding Together continue to provide safe and healthy housing for all our neighbors in need.
Shop For a Cause
1. Shop at
smile.amazon.com
and Amazon will donate a portion of the purchase price to RTDC.
2. Install the
iGive button
on your browser and every time you shop online, the participating retailer will donate a percentage to RTDC.
Planned Giving
Remember RTDC in your will or as a beneficiary designation in your retirement plan or insurance policy.
---
Contributing Partners

Craftsman
Dutchess County Planning and Development
FHLBNY
Meyer Contracting
State Farm
Wells Fargo Foundation
Renovator
Berkshire Taconic Community Foundation
Consigli Construction
Hudson Valley Federal Credit Union
Ulster Savings Foundation
Remodeler
Central Hudson
IBM
Collaborator
Arlington Teachers Association
Community Foundation of the Hudson Valley
Dutchess County Office for the Aging
M&T Charitable Foundation
Poughkeepsie South Rotary
Walden Savings Bank
Golf Sponsors
Title Sponsor:
Meyer Contracting
Cart Sponsor:
Sayegh Law
Birdie Sponsor:
D'Arcangelo & Co., LLP
DSL Financial Services
Poughkeepsie Nissan
Par Sponsor:
S & O Construction Services, Inc.
---
Community Partners


ABC Supply Company Inc
Adams Fences
American Red Cross
Cleveland Plumbing
Craig Thomas Pest Control
Forrest Green Landscaping
Fox Air Heating and Air Conditions
G. Dan. Ros. And Sons Inc.
Herring Sanitation
Hobson Window Inc.
Hudson Valley Chimney Service Inc.
Just Exteriors Plus
Nubian Directions YouthBuild
Nurzia Construction
Plass the Plumber
Prime Print Shop
Recycle Depot
The Brothers That Just Do Gutters
Veith Electric
Williams Lumber
---