Spotlight: Central Hudson
Rebuilding Together Dutchess County is pleased to announce that we were awarded $5,000 from Central Hudson for our Home Safety and Fire Prevention Program. With this funding, we will be able to improve Dutchess County homeowner and community safety through material installations and education about fire prevention and preparedness.
Home safety and fire preparedness have been part of our work since our founding and are central to our efforts to ensure that everyone has a safe and healthy home. Nearly 100% of the homes we serve do not have adequate smoke and carbon monoxide detectors, and many have none. Through our Home Safety and Fire Prevention Program we served over 100 homeowners last year. Now with Central Hudson's funding, we are on our way to serving our goal of 125 homeowners this year.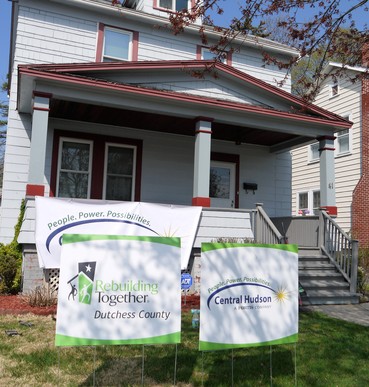 If you are a Dutchess County homeowner and are concerned about fire safety in your home,
fill out an application
or call us at 845-454-7310 today!

---
Fall Rebuilding Day is Here!
This month, on October 27, is Fall Rebuilding Day, and we will be serving five Dutchess County homeowners. We will engage over 100 volunteers to complete various critical home repairs, accessibility modifications, and home safety installations. An additional group of volunteers will also be providing homeowners with fire safety preparedness materials and training through the installation of smoke and carbon monoxide detectors, fire extinguishers, and house numbers via our Home Safety and Fire Prevention program.
We wouldn't be able to
complete
these repairs without the assistance of our volunteers.
Get to know Mike Davis
,
a fo
ur-ti
me Rebuilding Together Dutchess County House Captain, who
se
volunteer efforts have been indispensable.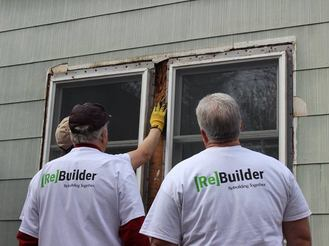 ---
"I was looking for an organization who could help me, and finding Rebuilding Together Dutchess County changed my life for the better."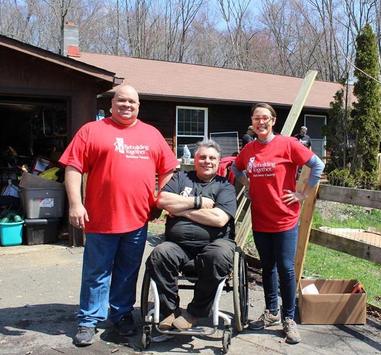 This past National Rebuilding Day, Rebuilding Together Dutchess County had the pleasure to serve Bobby, a Red Hook resident. Since Bobby uses a wheelchair, our repairs and accessibility modifications have greatly eased his day to day life.
You can
click here to read
or
watch
more about his experience with our Rebuilding Days program. Please share Bobby's story so we can continue to help others in our community that are need of critical accessibility modifications and repairs.
---
Volunteers Needed!
Rebuilding Together Dutchess County is looking for volunteers to assist with our Home Safety and Fire Prevention Program on the afternoon of Tuesday, October 9th.
Volunteers assess existing smoke and carbon monoxide detectors as well as fire extinguishers and replace and/or install new items where necessary. Additionally, they will install exterior lights and house numbers as needed. Volunteers, no matter their skill level, are welcome to join us.
Click here to sign up
and select HS Installation Day 10/9/18 under the "Project" tab. The installation day will consist of a short training (at 1:00 PM), traveling to multiple designated homes in a localized area for the installation of devices, and finishing the day by the end of the afternoon (around 4:00 PM).
---
Community Revitalization Collaboration:
Weathering the "Downtown Boom"
In an article this past June, the Poughkeepsie Journal surveyed the current atmosphere of housing development in Poughkeepsie as a glimpse into the city's "recovery" and more general economic turnaround. The "downtown boom," as the article determines, erupts as developers turn an intrigued eye toward downtown Poughkeepsie and its historic Main Street while newcomers – often presumed young and well-educated – and bars and eateries on par with their trendy lifestyles occupy the favored role of the protagonist in determining the fate of the city. The pull of the new, while essential and activating, and an overwhelming interest in newcomers, lends to imply their principal agency in the actions and results of revitalization, paying little heed to the parallel forces of the city's long-time residents.
Consider, by contrast, recent surveys by nonprofit partners like United Way, that suggest approximately one-third of a population county-wide spending two-thirds of their income on housing. Against this reality, measures to assure affordability and secure existing community members and intricate networks in their long-time homes and neighborhoods should be identified and encouraged alongside increased outputs in new development and city branding as integral to the "vitality" that is desired in revitalization. Delaying or minimizing a narrative that includes these practices beckons a slippery slope of displacement, whereby the engaged community members who contribute to its very attractive vibrancy, can no longer weather its risings costs, nor remain long enough to witness the changes they themselves initiated.
Rebuilding Together Dutchess County and the Poughkeepsie Affordable Housing Coalition strive to amplify these efforts, and the need for their sustainable continuation, to maintain existing homeownership and work together with our grassroots community leaders to reflect the hopes and needs of Poughkeepsie communities. After a busy September of planning, collaborating, and learning, stay tuned for an engaged October full of Rebuilding Day projects, community initiatives, and growing partnerships.
---
Internships or Volunteer Opportunities Available

Rebuilding Together Dutchess County is looking for an organized, innovative, and passionate individuals to fill our Team Lead, Marketing and Communications, and Demographic Data Analysis and GIS Mapping Internships.

Upcoming Events
Fall Rebuilding Day - 10/27
---
---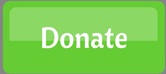 There's Different Ways to Donate!
Make a Donation
1. Make a one-time or recurring tax-deductible
donation
online.
2.
Become a Housing Hero!
By making a monthly pledge of $30 online, you will help Rebuilding Together continue to provide safe and healthy housing for all our neighbors in need.
Shop For a Cause
1. Shop at
smile.amazon.com
and Amazon will donate a portion of the purchase price to RTDC.
2. Install the
iGive button
on your browser and every time you shop online, the participating retailer will donate a percentage to RTDC.
Planned Giving
Remember RTDC in your will or as a beneficiary designation in your retirement plan or insurance policy.
---
Contributing Partners

Craftsman
Dutchess County Planning and Development
FHLBNY
Meyer Contracting
State Farm
Wells Fargo Foundation
Renovator
Berkshire Taconic Community Foundation
Consigli Construction
Hudson Valley Federal Credit Union
Ulster Savings Foundation
Remodeler
Central Hudson
IBM
Collaborator
Arlington Teachers Association
Community Foundation of the Hudson Valley
Dutchess County Office for the Aging
M&T Charitable Foundation
Poughkeepsie South Rotary
Walden Savings Bank
Golf Sponsors
Title Sponsor:
Meyer Contracting
Cart Sponsor:
Sayegh Law
Birdie Sponsor:
D'Arcangelo & Co., LLP
DSL Financial Services
Poughkeepsie Nissan
Par Sponsor:
S & O Construction Services, Inc.
---
Community Partners


ABC Supply Company Inc
Adams Fences
American Red Cross
Cleveland Plumbing
Craig Thomas Pest Control
Forrest Green Landscaping
Fox Air Heating and Air Conditions
G. Dan. Ros. And Sons Inc.
Herring Sanitation
Hobson Window Inc.
Hudson Valley Chimney Service Inc.
Just Exteriors Plus
Nubian Directions YouthBuild
Nurzia Construction
Plass the Plumber
Prime Print Shop
Recycle Depot
The Brothers That Just Do Gutters
Veith Electric
Williams Lumber
---