Shuttle Reservation Reminder!
If you missed our newsletter last week, or it accidentally got buried in your inbox, no worries it is still available! Make sure you select the most appropriate race day shuttle time prior to race weekend! Newsletter No.6
---
This Week's Topic: Transitions Set Up

Now it's time to answer some of those questions you might have floating around in your head. First things first...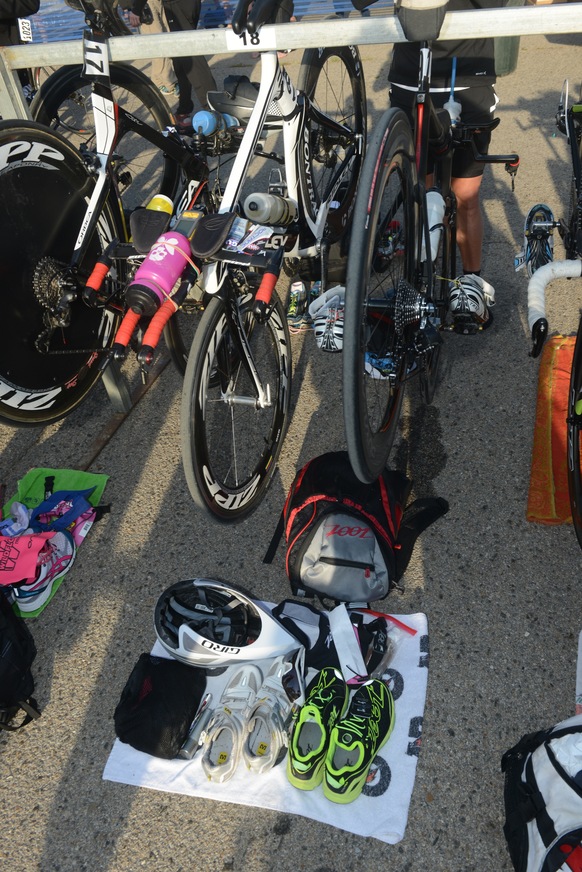 At Packet Pick Up, you will receive two drawstring bags that are already numbered with your bib numbers stickers.In your bag you will find one more sticker matching your bib number that needs to be placed on the front of your helmet.

You will need to take both bags with you to Harris Creek T1A on race morning. One bag (the larger of the two) will be for your wetsuit once you complete the Long Course Swim at T1A. After finishing the swim, place your wetsuit inside, and securely close the bag. A bib number sticker should already be adhered to the outside of the bag. As a precaution, we highly suggest that you also label the inside of your wetsuit with your name and phone number.

The second drawstring bag will be your "gear" bag. Any items that you wear down to the Harris Creek T1A area (flip flops, sweatshirt, body glide, etc.) will need to fit in your second bag (smaller of the two). No valuables should be left in either of these two bags. This bag also needs to be neatly packed and secured with a bib number sticker adhered to the outside of the bag.
Important
Everything must be in a bag and each bag must be stickered before leaving Harris Creek T1A. You will not be returning to Harris Creek T1A area again, our race crew will be transporting your TWO gear bags over to Lynch Area. Please keep in mind, we are not responsible for any broken or lost valuables left in your gear bags. Any items outside of your bag will be delivered to lost and found.
---
Digital Athlete Guide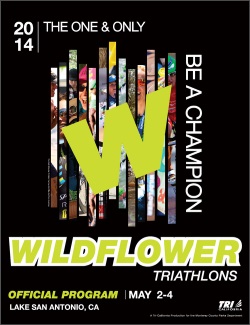 We are happy to announce the launch of our 2014 Wildflower
Digital Athlete Guide. In this guide, you will find important topics
such as; the schedule of events, packet pick up info,
transitions procedures, and inspirational athlete feature stories.
To make your race day weekend as smooth as possible, we highly suggest reading through this guide prior to your arrival!
---
the last thing we want is for your to feel lost when you show up race weekend. Stay up to date by following our Facebook Page for the latest information and tips from our staff, other athletes, coaches, ambassadors and more!
Upcoming Newsletters:
T1A (Transitions) to T1B (Transitions) - Why Do We Suggest Bringing (2) Pairs of Shoes?

Saturday Pre Rack - Access Times to Pre-Rack Your Bike in Lynch Transitions