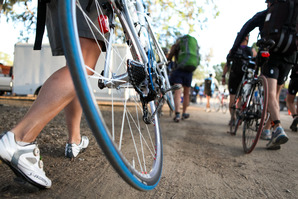 Please find revised Packet Pick Up hours and shuttle hours below:
As we are just over 4 weeks away from the 32nd Annual Wildflower Triathlons, the Tri-California Race Crew is here to provide you with some tips in preparation for race weekend (see below)! Earlier this month, we introduced our alternate courses with the possibility that Mother Nature and her weather conditions will not allow us to hold the swim at the original Lynch Area location.
We understand that many questions will arise if these alternate courses come into action, which is why we are here welcoming you to ask your questions. Whether it be via social media, emailing, or good ole fashion calling, we don't want your concerns or questions to go unanswered. We appreciate all of you that have reached out to us already and encourage you to continue, considering others most likely have the same questions you do.
With that, we are hoping to answer most of those questions in the weeks leading up to Wildflower with our twice weekly race information newsletter. These newsletters will include tips for weekend preparation, race day information, and of course the fun festival activities that will be happening ALL weekend long!
This is the first of several e-newsletters that will detail out the alternate course procedures. We will continue to send you race-specific information so you can plan your weekend.
From the Wildflower Race Directors, here are top race tips when preparing for the potential of an Alternate Olympic Course.

This Week's Topic: Olympic Course Packet Pick Up
We highly suggest you kick start your weekend of fun and get settled in on Thursday (5/1/14), Friday (5/2/14), or Saturday (5/3/14). This will not only allow you to get your campsite all set up or share more laughs and memories with friends, but most importantly rack your bike in the secured Lynch transitions area and allow you to get your (T1B / T2) Lynch transitions area all set up making your race morning a smooth and comfortable start.

The reason we suggest this pre-rack and early set up is that with the alternate courses, athletes will need to report to the Harris Creek Swim Start Area race morning via the shuttle stop closest to your campground or parking location. If racked prior to race morning your transitions area at (T1B / T2) will be all set up and your shuttle boarding Sunday morning will be smoother and at the location nearest your campsite.

If you choose to rack your bike and set up your Lynch transitions (T1B / T2) on race day morning, you will need to do so quickly so you can catch the shuttle over to the Harris Creek Swim Start. For athletes that check in race morning, the shuttle is located next to the Packet Pick Up tent in the Lynch Area. Shuttles from Lynch PPU will start running at 6:00 AM. Shuttles will also be running from Lupine Meadows, and Redonda Vista areas, starting at 6:00 AM.

For all athletes that take us up on this opportunity to rack early, you will also be picking up your race day packets (PPU). PPU will still be taking place at the Lynch Area Packet Pick Up tent. PPU times for Thursday (5/1) will be 4:00 PM -7:00 PM, Friday (5/2) 12:00 PM - 8:00 PM, and Saturday (5/3) from 10:00 AM - 8:00 PM*. *Olympic Distance participants, please note that there will be road closure time on Saturday while the Long Course and Mountain Bike races are in progress.

For athletes arriving race morning, PPU will be open from 5:30 AM to 8:30 AM. Once again, athletes checking in race day will need to have a speedy transitions set up to make sure you board the last shuttle by 8:30 AM.
It is our hope that these detailed newsletters find your questions getting answered. We can not thank you enough for your patience and confidence in the production of the 2014 Wildflower Triathlons. As always, please feel free to email, call or facebook us with any questions you may have regarding the alternate course. If someone you know is racing a different distance, they will receive a specific email about their race distance. Keep that in mind when swapping info back and forth.
Still looking for more ways to get your questions answered, tips for the alternate course or a visual of the course before the big race? Join Tri-California Events and USAT Coach Ian Murray for a Wildflower Half Day Training Clinic. For more details, read below.