We're
based in Oregon and New Mexico, and our programs work widely across the Pacific Northwest, Southwest and nationally.
---
Our Programs
We're working hard to conserve native species and habitats. We target on-the-ground restoration, applied ecological research, and outreach and education. Click on a program to learn more:
---
News Items



A Natural History of checker-mallows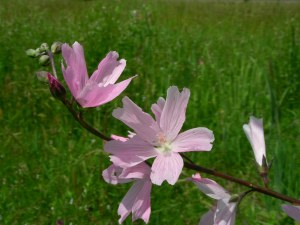 If you rode your horse or walked through western Oregon grasslands on a late May day 200 years ago, chances are you would have seen checker-mallows aplenty among the many wildflowers. Today these grasslands are few and far between, but in some habitat remnants checker-mallows still make a showy spring bloom. There are over 20 species of checker-mallows
, all native to western North America.
Read more
Forest Bound Launches at IAE Southwest!

With the recent completion of the Native Plant Curriculum for New Mexico "From Ponderosa to Prickly Pear", our Southwest Program was in a perfect position to pilot a new outdoor educational program in Santa Fe to field test lessons. Funders for the program, called "Forest Bound: A Window into Native Plants," include the Forest Service, Bureau of Land Management, and the Native Plant Society of New Mexico.
Read more



The Butterfly Effect, Earth Island Journal



Six women sit on overturned crates tending to seedlings inside a greenhouse in Wilsonville, Oregon. Light filters through the clear plastic roof, and a break in the clouds sends streaks of sunlight over an open end of the structure. Birds call out, interrupting the peaceful scene as the women focus on harvesting leaves from early blue violets planted in rows of black plastic containers. Read more



Restoring habitat and hope

IAE's Sagebrush in Prisons project has inmates caring for seedlings and discovering ecology at 11 prisons in 6 western states, including the Warner Creek Correctional Facility in Lakeview. This spring, inmates are caring for 30,000 sagebrush and bitterbrush seedlings. They will be used to restore greater sage-grouse habitat in the fall. Read more

What do our pollinators need?


It's finally summer and butterflies are in flight. Butterflies are probably the most loved of all insects, but as native plant habitats decline due to invasive weed spread, agricultural and urban encroachment, some have become threatened. Read more





Volunteer update: OSU vs. Scotch Broom!

It can be difficult to wake up early on a Saturday morning, especially if it is cool and rainy, but on Earth Day, thirty-five volunteers from Oregon State University got up bright and early to pull Scotch broom at Beazell Memorial Forest.


---
Better Late Than Never: Patience with a Delayed Butterfly Season
---
Events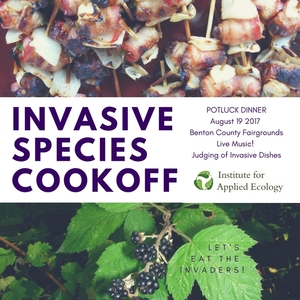 The Invasive Species Cook-Off will be held Saturday, August 19th from 5:00-8:30pm in Corvallis, OR. This annual party and fundraiser will have live music, roasted pig, invasive species dish and beverage competition, raffles, kids' activities and more. Do your part to take a bite out of invasive species!
Invasive Species Beverage Tasting & Social (Members-only) at 4:30 pm before the Cook-off! Click HERE to become a member!
Cook-Off contest categories:


-Best Savory Meat Dish




-Best Savory Vegetarian Dish




-Best Dessert/Sweet




-Best Beverage (21+ OR all-ages)



Teachers - join us August 23-25 for an outdoor education workshop! Learn how to propagate seeds, collect riparian data, and kayak the Willamette river (beginners welcome!) to investigate declining freshwater mussels. Leave with tools to help get your students outside! Contact: Stacy Moore, stacy@appliedeco.org, 541-753-3099 ext. 305 or Kathleen Westly, kathleen@mrwc.org, 541-758-7597. Download a flyer.
---
Volunteer
Become an IAE volunteer by joining our volunteer email list. We will send you occasional opportunites to help IAE in the field or indoors with conservation projects, and with our fundraising outreach events.

Click here to sign up

.
---
Our Wish List
Items that we could really put to work:
4WD pick-up truck or SUV for restoration projects

Potting soil (new, in bags) for propagating endangered plants with students.

Gardening gloves, hand trowels and pruners.

Upgrading your iPad or tablet? We'd love to put your old one to work while you take a tax deduction.

HD digital video camera for capturing what we do.
Your donations are tax deductible. Please contact us at info@appliedeco.org if you can help.
---
Thank You!
Thank you to all of you who have given time and funds to our programs and to our partner organizations. You ensure that we can continue to rescue our native species and habitats.
Click here to donate or become a member!


Want to help?
Donate and become a member.
Every contribution helps, large or small. Consider a tax-deductible donation.

Volunteer.
Become an IAE volunteer by joining our volunteer email list. We will let you know of great ways to help in the field or indoors with conservation projects. Click here to sign up.

Share this newsletter.
Forward this message to a friend.

Join us on Facebook.


Check us out, like us, and share our posts...

...and talk about us on your network!
Subscribe to receive our quarterly e-newsletters regularly.

Check out our wish list below.
Consider a tax deductible donation of items on our wish list at the end of this newsletter.
---

Featured Amazing Staff Member:
Stacy Moore, Ecological Education Program Director

Read more about Stacy here.
---
IAE is a member of EarthShare Oregon, connecting supporters through workplace giving.



---
Become a member of IAE!

Join as a member to be included in IAE's community of supporters.





Today's Joke:
What did the stamen say to the stigma?
I like your style!