News and Highlights from IAE.
We're
based in Oregon, but our programs work widely across the Pacific Northwest and nationally.
---
Our Programs
We're working hard to conserve native species and habitats. We target on-the-ground restoration, applied ecological research, and outreach and education. Click on a program to learn more:
---
News Items
Sagebrush in Prisons Project Featured on Oregon Field Guide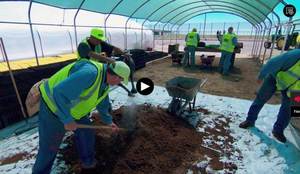 Oregon Public Broadcasting's flagship production, Oregon Field Guide, follows prisoners at the Snake River Correctional Institution as they grow and transplant specially selected sagebrush seeds to assist the BLM in eastern Oregon restoration efforts.
Watch the 10 min. video...


Mulford's Milkvetch Research Update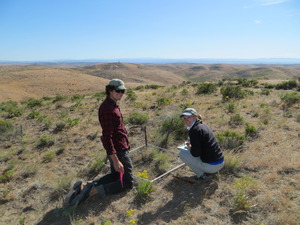 It takes a full day of driving from western Oregon to reach the closest populations of Mulford's milkvetch (Astragalus mulfordiae) in the Owyhee Uplands of Malheur County. This rare species occurs in rangelands of Oregon and southwestern Idaho, mostly on sandy soils on rolling hills, flats and near the Owyhee and Snake Rivers. This is cattle country, with a long history of people living on the land. But what is the effect of cattle on populations of this rare plant? Read more...


Living the Dream: Collecting Seed at Crater Lake National Park

In 2016, IAE was thrilled to begin working on a new seed collection project at one of the most beautiful places in the Pacific Northwest: Crater Lake National Park in southern Oregon. Read more...



Tree Planting at Herbert Farm

On February 1st 2017 a crew from R. Franco Restoration planted 7,500 trees and shrubs at Herbert Farm and Natural Area, a City of Corvallis property in Benton County, Oregon. IAE is helping Oregon Department of Fish and Wildlife restore formerly farmed fields to upland and wet prairie, and riparian habitats.
Read more...
Islands of Prosperity
This fall IAE hosted the Gold 5 AmeriCorps team, a group of young volunteers who devote 9 months to community service. Among other projects they planted native species to enrich the plant community and enhance habitat for Fender's blue butterfly at Fir Butte, a Bureau of Land Management site just west of Eugene.




Become a charter member if you join by Earthday 2017!
We want you to join us! Become a charter member and h
elp restore habitats, research solutions, and foster our next generation of environmental stewards and leaders.
Benefits of Membership:
-Priority registration for IAE workshops
-Invitation to a Membership Celebration Event
-Newsletters and volunteer opportunities
-That great feeling from putting conservation into action today. Become a member!
---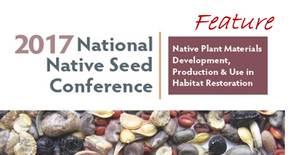 National Native Seed Conference 2017
The following two and a half days featured over 50 hours of programming, with 138 individuals delivering oral presentations and 27 poster presentations. Keynote speakers were U.S. Representative Mike Quigley (IL), Jean Franczyk (Chicago Botanic Garden), Dr. Ann Bartuska (USDA), Dr. Cristina Eisenberg (Earthwatch), Dr. Tom Kaye (Institute for Applied Ecology), Noreen Walsh (USFWS), and Peggy Olwell (Bureau of Land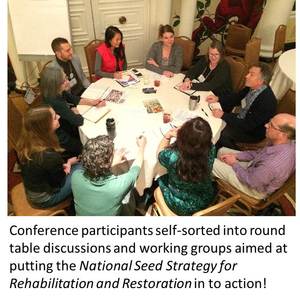 Management). Quigley proposed a bill, HR 1054, the Botanical Sciences and Native Plant Materials Research, Restoration, and Promotion Act (also known as "the Botany Bill") that same day. Issues covered in the conference included emergency preparedness, green infrastructure, ecological restoration, plant blindness, links between wildlife and native seeds, plant research needs, seed industry roles, partnerships, communications and outreach and tools for land managers.
On Tuesday evening a poster session and reception was held at the hotel, featuring a hands-on demonstration area for seed sampling and seed quality testing hosted by the Association of Official Seed Analysts & Society of Commercial Seed Technologists. Wednesday evening we hosted a special reception at the Conservatory of the U.S. Botanic Garden, featuring Senator Ron Wyden (OR), who spoke on the importance of native plants and habitat restoration.
We received a lot of positive feedback after the conference. Here are some examples:
The variety of topics covered was fantastic! As well, most of the presenters were engaging and enthusiastic.

I enjoyed having producers, agencies, land managers, and scientists all together.

I was amazed by the range of people attending the meeting from large-scale land restorers to landscape architects wanting to produce pollinator gardens. I met a fabulous range of people all interested in preserving native plants and their seed by various methods.

As an intern, this was an inspirational event and an important week in determining my future career goals.

The best part of this conference is that it brings everyone together.

I value most that this meeting gathers my peer group better than any other meeting. I am allowed to attend few professional meetings, and I "save up" to ensure that I don't miss the NNSC.

I was able to interact & network with industry, researchers, and agency personnel.
---
Events
The Invasive Species Cook-Off will be held Saturday, August 19th from 4:30-8:30pm in Corvallis, OR. This annual party and fundraiser has live music, local libations, Getaway Raffle packages, kids' activities and more. It's a contest where you can use invasive species as an ingredient in a dish to share!
Cook-Off contest categories:
-Best Savory Meat Dish
-Best Savory Vegetarian Dish
-Best Dessert/Sweet
-Best Beverage (21+ or all-ages)

---
Volunteer
Become an IAE volunteer by joining our volunteer email list. We will send you occasional opportunites to help IAE in the field or indoors with conservation projects, and with our fundraising outreach events.

Click here to sign up

.
---
Our Wish List
Items large and small that we could really put to work:
HD digital video camera for capturing what we do.

Potting soil (new, in bags) for propagating endangered plants with students.

Gardening gloves, hand trowels and pruners.

Newer digital projector.

Upgrading your iPad or tablet? We'd love to put your old one to work while you take a tax deduction.

4WD pick-up truck or SUV for restoration projects

Farm tractor
Your donations are tax deductible. Please contact us at info@appliedeco.org if you can help.
---
Thank You!
Thank you to all of you who have given time and funds to our programs and to our partner organizations. You ensure that we can continue to rescue our native species and habitats.
Click here to donate or become a member!


Want to help?
Donate and become a member.
Every contribution helps, large or small. Consider a tax-deductible donation.

Volunteer.
Become an IAE volunteer by joining our volunteer email list. We will let you know of great ways to help in the field or indoors with conservation projects. Click here to sign up.

Share this newsletter.
Forward this message to a friend.

Join us on Facebook.


Check us out, like us, and share our posts...

...and talk about us on your network!
Subscribe to receive our quarterly e-newsletters regularly.

Check out our wish list below.
Consider a tax deductible donation of items on our wish list at the end of this newsletter.
---

Featured Amazing Staff Member:
Meaghan Petix, Crew lead, Conservation Research Program

Read more about Meaghan here.
---
IAE is a member of EarthShare Oregon, connecting supporters through workplace giving.



---
BECOME A CHARTER MEMBER OF IAE

Join by Earthday of this year to be recognized and honored as a charter member of IAE.
You can become a member with a donation of $25 for individuals or $45 for families.




Today's Joke:
Two seeds walked into a bar.
Only one emerged.