---
Saturday - Open House and Athletic Overload

TWC will host an open house for prospective students on Saturday, Feb. 18. The day will feature presentations from many campus departments, staff and faculty. Alumni are encouraged to help in the recruitment effort by referring students to TWC - maybe youth at church, neighbor's or through other means.
That afternoon, the TWC Athletics Department goes in to overdrive as six teams will be competing on the playing field - Men's and Women's Basketball, Baseball, Women's Lacrosse and Men's and Women's Tennis. Alumni will receive free admission to all games and a free drink and popcorn at the basketball game.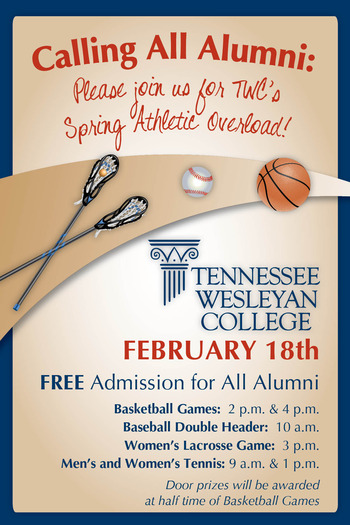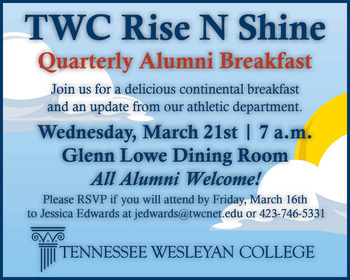 ---
Bulldog Athletics Update
While Tennessee Wesleyan College's basketball season is winding down, spring sports, such as baseball, softball, tennis and lacrosse are firing up.

The Bulldogs and Lady Bulldogs basketball teams have clinched the top seed in the Appalachian Athletic Conference for the regular season. Beginning Monday, TWC will host the AAC tournament.

Standings, live stats, scores and schedules for any of these teams can be found at www.twcbulldogs.com. Please come out and support your Bulldogs!
---
Barnett - Still Ballin' After 60 Years

1952 Women's Basketball Team Captain Betty Barnett challenged freshman Alli Moreland to a shootoff. After hobbling on the court in a long, house coat, Barnett heard "Eye of the Tiger" and drove half the length of the court for a lay-up. Watch the video and read the entire story at the link below.
Alumni Updates

Annetta L. Newman '93
, recently received her Licensed Professional Counselor (LPC) licensure. She has also earned a Masters in Education and is currently employed with Cherokee Health Systems as a therapist.
Kim Kincaid '93
and Terry King were married and now reside in Etowah, Tenn.
Jana Churchwell Pankey '89
, was promoted to Associate Professor and awarded tenure at Cleveland State Community College in August. She currently resides in Cleveland, Tenn., with her husband, Mitch, and twin sons, Matt and Clay.
Mary Ireson Pringle '73
welcomed a new granddaughter, Hannah Katherine.