The Honorable Carl E. Colloms has made a $500,000 scholarship commitment to Tennessee Wesleyan College. Naming the college as a beneficiary in his will, upon his passing, $500,000 of Colloms' estate will fund the Carl E. Colloms Endowed Scholarship at TWC. This scholarship will be awarded to students who major in business or a related field, maintain a 3.0 GPA and are good citizens. Preference will be given to students who have a financial need.
"Tennessee Wesleyan is heading in an amazing direction and I wanted to be a part of that," said Colloms, a TWC alumnus who currently serves as the child support magistrate for the 10th Judicial District of Tennessee. "My church's Sunday School lesson a couple of weeks ago was about leaving a legacy. Everybody leaves a legacy. I want to leave a decent one."
---
TWC offering master's degree in curriculum leadership

Tennessee Wesleyan College will enroll graduate students this August in its first Master's program. Developed by the college's education department, TWC's Master of Science in Curriculum Leadership will train future academic and business leaders, producing teachers and leaders who will be competent professionals, service-oriented individuals and reflective practitioners.
With classes starting August 15, this 15-month, 30-hour degree can be completed through an alternating combination of 6-hour fall and spring semesters coupled with 12 hours spread throughout three accelerated terms during a summer semester. All degree classes will be offered in the afternoon and evening hours, with some online options included.
---
TWC alumna Nelle Ward celebrates 100th birthday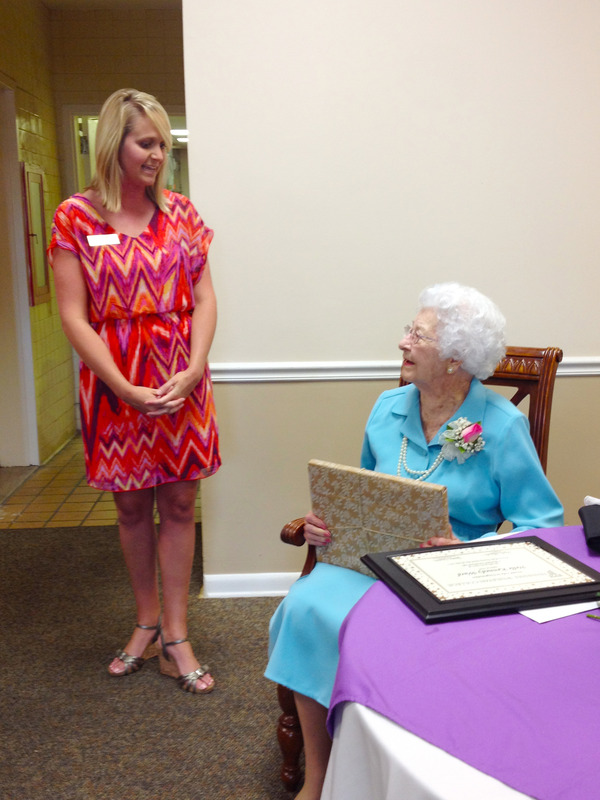 On Sunday, July 29, Tennessee Wesleyan College Alumna Nelle Ward celebrated her 100th birthday in TWC's Glenn Lowe Dining Room. Director of Alumni Relations and Annual Fund Jessica Edwards presented Ward with a certificate and a gift at the party, celebrating her important milestone.

Ward is one of TWC's oldest alumni. Visit TWC's YouTube channel to see a video of Nelle reminiscing about her time at the college.





---
Save the Date
---




---
Alumni Updates
---
Frank Horning
'75, was married July 18, 2012 to Suzan Clark Horning in Panama City Beach, Fla. The wedding was a happy 5 o'clock ceremony on the beach.
---
Special Requests
---

Dr. Dick Pelley is writing a book about Burkett Witt. Dr. Pelley requests that any alumni who would like to share stories or anecdotes about Burkett Witt please submit no more than 100 words to him at pelpsych@comcast.net or Jessica Edwards at jedwards@twcnet.edu. Pictures are also welcome.

***
This October the McMinn County Living Heritage Museum will be hosting a Tennessee Wesleyan College Baseball exhibit to honor the college's baseball history and celebrate this year's NAIA World Series Championship win. If you would like to loan any memorabilia or share stories for the exhibit, mail or drop off the items at the Living Heritage Museum by Sept. 14. If you have any questions please contact Amy Blackburn, the museum's executive director, at ablackburn@livingheritagemuseum.com.