---
TWC's Fort Sanders Nursing Department celebrates milestones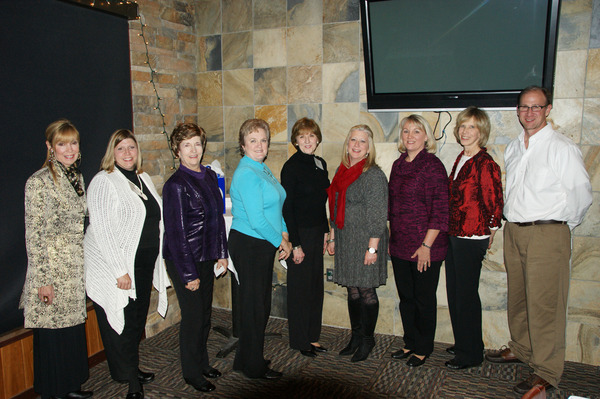 Ten years ago Tennessee Wesleyan College graduated its first class of Fort Sanders nurses. Throughout the last ten years, the Fort Sanders Nursing Department has graduated more than 400 nurses whose TWC education prepared them for lives of significance, leadership and service through a quality baccalaureate nursing education.

Friday, November 30, the college held a 10-year reunion that brought together students from Fort Sander's first graduating class as well as former and current nursing faculty. The reunion was a gathering that celebrated the achievements and milestones of both the former students and the program throughout the last ten years.

"You are pioneers," said TWC President Dr. Harley Knowles, who addressed the first Fort Sanders nursing graduates at the event. "As the inaugural class, you were the first of a long line of quality nurses who have graduated from Tennessee Wesleyan and continued on to provide exemplary patient care within the healthcare system."
---
TWC students volunteer 1,315 hours of community service for "Day of Service" project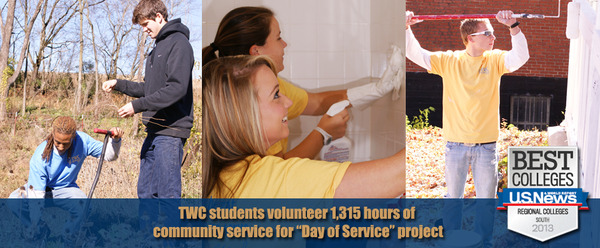 More than 250 Tennessee Wesleyan College faculty, staff and students performed an overall 1,315 hours of service participating in the college's annual "Day of Service" on Tuesday. Volunteering at 20 different projects throughout the local community, TWC students participating in this year's "Day of Service" painted, cleaned, planted and organized at community sites from Athens to Etowah.

"These students can make tangible impacts in the communities where they live," said Mandie Thacker Beeler, TWC director of the center for servant leadership. "For TWC, the annual 'Day of Service' is all about making a big difference in our small town.

"This event is a wonderful opportunity for the TWC community to serve the greater Athens and McMinn community. Students really make a huge difference on this day, providing the resources needed to get necessary projects completed that might not otherwise be possible."

The Center for National and Community Service calculates the national estimate of the dollar value of one volunteer hour to be $21.67. Based on this calculation, TWC made an estimated $28,496.05 economic impact in one day volunteering in the community. Up approximately 100 faculty, staff and students, 6 projects and 560 hours from last year's inaugural "Day of Service," this year's event showed TWC freshmen what the college's "Learn, Serve, Lead … and Believe" motto truly means.
---
December Commencement
---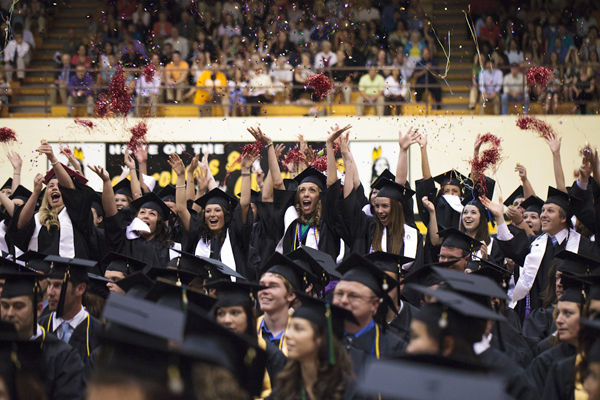 December Commencement
Friday December 7 at 7:30 pm
Townsend Memorial Hall

***Commencement tickets have been distributed to graduates and their attending parties. You are invited to view it online from the link that will be on the college's website or you can watch it in the college's viewing room, Sherman 209.***

More than 80 students graduating.

Before Commencement Cookies & cider on the quad will be sponsored by the TWC Alumni Board.

After Commencement refreshments in the dining hall will be sponsored by Student Life.

Commencement services will be broadcast online.
---
Save the Date
---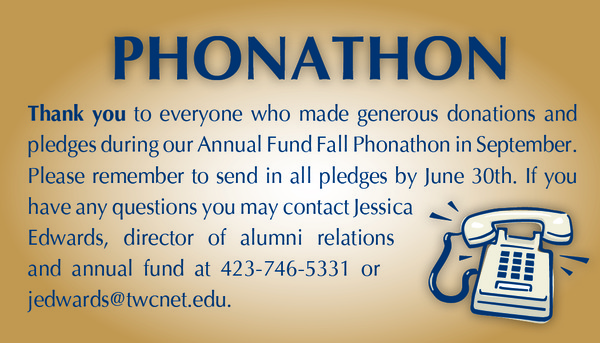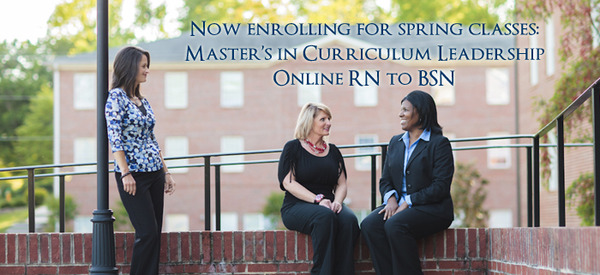 For more information visit the TWC graduate studies and nursing web pages

Visit the TWC website to order your brick
---
Alumni Updates
---
Kathy Wilson '97,
and her husband Scott Wilson welcomed their son William Lee Wilson into the world on January 27, 2012. He is the brother of Rob and Clint Wilson.
Latasha Leming Thedford '10, and her husband Chris Thedford announce the birth of their daughter Journey Faith Thedford who was born September 27, 2012. She is the sister of Ansley Thedford, Jamie Leming, and Jackson Thedford.
Jennifer Morgan '08,
and her husband Chris Morgan, of Alabama, had a son named Gresham in October 2011.
Jennifer is currently teaching Special Education English at Carter High School in Strawberry Plains and is working on her Master of Science in Teacher Education at the University of Tennessee.
---
Travel Abroad Opportunity
---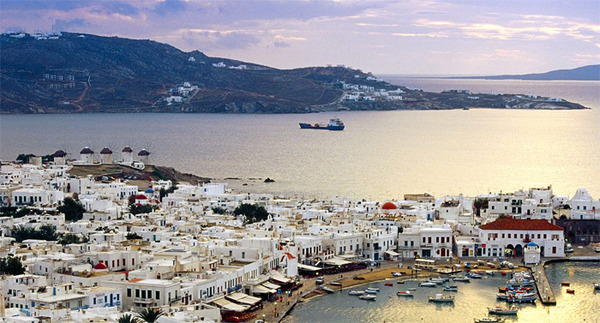 Ever dreamed about seeing the Roman coliseum, throwing a coin into the Trevi fountain or seeing the Sistine Chapel with your own eyes? Ever wanted to visit the ancient ruins of Pompeii or to look out over Naples bay from the top of Mt. Vesuvius? Ever wished you could walk the same streets that St. Paul walked when preaching to the Athenians, or sitting in the amphitheater in Ephesus where he spoke to the citizens? Ever had a cruise to the Greek islands of Mykonos, Patmos or Santorini on your 'bucket list' of places to visit?

Well, here's your opportunity! Chris Dover, TWC chaplain, is planning a 13-day tour of all of these places (and more!) May 15 – 27, 2013. This tour begins in Rome, travelling to the historic sites in Florence, Mt. Vesuvius, Sorrento, Pompeii, Delphi and Athens, before concluding with a 3-day cruise, with ports of call in Mykonos, Kusadasi (Ephesus), Patmos, Rhodes and Santorini.
This trip is open to everyone (faculty, staff, students, alumni, community members, etc.) and the current price is $4047 for students and $4457 for adults. This all-inclusive price includes everything (airfare, lodging, buses, cruise ship fees, tour director and breakfasts). The only expenses not covered are five dinners, your lunches, souvenirs, tips and cruise ship excursions.

For more information, please contact Chris Dover at 804-241-1956 or at cdover@twcnet.edu. Informational meetings will be held on Friday, September 7 and Tuesday, September 11 at noon in the Sullins Board Room in Sherman Hall. You can see complete trip details by visiting the tour website at www.efcollegestudytours.com and typing in the tour number (1198670). Hope you can join us for this trip of a lifetime!
---
Upcoming TWC Athletic Events
---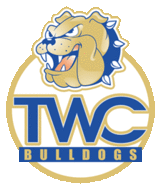 • 12/7 Men's Basketball @Bryan Tournament vs
Mount Nazarene University 6:00 pm

• 12/8 Men's Basketball @ Bryan Tournament vs
Selma University 2:00 pm

• 12/8 Women's Basketball vs Truett-McConnell
2:00 pm


Tennessee Wesleyan College | 204 E. College Street | Athens, TN 37303