CALL FOR ENTRY
Exhibition Deadlines
Click here
, for shows with April and May deadlines
.
ArtTag Participants
Please send your art to your ArtTag partner by April 11.

Please contact Kelly by email kellyhammargren@comcast.net or cell 510-325-1218 for your questions about ArtTag.
Art Workshop at Ghost Ranch in Abiquiu, New Mexico, May 6-13
I have organized a painting (watercolor, pastel, acrylics, graphite-not oils) week at beautiful Ghost Ranch in Abiquiu, New Mexico, for the week of 6-13 May, 2012. There is room for 3 more people at this wondrous place. There is no instruction, just a full week of painting or doing something creative.
Cost is based on Ghost Ranch pricing of around $850-1300 for the entire stay at the ranch. This price includes room (single or double), food, large studio for all, 24/7 library, museum, hiking areas galore, etc. You will need your own transportation. You can also write poetry, songs, create with collage, make jewelry,etc. etc.!
Check out the website:
www.ghostranch.org
See my website,
Mary Lou
or contact me:
mldauray@gmail.com
More Workshops!!!
The Fundamentals of Branding and Multi-Media PR For Artists
In the oversaturated world of news media and the information age, do you effectively present yourself to your customers and to the media - in just a few minutes of conversation? What is your brand, that which sets you and your vision apart from everyone else? This workshop - designed with both the novice and savvy self-promoters in mind - will give you tools to define yourself and your art as well as essential information on how to navigate the ever-changing world of public relations.
Topics include:
· Branding, elevator speeches and developing your communication style
· Media trends
· Key rules for your promotional campaign
· Guidelines for writing and distributing effective media releases
Brechin Flournoy
is a veteran curator, independent producer and cross-functional digital communications specialist. A self described 'cultural omnivore', Brechin's administrative career began at the age of 19 as an intern at P.S. 122 in New York City's Lower East Side - handling everything from coffee runs to associate producing showcases. Since then, Brechin has worked professionally in every aspect of the creative sector (from administration to performer and guest curator to tech). She is the Founding Director of the internationally renowned San Francisco Butoh Festival (1995-2003) which effectively popularized the dance genre in the U.S. Brechin founded NEQA/Communications, and the PR/Marketing department at Quinn Associates. In the past year, Brechin led a re-branding campaign for AcroSports, which led to her current position as the non-profit organization's Marketing Director. Concurrent with that position, she runs Sagacity Communications, a boutique agency that specializes in individual coaching and marketing campaigns for projects, businesses, and organizations.
This workshop is designed for individual artist of all disciplines who are interested in improving their marketing skills and is limited to 24 students.
Date:
Wednesday, April 18, 2012
Time:
6:00pm - 9:00pm
Location:
SF State, 835 Market Street, 6th floor, SF 94103 (next to Westfield Shopping Center, Powell Street BART/Muni stop)
Cost:
$40.00 (
Early Registration ends April 4, 2012
), $50.00 (
Early Registration
)
Workshop in San Rafael, April 14!
One of my dreams to see organizations come together and help artists grow their dreams and aspirations is happening in San Rafael on April 14. The Director and landlord of my new art studio at Marin MOCA, Heather Murray, will be joining forces with Marin Open Studios and Artworks Downtown for a Panel Discussion: Fine Art Sales Tips in order to give artists the best possible chance of getting their work known and making sales at the 2012 Marin Open Studios.
Printmaking Demos
from 11-1 at May 5/6 - Colony of Coastside Artists (CoCA) Open StudiosSat/Sun 11-4
Visit our website.
Visit us on Facebook.
EXTERNAL COMMUNICATIONS CHAIR MESSAGE:

Dear NCWCA Member:
As your Editor, I am finding writing the Newsletter to be an enormous challenge. Namely because you have been so responsive in sending me your photos and PDF's for your announcements of upcoming shows,etc... and there simply isn't enough room for all of them! I need to remind you that our email platform, which is free to non-profits, called Vertical Response, does not have a means of storing your media, so in order for your readers to access your PDF's, you need to park them on on your website and send me a link. For users with a website, this a non-issue, but if you don't have a website, I have come up with a temporary solution, through a website I created called www.newsandnotesclearinghouse.com. My story about my experiences at the 40th Anniversary WCA Conference and Gala uses this system. For this Newsletter, I figured out this temporary solution late, so you won't be able to take advantage of this system until after our upcoming quarterly Board Meeting at Judy Johnson William's studio on April 10, where I will present this problem/solution and look forward to your feedback.

In future, please send me your photos as jpegs, not bitmaps, in order to lessen my workload!

I am also challenged because I have a strong sense of "fairness" and want to give all of you equal representation in the Newsletter. And as you will see, this one is packed with your wonderful success. Even so, I have noticed from your submissions that we have some blazing STARS in our organization, and have given them priority in this Newsletter. I have listed your shows in the Members in the News section of this newsletter and pointed the reader to your websites.

We have moved into a new era, with you new National WCA President, Priscilla Otani, taking the reins from Janice Nesser-Chu, who is working hard to grow our organization through building the many chapters under the umbrella of the National WCA.
Thank you to Shizue Siegel for her excellent service and generous gifts as Public and Member Relations Chair. Please go to our website to see job description for the Board Opening in Public and Member Relations.
The Opening Reception for WCA 40th Anniversery collaborative exhibition with NCWCA, Peninsula WCA and SBAWCA is tonight, April 6, 5:30 to 8:30 pm.
Click on the link to go to our website and check out the CAFE's.
Finally, I sincerely hope, after writing and working for days and almost going blind from looking at CRT's and colored lights, that I have not left anybody out!
Thank you,

Elise Cheval
Editor
On Becoming President
by Priscilla Otani
It's been a little over a month since I became National WCA President. The changeover itself was uneventful, somewhat like my marriage at City Hall. The board meeting ended and I was now President. No fuss, no muss. No coronation, no banquet, no speech-making.

It felt so leisurely being President, at least that first day. Work started on the long drive back to San Francisco. I spent most of the drive talking on the phone with various members, discussing some of the conference events that went well and those that didn't go as well. Although I was suffering from a dreadful head cold, my mind was full of ideas and to-do lists and phone calls to make. On that drive back, something from the past came back to me, something I had enjoyed very much: the challenge of managing a large organization.

WCA is the first non-profit organization I have managed, and the challenges are somewhat different from my previous for-profit jobs. For one, we are all unpaid, except for one person (Operations Director) and as leaders, we volunteer long hours. I find it fascinating, this concept of volunteering. It's uniquely American to my Japanese eyes, uniquely idealistic. Unlike membership organizations, non-profits are sustained, not by high dues and paid staff, but through the efforts of each and every one of us working together to benefit members and the broader community of women artists and art historians.

I am slowly getting my arms around the role of President. The work is a combination of strategic thinking, people management, reaching out to members and collaborators, problem-solving. I have placed high priority on supporting my immediate reports, which in this case is the National Board and the Operations Director. Each person has been delegated responsibilities and initiatives. They have the responsibility to deliver and they have the ability. What I must do, is to provide time to listen and advise. It is one of the pleasures of my job.

WCA has one paid staff – Karin Luner, who is the Operations Director. She works part-time – 20 hours a week. That is not her preference but the economics of our organization. It's difficult enough to plan how to effectively use those 20 hours: membership processing, paying bills, managing the website, managing the WCA archives at Rutgers, helping produce the newsletters, helping with logistics of the annual conference, answering member calls… and breaking in a new President every 2 years. Believe me, it's not easy getting used to a new boss every 2 years. I had that in a prior job. What I truly appreciate about Karin is that she genuinely cares – about WCA and its membership. Many a time she has raised important questions about expenditures or practices. She is our watchdog and our conscience.

My job will be 24/7 for the next two years. It won't be easy. But I look forward to the adventures, challenges and rewards that this large organization of women brings.
BOARD MEETING, APRIL 10, AT 5:30 PM IN OAKLAND
During our Apr 10 meeting, we will discuss memb
er programs (exhibitions, art-making, professional development sessions, salons, film screenings, museum visits, visits to artist studios, etc) for the rest of the year. Your ideas are important to us. Please attend and let us know what you'd like to participate in during the year.
Catchup on updates on exhibitions and membership. Express your views on how to strengthen the News & Notes newsletter. Brainstor
m ideas for Chapter activities and events for 2012. Bring a drink and something to share for our potluc
k.
Sincerely, Priscilla Otani, National WCA President
40th Anniversary Collaborative Exhibitions Show, Opening on April 6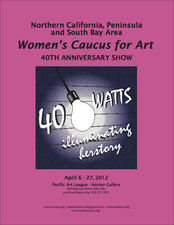 Click here to volunteer. Click here to read a full press release.
BOARD OPENING IN PUBLIC AND MEMBER RELATIONS

I love being a part of a GREAT group of ladies who know their stuff. Since I've come into NCWCA as Board Member a year ago, I've learned how to build FREE websites (with Priscilla's help), design logos and brochures (with Shizue's help), write an e-Newsletter (with Irma's help), manage my finances (with Sandra's help), and my career has EXPLODED from the gallery to my dream community project called

project GREEN RUNWAY!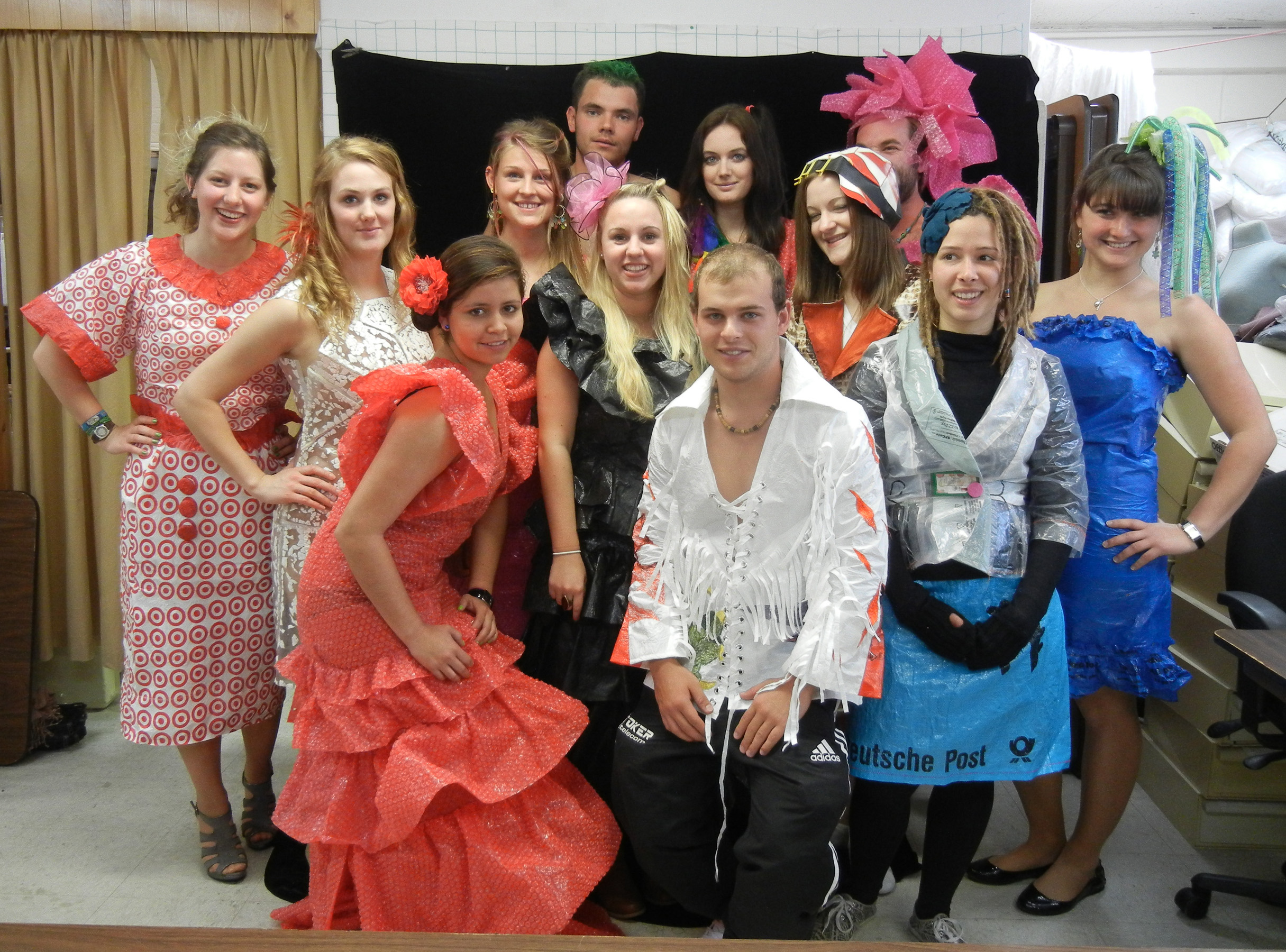 Why am I telling you this? Because I know that I got all of this because I made a committment to NCWCA and I want to let you know about the power of VOLUNTEERING when it comes to building your art career... FAST! In fact,
NCWCA is so effective in growing careers that we get too busy with making art for all of the galleries we submit our work to, curating shows as Shizue did, writing books as Salma and Karin do, and getting copy on the Internet to 9 million viewers as Sandra did recently. NOW we are looking for you to step up and fill in the big hole left by Shizue, our excellent Member Relations Chair, and watch your career blast off to a planet yet discovered!
Click here for job description.
HIGHLIGHTS FROM 40th ANNIVERSARY WCA CONFERENCE & GALA IN LOS ANGELES
by Elise Cheval
Social media has put us in touch with each other at the click of a button. On any given day, I get 2-3 e-vites for CAFE's, gallery exhibits, museum visits, and the list goes on and on. So, how do I decide where to spend my time? Where do I get a pay back for my efforts? Where can I grow my art career, read my name in the newspaper and make more friends than ever before? Read more...
RISING STARS!
by Elise Cheval
Yo
u don't have to walk on the star-studded streets of Hollywood to appreciate some amazing ones, right here in our own backyard. Sandra Yagi, Surrealist painter and our Treasurer Chair, is flooding cyberspace! She has had numerous mentions in the news, from her exhibit at the Bone Room in Berkeley to her media blast of her multiple Surrealist paintings that incorporate anatomical imagery to explore the human psychological condition, such as cutaway skulls portraying our basic human drives and the thin veneer of humanity overlaying our animal nature.

Yes! Sandra has reached 9 million viewers through the Spanish on-line publication, 20:minutoes.es, with her multiple paintings that "merge science and nature with a classic artistic approach". Stay tuned for a full interview in our May 1 Newsletter.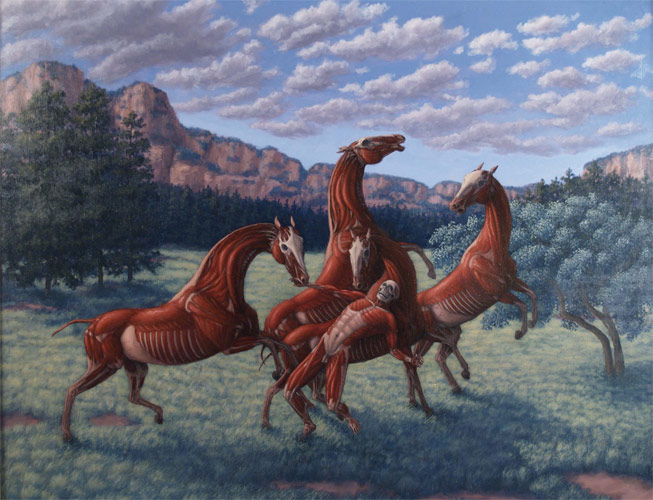 http://www.sandrayagi.com
http://www.20minutos.es/noticia/1284225/0/pintura/peligros/modficacion-genetica/
http://www.elconfidencial.com/multimedia/album/ciencia/2012/01/25/sandra-yagi--el-lado-salvaje-del-hombre/chimpance-enmascarado-oleo-sobre-tabla-2011-949/
http://www.thegorgeousdaily.com/sandra-yagi/
http://darksilenceinsuburbia.tumblr.com/post/17615196009/sandra-yagi-anatomicals-the-nest-2012-oil-on
http://thejanicelee.blogspot.com/2012/01/sandra-yagi.html
Mel Ahlborn, Creator of Illumination Studio, and our Public Relations Chair, has come "full circle", with her Modern Love Intercess and Wait paintings at Gallery 1055, in San Francisco.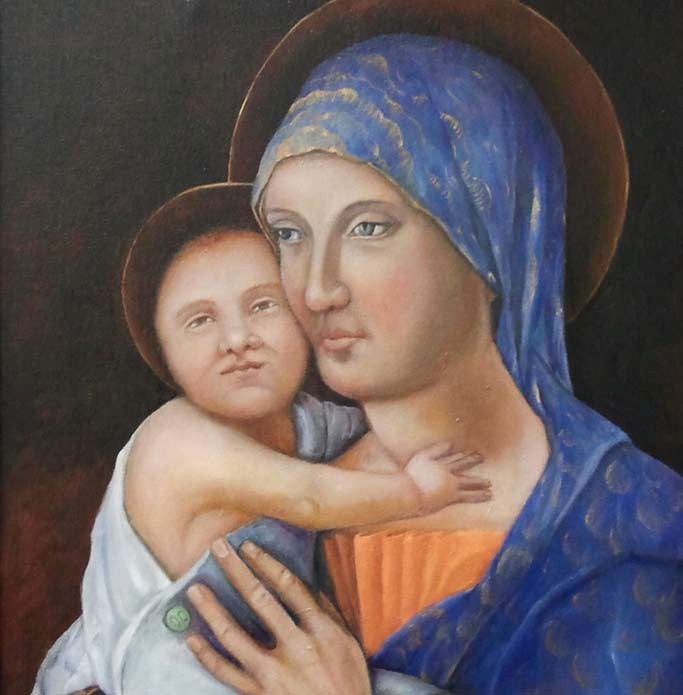 Salma Arastu, our Islamic queen and Exhibitions Chair, who has secured the Danville Gallery for our Member's Show in 2013, has 10 paintings in the Muslim Eyes Exhibit through the Marin Community Foundation at Hamilton in Marin. After rooming with her in Los Angeles, I can attest to her heart of gold and compassionate and beautiful paintings, published in her new book (see her website), that will have you breathing more deeply here in Marin or in Australia!
From California to New York; Spain to Australia, our local NCWCA and National WCA artists are gaining recognition all over the globe! Salma will be the Guest Speaker, first at the Al Ghazali Center on April 21 in Sydney Australia, and then at her presentation
Journeys of Love Through the Arts
at the University of Melbourne.
Honoring Women's Rights Conference, Coming on September 8, 2012
Priscilla Otani, our new National WCA President, has a goal to bring artists from the various Chapters together. What better way to do that than to have a Group Member show right her in our own neck of the woods?
Late this summer, WCA members are coming from all over the country to the Monterey Bay Area for our Pacific Regional Conference celebrating the WCA 40th anniversary. This is a tremendous opportunity to meet and network with other women artists. I have a sneaking suspicion that your art-spirit mate is planning to be there too!

Forty years ago in San Francisco, the Women's Caucus for Art (WCA) was formed by female members of the College Art Association (CAA) as a backlash to the appointment of an all-male board. Today, WCA has 25 chapters across America. On September 8th, 2012, four WCA California chapters are celebrating the 40th anniversary by hosting a conference and juried exhibition at the National Steinbeck Center in Salinas, California.

Click here, for prospectus and easy submission on entrythingy in a few weeks. Our Facebook page has campaigns we support to call action and attention to the same or related women's general and arts issues. Plan on attending the Honoring Women's Rights conference. Watch the website for more details as to official HWR hotels and related fun spots and educational events in and around the National Steinbeck Center.
Get into the preview mode of mind; come view the show during Salinas' First Friday Art Walk, 9/7/2011, 5-8pm.

Fondly,

For more information, contact Susan Kraft
650-444-1354
www.sbawca.org
www.kraftart.com



Spring 2013 – NCWCA member only show in Danville, CA



We are awaiting confirmation from the Gallery. Our theme is under review.

Salma Arastu
Board Member, Exhibitions Director
MEMBERS IN THE NEWS
Salma Arastu
, in a Group Show, "Through Muslim Eyes", at the Hamilton, Marin
Community Fou
ndati
on, through May.
Claudia Chapline

, free April poetry workshops called Pacific Rim Poetry at the Stinson Beach Library and Oliver Ranch Tour, a benefit for Art at the Cheese Factory on June 2.
Elise Cheval
, at Artworks Downtown, in The Elements Show, March 7 through April 27.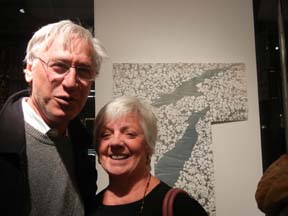 M.C. Carolyn,
paintings at Artworks Downtown, in
The Elements Show
, March 7 through April 27.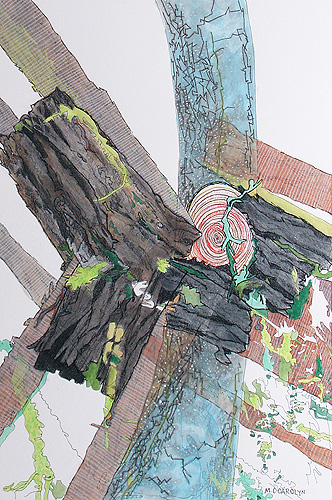 Also in "A Sense of Place", March 24-April 20, and sculptures in on-line exhibit, Open Theme.
April Hankins,
Pacific Arts League, Palo Alto
Through March 29 and April 6 - 27.
Toby Tover-Krein

at the Georg Krevsky Gallery, March 24-April 28.
Laura McHugh
,
Colony of Coastside Artists (CoCA) Group Show at the Half Moon Bay Library, Half Moon Bay CA starts today. My piece, Wedding Ring Quilt with Pinwheels (in Italian) is in this show. Show runs through April 30. Library is open every day 9-5 except Sundays 1-5.w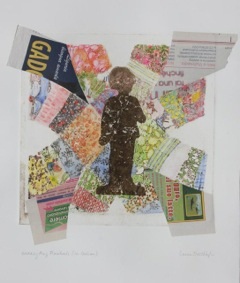 WEDDING RING PINWHEELS (IN ITALIAN)
15" x 15e" Paper Dim; 12" x 12" Plate Dim
Combined Media Print on BFK/Rives Paper
Framed: $350
Unframed: $275
Barbara Milman
& Trudi Chamoff Hauptman,
BJE Jewish Community Library
More Than Enough: ReDefining Excess, March 1-August 5.
"Left to Chance: The Accidental Book Art Now,." San Francisco Center for the Book, 300 de Haro Street, San Francisco, through May 12. "Reader's Art 12: longing for home," Susan Hensel Gallery, Minneapolis, MN, March 16 - April 26
G
illi M
oon
Friday April 20, at the Corklounge. Read more.
Sally Ruddy,
"Queen of Hearts" (60x48 inches, Oil on Canvas) March 23 to May 23, 2012 in the "HERstorically Speaking" Juried Multi-media Exhibition, at the Johnson & Johnson World Headquarters Gallery, New Brunswick, NJ. Read more.
This newsletter is designed to offer NCWCA members a platform to share their works, ideas, stories and opportunities that benefit our communities and fellow art activists. We welcome your feedback and articles. This newsletter will be published on the 1st and 15th of each month. Content must be received three days before the publishing dates to be considered for the newsletter. Email your contact to elisecheval@hotmail.com and put "Newsletter" in the subject line.

Sincerely,

Elise Cheval, Editor
Northern California Women's Caucus for Art