WCA IMPACT! CONFERENCE REPORT
by Mary B. White, NCWCA Chapter Representative to the Conference
IMPACT, the WCA annual meeting in Washington D.C. was an inspiring and intense four-day experience.
ARRIVAL AND CONTEXT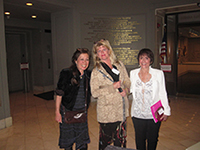 Wednesday, Feb. 3, snow was still on the ground from the big blizzard, as I arrived at the D.C. Marriott Conference Hotel. The hotel was buzzing with enthusiasm. WCA is an affiliate of the College Art Association, and the annual meetings for WCA and CAA are always scheduled together. CAA presents one of the best-attended international visual arts forums for professionals, with over 5,000 artists, art historians, students, educators, curators, critics, collectors, and museum staff attending 200 sessions with 800 individuals presenting. Along with a Book and Trade Fair, and Career Services, the hotel was a sparking hub of arts interchange (Riko Takata- NCWCA, Linda Gleitz-WCA Colorado, Cherie Redlinger-WCA DC).
THURSDAY FEB. 4 WCA BOARD AND CHAPTER MEETINGS AND LIFE TIME ACHIEVEMENT AWARDS CEREMONY
Thursday morning at 8 am, members met informally with WCA Board members and IMPACT conference organizers. At 9 am, President Brenda Oelbaum and President-Elect Susan King welcomed us. Susan King and her successor President Elect Margo Hobbs King, talked about goals for the coming year: focus on diversity/gender study work, attract more art historians, and renew links with CAA.
From 9-12 noon, the Chapter representatives met for a session led by Ulla Barr, VP Chapter Relations and her successor, Laura Morrison. About 12 Chapter representatives gave short reports. Common topics with all chapters: succession planning; new membership recruitment; exhibition planning as a recruitment tool, agreement on the importance of marketing. Suggestions: use the same logo for all chapters to create visual link and branding; scale back the Award Ceremonies to save time and resources; find funding to engage more public participation.
From 2-3:30 pm, we met for the WCA Impact Conversation on Contemporary Arts Organizing — In and Out of the Art World Panel, a CAA/WCA collaboration. The Presenters were Stephanie Sherman, Karen Frostig, and Sandra Mueller. Excellent guidelines for social action and art curriculum.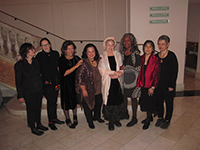 At 4:30, our bus left for the Lifetime Achievement Award Gala Reception And Award Ceremony at the 
National Museum of Women in the Arts (NMWA). Awardees were Tomie Arai, Helène Aylon, Sheila Levrant de Bretteville, and Juana Guzman; the Presidents Awardee was Stephanie Sherman (see right).
A large portrait of the founder of the museum Wilhelmina Cole Holladay graced the entry. Her story is another testimony to the vision and strength of women's visions. The current show, Pathmakers: Women in Art, Craft, and Design, Midcentury and Today was excellent, and included work by Ruth Asawa of SF!
The LIfetime Achievement Awards was a splendid celebration, a festive and flamboyant gala. The Director of NMWA introduced us to the museum and then the joyous awards ceremony started. Heartfelt applauds for the five Awardees were followed by desserts and more conversation. Late evening, back at the hotel, I came across a group of CAA art historians discussing social change initiatives and passing out Guerrilla Girl masks. Moira Roth, Mills College professor and one of our pioneers of feminist art history, stopped by.
FEB. 5, FRIDAY WCA CAUCUS MEETINGS, WCA /CAAS PANEL AND ALEXANDRIA
WCA has four special interest caucuses: Eco-Art, JWAN, International, Young Women . From 9-10:30, four of us met for the International Caucus.
From 10:30-12, I attended the lively Eco-art Caucus meeting, led by SoCal members Danielle Eubank and Sandra Mueller. We discussed new initiatives and future collaboration with Women Eco Artists Dialogue (WEAD).
The 12:30-2 WCA Panel, Critical Contact: Non-Traditional and Multicultural Mentoring through Art-Making, was a spirited discussion of social justice action through mentoring. Chair: Molly Marie Nuzzo, Montgomery College. Presenters: Robin Meyer, Montgomery College;
Dorene Quinn and Yvonne Buchanan, professors from Syracuse University; Kimberly Creasap, Colgate University. Kimberly Creasap paired disabled students with local youth and art students. Yvonne Buchanan and Dorene Quinn started a "Talent Agency" for low-income high school students to develop portfolios; so far, all their students have been accepted to college art programs.
From 2-3:30 I attended a National Endowment for Humanities CAA panel. The NEH staff introduced grant recipients. The last round of funding was for programs interpreting scientific and historical information to a wider audience. The theme of the day was Public Engagement: conversations in public space, common heritage, making scholarship relevant, making scholarly work more accessible to the public. They referred to NEH supported Marta Gutman's A City for Children: Women, Architecture, and the Charitable Landscapes of Oakland, 1850-1950 (University of Chicago Press). A good resource for anyone interested in social justice and art in Oakland.
At 4:30 we took bus to an Alexandria gallery exhibition, then on to the Torpedo Factory for the Trending exhibition and a lecture: "Art World Advice" with Trending juror Elizabeth Garvey.
Elizabeth's goal as a juror was to choose several works by each artist using historical documentation. Her general advice: "Dealers' roles are changing; art fairs are changing; it is necessary to think more outside the box; collaboration is the buzzword". She recommended the blog: https://www.besmartaboutart.com/blog. She liked Art Market Production, the group that does the SF Art fair. "How to find the right gallery? Trust your gut. Develop personal relationships. Go to openings, get to know the dealers. Help the galleries. What can an artist do? Have a great website, work with written agreements, make GREAT work!"
FEB. 6, SATURDAY THE FEMINIST ART PROJECT (TFAP) PANELS AT NMWA AND EXHIBITION WITH A RECEPTION/GALLERY TALK IMPACT - LEGACY OF THE WOMAN'S CAUCUS FOR ART 1972-2016
I attended all of the panels at The Feminist Art Project TFAP@CAA DAY OF PANELS: Performing Identity as Intersectional at NMWA. It was , free to the public and attracted a young diverse audience. TFAP is a collaboration of feminist organizations and a testimony to collaboration. All participants from the first panel were from California: Outrageous Intersectionalities: Colonia Peepshop, Muscular Mess Halls, and FierceSoldaderas. It was fascinating!
During lunch, we dashed over to the American Indian Museum to hear Cherokee artist Kate Walking Stick, then back for more panels. https://feministartproject.rutgers.edu/media/uploads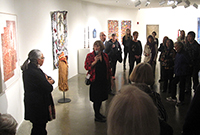 After the FFAP panels, we departed for American University Katzen Arts Center exhibition:
Impact - Legacy of the Woman's Caucus for Art 1972–2016
, a reception and gallery talk with Lifetime Achievement Panel: Leslie King Hammond (2008) Moderator and Exhibition curator, Susan Fisher Sterling, Helene Alyon (2016), Maren Hassinger (2009) and Ferris Olin (2012). The event was a grand homage to the talent, productivity excellence and community contributions of women in the arts.
WCA member and curator of the Capitol, Barbara Wolanin, created an extraordinary digital video presentation of every WCA awardee, 194 in all. What an amazing women art history lesson (Barbara Wolanin, center, above).
Special thanks the WCA members who put so much care into the organization of IMPACT, and the Washington Chapter members for their warm hospitality. Thank you NCWCA for giving me the opportunity to be the Chapter Rep! The next CAA/WCA conference will be February 2017 in NYC. Save the dates!
APPLE LAPTOP WORKSHOP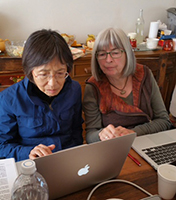 The April 2 Apple laptop class with Alicia Vargas was a great success! Eight women learned the basics of the Apple Mac operating system. Mary White's feedback was: "Excellent instructor! She was careful, made sure everyone was keeping up, and gave us very relevant and useful information." Pamela Spears added, "Such an informative class. I realize now that there is so much more my computer can do to help me. I need about 15 more classes!" Mary Shisler hosted this workshop at her home and would like to see more classes through Alicia. This workshop was partially subsidized by NCWCA. Everyone agreed that enabling women in technology is a worthwhile investment for the chapter.
ART TAG = INSPIRE AT DANVILLE
Village Theatre Art Gallery, 233 Front St, Danville
Opening reception April 29, 5:00 - 7:00 PM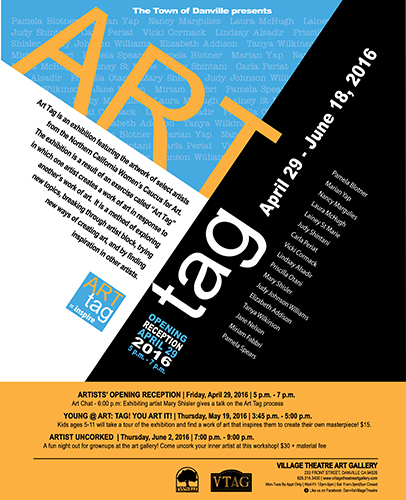 MEMBER SHOWS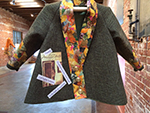 Patricia Montgomery
in solo show,
Honoring the Civil Rights Movement Heroines
, Brickhouse Gallery, 2837 36th St, Sacramento, April 1 - 30 (image right).
Vicki Cormack
in
Universe in the Round
, Café Society, 522 Main St, Half Moon Bay, Mar 7 – Apr 29.
Sawyer Rose
in
Terrain - Views of California,
STUDIO Gallery, 1641 Pacific, San Francisco, Mar 31 - April 25. Also
The Alchemist,
Root Division, 1131 Mission St, San Francisco, Apr 6-21.
Juliet Mevi
, 4th Annual Art, Sip and Stroll, Town of Yountville, 6516 Washington St, Yountville, Apr 16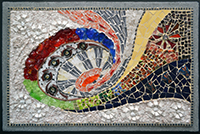 Xuan My Ho
,
Abstractions,
Pacific Art League, 668 Ramona Street, Palo Alto, April 1 - 28. Also Saratoga Fine Art Show, West Valley College, 14000 Fruitvale Ave, Saratoga, Apr 30 - May 1 (Image left).
Victoria Veedell,
Point of View,
San Francisco Women Artists Gallery, 647 Irving Street San Francisco, April 5- May 7. Also
Terrain
, Studio Gallery, 1641 Pacific Ave. San Franisco, Mar 31 – Apr 25. Also
Landscapes: Seen and Remembered,
Four Barrel Coffee, 375 Valencia St. SF, Apr 29 – Jun 9.
Pallavi Sharma
,
Rain Percussions
, Radius Gallery, 1050 River St, Unit 127, Santa Cruz, Mar 23 – May 8.
Yvania Ambrozino
in ARTiculAction Art Review // Special Issue, Winter 2016,
https://issuu.com/articulaction/docs/articulaction_art_review_-_speiss/144
.
Judy Shintani,
Universe in the Round
, Cafe Society, 522 Main St, Half Moon Bay, Mar 7 - Apr 29.
Kathy Fujii-Oka,
Identity,
Arc Gallery, 1246 Folsom St, SF, Mar 22 - Apr 30. (see right)
Priscilla Otani,
Identity
, Arc Gallery, 1246 Folsom St, SF, Mar 22 - Apr 30.
Bonnie J Smith
in
Water is Life: Clean Water and its Impact on the Lives of Women and Girls around the World
, UN European Headquarters Building, Geneva Switzerland, Mar-Apr.
Sandra Yagi
in
beinArt Gallery Inaugural Exhibit
, Brunswick, Victoria, AU, Mar 19 – Apr 28.
Members, get your shows and workshops listed in News & Notes, NCWCA Calendar and on the NCWCA website! Send jpg image of your work in the show and information about the show to ncwcachapter@gmail.com.
WELCOME 2016 MEMBERS!
Welcome new members Mary Ayling and Tina Maier. Thanks for renewing Joanna Katz, Yuriko Takata, Elizabeteh Sowell-Zak, MC Carolyn, Sondra Schwetman, Jacquie Rubenstein, CJ Grossman, Susana van Benzooijen and Anna Kaminska.
We hope to see you soon at our monthly meeting or one of our special events.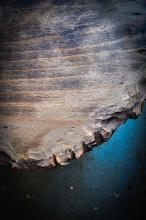 Leisel Whitlock
2016 MEETING LOCATIONS & DATES
Chapter meetings are on the second Tuesday of each month. Look for details on our webpage. Let's carpool! Email ncwcachapter@gmail.com if you need a ride or can offer a ride.
May 10: San Mateo
Jun 14: Oakland
Jul 12: San Mateo
Aug 9: San Francisco
Sept 13: Oakland
Oct 11: San Francisco
Nov 8: San Mateo
Dec: Year-end Party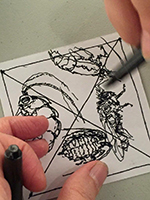 Zentangling

WOMEN ARTISTS TO KNOW
To join this Facebook group, go to the
Women Artists to Know
page and click Join. A moderator will add you to the group. Share your favorite artists! We now have over 1000 participants from all over the US and abroad!
April - eco/land art
May - drawing
June - performance/dance/music
July - photography
August - installation
Sept -political focus/community engagement
Oct - print making
Nov - collage
Dec - sculpture, assemblage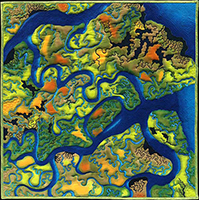 Bay Area Eco Artist Linda Gass
NCWCA CALENDAR
April 22
deadline for Vision submission. Click
here
for details.
April 29
Open Engagement 2016 - POWER! At Oakland Museum
April 29, 5-7 PM
ArtTag Exhibit Reception at Danville Village Theatre Gallery
May 7, 7-9 PM
Opening Reception for Women Do It! WCA International Caucus traveling postcard show, Arc Project Gallery, 1246 Folsom St
May 10, 6-9:30 PM
Chapter Meeting at Irma Velasquez' studio in San Mateo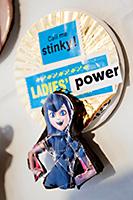 Power button
TIPS FOR FORWARDING NEWS & NOTES TO YOUR CLIENT LIST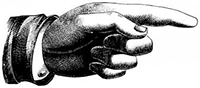 Before forwarding your copy of News & Notes to your client list, delete the "Unsubscribe" sentence at the bottom of the newsletter. Otherwise, if one of your clients decides to unsubscribe to your email, they will inadvertently unsubscribe you from future editions of our News & Notes.
Alternatively, you can go to the
Publications
page of our website and include the URL of any of our newsletters in your own e-news.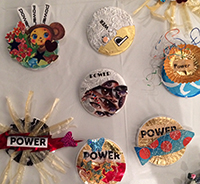 Power buttons for Open Engagement Conference
MEMBER SPONSORED WORKSHOPS
Mary White is teaching two stained glass workshops at Ghost Ranch, New Mexico.
Stained Glass Illuminations at Ghost Ranch, New Mexico
Instructors Mary White and Marty Meade
Dates: July 17-23, 2016
Price: Sliding scale from $715-$1430
To register, go to
email Registrar
Eileen Garcia: eileeng@ghostranch.org
Evelyn Leyba: evelyn@ghostranch.org
front desk staff: 505 685-1000 ext. 0

Designing Stained Glass with Fused & Torch Glass Elements at Ghost Ranch, New Mexico
Instructors Mary White and Marty Meade
Dates: July 24-July 30, 2016
Price: Sliding scale from $715-$1430
To register go to
email Registrar
Eileen Garcia: eileeng@ghostranch.org
Evelyn Leyba: evelyn@ghostranch.org
front desk staff: 505 685-1000 ext. 0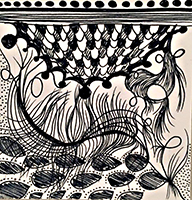 A Zentangle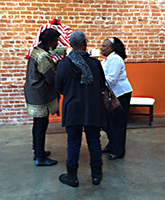 Patricia Montgomery with viewers of her work at Brickhouse Gallery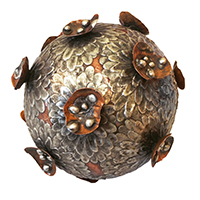 Sawyer Rose in Terrain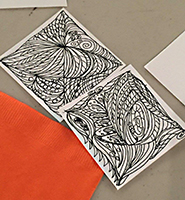 Zentangles