A LETTER FROM GERMANY
by Hilla Hueber

Since moving to Dusseldorf, Germany last November, I have not been creating much art. Instead, I have been absorbing art. I am fortunate that I live in an area with an abundance of museums and galleries of great variety and quality.A couple of museums are within walking distance and many are not more than 30 to 60 minutes away by car.
Just recently, I saw retrospectives on Joan Mitchell (Cologne) and Agnes Martin (Dusseldorf), and an exhibition of 70 paintings by Francisco Zurbarán (Dusseldorf), a master painter of Spain's Golden Age. In Frankfurt, I saw Sturm Frauen (Storm Women) and a carefully curated exhibit of paintings by Reinhold Ewald, a local Expressionist painter, almost forgotten now, but amazing nevertheless. Last was the yearly show of works by students of the Art Academy here, 4 stories of the huge Academy Building packed with works by young artists, which I found energizing.

So instead of sending you photos of my not yet finished drawings I decided to write about exhibits I have been seeing. I will focus on women artists, as they interest me most. Since I have no training in art critique, I'll merely give some information and my personal impressions.
In this issue, I will discuss the Agnes Martin retrospective.
The work of Agnes Martin (1912 - 2004) is on view from November 7,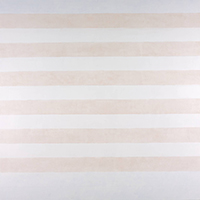 2015 to March 8, 2016 at one of the major art collections of 20th and 21st century art of the State of Nordrhein-Westfalen - K20 - in Düsseldorf.
From the first time I saw her work, even before the retrospective, I felt a close connection to Martin's work. I not only saw the retrospective exhibit, I also attended a two-day workshop, where we created our own "Agnes Martins". The workshop was well organized, gave in-depth information about her life and work and included a hands-on project that I especially enjoyed.

The Agnes Martin exhibit began its tour at the Tate Modern in London and from Düsseldorf will go to the Los Angeles County Museum of Art and to the Guggenheim in New York. This may be an opportunity for some of you to see it. A bit closer to home, the Anderson Collection at Stanford has a couple of her pieces. There are images of her work online but I find that her work does not photograph well. Nothing but seeing the original does her work justice, she was convinced of this herself.

Martin is regarded as a pure abstract painter.Some call her a minimalist, she considered herself an abstract expressionist. (I see her as a "purist", absolute in her determination and search for perfection.) Most of her paintings were painted in very thin glazes of either oil or, later, acrylics. Colors were so diluted that red comes out as a light pink - and they had limited tonal variance. Martin's main format was the square, mostly 6 x 6 feet. Only in her last years did she reduce the size to 5 x 5 feet, due to the physical difficulty of painting on larger canvases.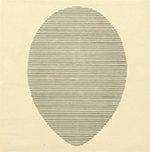 It was eye-opening to see a retrospective of a painter whose work inspired me from the very beginning, when I saw some of her work in a collection of contemporary art. Over 40 years, Martin worked with a grid on a square, using grids, lines (graphite) and bands of subtle colors. Her myriad variations confirmed for me that substantial masterpieces can be created through singular focus and determination. While she insisted that her works were not meditations, it is clear that the spiritual dimension was important to her, as were perfection and beauty. Martin took a long time (weeks to months) to think about her paintings before beginning to paint. She mentioned that she kept waiting for a vision for the next painting. She painted series of six or more paintings, though she destroyed many more pieces in the process. In fact, she destroyed at least 40% of her work herself, including many of her early abstract period paintings. Only the very best pieces were deemed good enough to be presented to viewers. She did not have an attachment to her works once they were finished. Her rigorous evaluation had eliminated the pieces that did not meet with her standards.

I will finish with my favorite quotes by Agnes Martin:


My paintings have neither object nor space nor line or anything – no forms. They are light, lightness about merging about formlessness, breaking down form. You wouldn't think about form by the ocean. You can go in if you don't encounter anything.


When I think of art I think of beauty. Beauty is the mystery of life. It is not in the eye it is in the mind. In our minds is awareness of perfection.


The way of life is happiness and to respond to life as though it were perfect is the way to happiness. It is also the way to positive art work.



Go see her work in person and take your time! You'll be glad you did.

20TH ANNIVERSARY OF THE ART OF LIVING BLACK; THE AMERICAN EXPERIENCE


by Judy Shintani

NCWCA members Grace Cohen, Miriam Fabbri, Kelly Hammargren, Judy Johnson-Williams, Judy Shintani, and Sandy Yagi gathered to see this important Bay Area exhibition at the Richmond Art Center. Member Orlonda Uffre curated the show which depicts history, cultural affirmation, social struggles and more. I was especially impressed with the wide variety of media and styles that filled the gallery. This year the show recognized artists Lorraine Bonner (NCWCA member), Bill Dallas, and Stephen Namara, who were awarded the 20th Annual Spotlight Artist Award. The image above is Lorraine Bonner's sculpture - if you look inside you'll find the big dipper constellation.
We also saw the Family Portraits exhibition which featured Miriam Fabbri's mixed media piece about her father's family.

50th Anniversary of the Art of Living Black: The American Experience Richmond Art Center Main and West Galleries
Exhibition Dates: January 12 - March 3, 2016
Family Portrait, Richmond Art Center Community Gallery, Exhibition Dates: January 12 - March 3, 2016
CARRYING STONES
By Sawyer Rose
At February's chapter meeting, Sawyer Rose presented her proposal for an installation at the Fort Mason Center. If accepted, she hopes that NCWCA members will participate in a performance for Ties that Bind, a component of her Carrying Stones installation. Here is her presentation:
Carrying Stones is a sculpture and video installation that serves as a meditation on the experiences of women in their many, and often conflicting, working roles. The concepts for the pieces are distilled from the personal narratives of the artist, as well as from those of women of various ages, from diverse ethnic backgrounds, working at various stages in their careers. Along with the sculptures, a short documentary film (to be shown on-site) will share the specific stories of some of these women.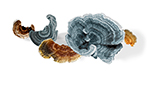 In
Double Burden
, silver solder, copper, and natural fiber forms introduce the idea of the "double burden" that women experience in their professional/domestic working lives. This five-piece, free-standing sculpture group abstractly illustrates the way in which women's work outside of the home simultaneously builds up and tears down the stability of her domestic situation.
A metalwork and natural fiber tapestry titled
Ties that Bind
, reminiscent of chain mail, will form a coded representation of work hours performed by women, both domestic and professional. The time data for this visual matrix will be sourced from the artist as well as from other women's submitted timelines. The piece will be assembled in a social practice performance by a group of women, building community and raising a call-to-action for us all to take strides as allies in gender equity.
MEMBER SHOWS & EVENTS
Elizabeth Addison and Pamela Blotner,
artist-curators of
Crossing to Safety
. At Abrams Claghorn Gallery, 1251 Solano Ave, Berkeley. Included are NCWCA artists J
udy Shintani, Judy Johnson-Williams, Salma Arastu, Patricia Montgomery,
Priscilla Otani.
March 3-31.
Orlonda Uffre,
curator of
Art of Living Black
at the Richmond Art Center, 2540 Barrett Ave, Richmond/ Included is artist
Lorraine Bonner.
Jan 12 - Mar 3.
My Xuan Ho
in
The Art of Love
, Palo Alto Art League, 668 Ramona Street, Palo Alto, Feb 5 -25
Grace Cohen
in
Arts Benicia Presents Grace Cohen at Benicia City Council Chambers
, 250 East L St, Benicia, Jan 25 – Apr 25. Also in The Art of a Community, 991 Tyler St #114, Benicia, Jan 23 – Feb 21.
Melissa Shanley
in
International Exhibition: Kunst aan de Kade,
Galerie Kunst aan de Kade, Westvest 9, 2611 AX Delft, The Netherlands, Jan 22 – Apr 22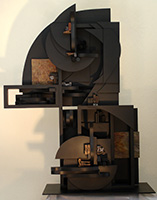 Elaine Jason
in
By Hand,
Blue Line Arts, 405 Vernon St, #100, Roseville, Jan 15 – Feb 27 (see work, right)
Sandra Yagi
in
beinArt Gallery Inaugural Exhibit
, Brunswick, Victoria, AU, Mar 19 – Apr 28. Also
The Known Universe,
Root Division, 1131 Mission St, San Francisco, Mar 9 – 26. Also
BeinArt International Surreal Art Collective Exhibit,
Copro Gallery, Bergamot Arts Complex 2525 Michigan Ave T5, Santa Monica, Feb 20-Mar 12, 2016
Patricia Montgomery
in solo show,
Heroines of the Civil Rights Movement,
African American Museum & Library, 659 14th St, Oakland, Feb 13 – Jul 16.
Salma Arastu
in
Celebration of Calligraphy
, Peninsula Museum of Art South Gallery, 1777 California Dr, Burlingame, Jan 17-Apr 10. Also in
Language of the Quran
, SF Public Library & Islamic Art Exhibit, SF Public Library, 100 Larkin St, SF, Jan 16 – Mar 20.
Judy Shintani
in
At Home in the World,
516 ARTS, Albuquerque, NM, February 6 – April 16. Also
Pamela Blotner
in
Climate Change,
1337 Gallery, 1337 4th St, San Rafael, Jan 8 – Feb 26.
Elizabeth Addison
in
Climate Change
, 1337 Gallery, 1337 4th St, San Rafael, Jan 8 – Feb 26.
Edith Hillinger
in
Third Annual Juried Art Show
, Piedmont Center for the Arts, 801 Magnolia Ave, Piedmont, Jan 9 - Feb 25. Also in
Here II,
Berkeley Art Center, 1275 Walnut St, Berkeley, Jan 30 - Feb 28.
Myriam Fabbri
in
Family Portraits,
Richmond Art Center, 2540 Barrett Ave, Richmond, Jan 12 – Mar 3
Bonnie J Smith
in
Identity
,
Redwood Shores Library Gallery, 399 Marine Pkwy, Redwood City, Jan 5 - Mar 2.
Laurie Edison
in
Ecce Home: Behold the Contemporary Human Image,
National Museum of Art, Osaka, Japan, Jan 16 - Mar 21
Members, get your shows and workshops listed in News & Notes, NCWCA Calendar and on the NCWCA website! Send jpg image of your work in the show and information about the show to ncwcachapter@gmail.com.
WELCOME 2016 MEMBERS!
Welcome new members Lena Shey, Diana Elrod, and J.L. King! Thanks for renewing Tanya Wilkinson, Trudi Chamoff Hauptman, Pamela Spears, Laura McHugh, Barbara Lambert, Salma Arastu, Kathy Fujii-Oka, Kay Kang and Veronica Yazmin. We hope to see you soon at our monthly meeting or one of our special events.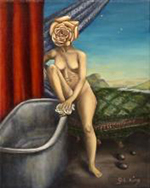 Work by J.L. King


RENEW YOUR 2016 MEMBERSHIP NOW


WCA and NCWCA are on a calendar year membership system. Renew your membership now so you can continue to take advantage of benefits such as announcing your upcoming exhibitions and showing your artwork on our online member gallery. Click here to renew!



ART TAG PARTY


March 20 from 10 AM - 1 PM
Sawtooth Building, Bay 3
2547 8th St, Berkeley
Hosted by Mary Shisler
Bring 3 Art Tag pieces
Those who have never participated or heard of ArtTag, come and find out what the excitement is about. Art Tag is a signature NCWCA activity.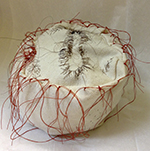 ArtTag piece by Rosemary Meza des Plas (National ArtTag)
2016 MEETING LOCATIONS & DATES
Chapter meetings are on the second Tuesday of each month. Look for details on our webpage. Let's carpool! Email ncwcachapter@gmail.com if you need a ride or can offer a ride.
Mar 8: Oakland
Apr 12: San Francisco
May 10: San Mateo
Jun 14: Oakland
Jul 12: San Mateo
Aug 9: San Francisco
Sept 13: Oakland
Oct 11: San Francisco
Nov 8: San Mateo
Dec: Year-end Party
WOMEN ARTISTS TO KNOW
To join this Facebook group, go to the
Women Artists to Know
page and click Join. A moderator will add you to the group. Share your favorite artists! We now have over 1000 participants from all over the US and abroad!
February - literary works, art with text, writings
March - painting
April - eco/land art
May - drawing
June - performance/dance/music
July - photography
August - installation
Sept -political focus/community engagement
Oct - print making
Nov - collage
Dec - sculpture, assemblage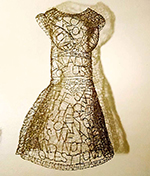 February artist Kristine Mays
NCWCA CALENDAR
February 20
deadline for Women + Money exhibition submission hosted by Minnesota WCA. Apply
here
.
March 8,
6 pm Chapter Meeting at Judy Johnson-Williams' studio, 347 Lewis St, Oakland.
March 20 10 am - 1 pm,
Art Tag Party at Sawtooth Building, Bay 3, 2547 8th St, Berkeley
April 29
Open Engagement 2016 - POWER! At Oakland Museum
April 29
ArtTag Exhibit Reception at Danville Village Theatre Gallery
TIPS FOR FORWARDING NEWS & NOTES TO YOUR CLIENT LIST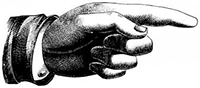 Before forwarding your copy of News & Notes to your client list, delete the "Unsubscribe" sentence at the bottom of the newsletter. Otherwise, if one of your clients decides to unsubscribe to your email, they will inadvertently unsubscribe you from future editions of our News & Notes.
Alternatively, you can go to the
Publications
page of our website and include the URL of any of our newsletters in your own e-news.
WHAT IS WOMANHOUSE?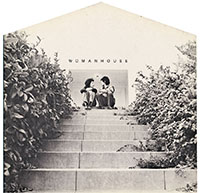 FIND OUT SOON!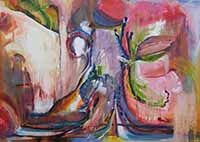 Grace Cohen (above)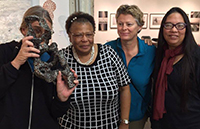 A light-hearted moment at February's chapter meeting in San Francisco (photo by Elizabeth Addison)