INHABITING BLURRED DIVIDES EXHIBITION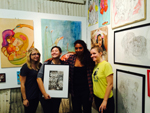 On November 15 NCWCA hosted the opening reception for
Inhabiting Blurred Divides
, an exhibition organized by the Berkeley Young Women's Art Collective. A week earlier NCWCA members Judy Johnson-Williams, Sandra Yagi, Priscilla Otani and Arc partner Mike Yochum provided assistance and mentoring in hanging the exhibition. The curators Kathleen Yarnold, Tamiko Sidore, Chrystia Cabral and Amanda Burke sent out social media invites and filled the gallery with guests during the reception. Hilla Hueber, Judy, Sandy and Priscilla hosted the reception with drinks and finger food. It was quite an evening that included participatory art-making, enthusiastic audience and even a sale of art! The curators will give an artists' talk during the closing of the exhibition on December 6 from 1 - 3 pm. We invite all NCWCA members to attend.
PESCADERO LAND ART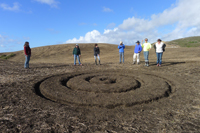 More than fourteen members, would-be-members, friends and family turned out for the November 1 land art day in Pescadero. Morning rains did not deter us from spreading out over Irma Velasquez' property to find our special niche for creating art. In fact the mud and straw served as useful art material for many of the participants. At the end of the day we hiked from one installation to another and documented the works made with our cameras. This has been such a successful annual event that we plan to expand our offerings next year. For slides of this year's land art, click
here
and for artists' statements, click
here.
5 X 7 ARTMAKING PROJECT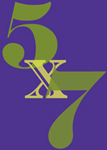 Join WCA members all over the country in sending 5" x7" artwork to the 2015 Lifetime Achievement Awards gala in NYC. Create your work on 5"x7" canvas board using any media such as paint, collage, assemblage, printmaking, photo, etc. Works will be exhibited and auctioned at the LTA gala on February 12, 2015. For details, go
here
. Better yet, NCWCA will host a 5x7 artmaking activity at the December 30 year-end party at Judy Johnson-Williams' studio. 5"x7" canvas board will be supplied and you can use materials made available at Judy's studio or bring your own media to decorate the canvas boards. This is a fun way to make art and fundraise at the same time!
MAKE ART WITH FOLSOM WOMEN PRISONERS OVER THE HOLIDAYS
NCWCA received a request from Folsom State Prison for volunteers to work with women prisoners to make art to decorate in their facilities. We appreciate the outreach to NCWCA and several members have already expressed interest in participating. All those who wish to help out, please contact Judy Johnson-Williams at
judy_j-w@ix.netcom.com.
SALMA ARASTU SHOW & ANDERSON COLLECTION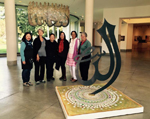 A group of NCWCA members enjoyed a tour of the art scene in the South Bay on November 16. Salma Arastu welcomed us to her calligraphic exhibition at the Triton Museum where her lyrical arabic calligraphy was on display in the atrium. The light from the windows complimented her bright color palette and flowing lines. We enjoyed a delicious lunch at Kabob & Curry nearby, then drove to the new Anderson Collection at Stanford. The gallery had an eclectic mix of modern American art and we were pleased to see women artists such as Deborah Oropallo, Agnes Martin, Jennifer Barlett and Louise Nevelson represented in the collection.
MEMBER SHOWS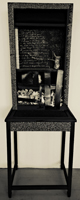 Olga Evanusa-Rowland
in
There is a There There
group show, Gray Loft Gallery, 2889 Ford St, 3FL, Oakland, Nov 14-Dec 12 ("The Burrow" at left)
Sandra Yagi
in
Tales of the Uncanny
group show, Bash Contemporary, 210 Golden Gate Ave, San Francisco, Nov 14 - Dec 31.
Claudia Chapline
in
Motion Drawings
, Marin Fencing Academy, 827 4th St, San Rafael, Oct 10 - Nov 30.
Mary K. Shisler
in
2014 Artists Annual
, Berkeley Art Center, 1275 Walnut St, Berkeley, Nov 15 - Dec 14.
Carol Ladewig
in
2014 Invitational
gorup show at Axis Gallery, 625 S St, Sacramento, Dec 5-28. Also in Triton Museum of Art
Salon
group show, 1505 Warburton Ave, Santa Clara, Dec 6- Feb 8. Also in Kala Art Institute's group show
Artists' Annual,
2990 San Pablo Ave, Berkeley, Oct 23- Dec 13. Also in Berkeley Art Center's group show
2014 Artists Annual,
1275 Walnut St, Berkeley, Nov 15 - Dec 14.
Marian Yap
in group show
Seasons of Life
, Peninsula Art Institute Gallery, 1777 California Dr, Burlingame, Nov 20, 2014 - Jan 4, 2015.
Bonnie J Smith
congratulations for being a finalist for hte 2015 NICHE Award in the fiberart category (www.nicheawards.com) for her work, "Contemplate" (see image to right).
Elaine Jason
in
Then and Now
group show, OXS Gallery, Nevada Arts Council, 716 N Carson St, Carson City, NV, Nov 10, 2014 - Jan 23, 2015.
Judy Shintani
in UCSF National Center of Excellence in Women's Health
Serenity Exhibition
, 2356 Sutter St, Oct 16, 2014 - Jan 13, 2015.
Maxine Olson's
works at The Kingsburg Historical Park honoring individuals for contributions to the town and its history, 2321 Sierra St, Kingsburg, CA.
Miwako Nishizawa
in
Berkeley Civic Center Art Exhibitio
n at the Martin Luther King Jr Civic Center, 2180 MIlvia Street, Berkeley, June 16, 2014 through end of May, 2015.
Members, get your shows and workshops listed in
News & Notes
,
NCWCA Calendar
and on the
NCWCA website
! Send jpg image of your work in the show and information about the show to
ncwcachapter@gmail.com
.