2015 NCWCA ELECTIONS

Leisel Whitlock, Elizabeth Addison and Patricia A. Montgomery
Board members elected on Tuesday, June 9 are:
Judy Johnson-Williams, President (re-elected)
Judy Shintani, Vice President
Sandra Yagi, Treasurer (re-elected)
Patricia A. Montgomery, Secretary
Miwako Nishizawa, Membership Chair
Priscilla Otani, Communications Chair (re-elected)
Elizabeth Addison, Professional Development Chair
Leisel Whitlock, Exhibitions Chair
Tanya Augsburg, National Liaison
Mary Shisler, Member-At-Large
Irma Velasquez, Member-At-Large

Succession-planning was one of the board's top priorities during the January retreat. We launched right into our goal in February with a speed-dating session where interested members had an opportunity to get to know us and our board jobs. Outgoing Professional Development Chair Judy Shintani trained Elizabeth Addison through shadowing opportunities. Some board members shifted to less involved positions on the board while others took new, more challenging positions. Current and past board members are helping with transitions, training and back-up support. The old and new board members will soon meet for orientation and sharing of how we get work done at NCWCA. We are thrilled that the transition process has been convivial and energizing.
Thank you Gretchen Blais and Kelly Hammargren for your support and service on the NCWCA board!
ART TOUR IN BOLINAS
by Yuriko Takata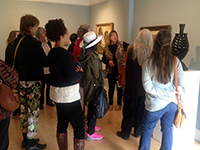 In spite of discouraging weather reports, about twenty of us met at Sally Robertson's Bolinas art studio and gardens for a memorable day of art, nature and (some!) sun.
First we toured Sally's lovely gardens, full of blossoming wonders and huge koi swimming in the pond. We were then shown her studio and incredible floral watercolors, and listened to her candidly talk about her unique life in the arts.
After working on activist posters in the sixties, Sally opened Thackeray- Robertson Gallery on Union Street in San Francisco. They specialized in works on paper, prints and watercolors. Since then, she tends her huge garden, paints the wonders in it, (including the koi!),sells art from her gallery-studio, gives watercolor classes, and has a charming one room garden cottage " bed and breakfast",…. she is quite the Renaissance Woman!
After a superb potluck lunch on Sally's patio we walked a few blocks to the home of art collector Robert Bransten. The home is a gem of a sleek architecture by Aletha Patton, filled with interesting pieces by Andy Goldsworthy, David Hockney, Cornelia Parker, and a floating cow's head by Damien Hirst, to name a few. A majestic Barbara Hepworth ceramic sculpture graced the lawn that stretched to the cliff above the sea. A small, but spiritually HUGE Henry Moore sculpture greeted visitors at the entrance. Robert's interest is in collecting British Contemporary Art and I was impressed by his inclusion of numerous women artists.
Our next stop was the Bolinas Museum of Art, where curator Elia Haworth gave the group a special tour. One of the shows at the museum was of architect Aletha Patton, which included her drawings of the home we had just visited.
Sally was exceedingly generous in sharing her art and garden 'world' with us.

WOMEN DO IT! POSTCARDS
The June chapter meeting featured a group activity to create postcards for the WCA International Caucus (IC) postcard show, "Women Do It!" Working with index cards, pens, pencils, old magazines, glue and scissors we created 17 postcards in the space of an hour. Our cards have been scanned and posted on the IC website
http://wcainternationalcaucus.weebly.com/gallery-women-do-it-postcard-exhibition.html
and they, together with 195 other cards, are en route to Red Lodge, Montana where an exhibition and card-making event takes place from June 26 - August 4.
PRINT PUBLIC WALKING TOUR WITH KALA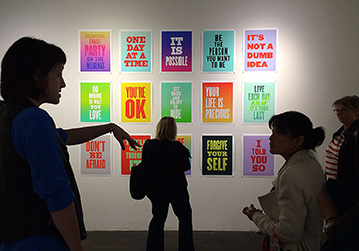 NCWCA members were treated to a wonderful walking tour of the Print Public exhibition at Kala Institute in Berkeley. In addition to meeting many of the artists participating in the show, NCWCA shared information about WCA and activities planned for the remainder of 2015. We had a great exchange and there is potential for future collaborations with this non-profit organization.
MEMBER SHOWS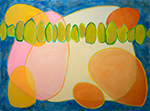 Jane Peterman
in June Exhibition at the Unleashed Art Gallery, 2744 Broadway St, Redwood City, Jun 6 - 27 (image left).
Laurie Edison
in
Motion: A juried international photography exhibition, PH21 Gallery, Budapest, May 28- Jun 17. Also inNo Museum, No Life? -Art-Museum Encyclopedia to Come From the Collections of the National Museums of Art, The National Museum of Modern Art, Tokyo, Japan, June 16 – September 13, 2015.
Leslie Morgan
in SERENITY: ELEVATED JOY, UCSF Women's Health Center, 2356 Sutter Street Floors 3.4.5.6, San Francisco, Apr 29 - Jul 14. Also Reflect+Create: Where Art and History Intersect, Los Altos History Museum, 51 So. San Antonio Rd, Los Altos, May 7 - Oct 4.
Vera Ximenes in Summer National Exhibition at Marin Moca, Novato Arts Center at Hamilton Field, 500 Palm Drive, Novato, May 30 – July 5.
Salma Arastu
in SERENITY: ELEVATED JOY, UCSF Women's Health Center, 2356 Sutter Street, San Francisco, Floors 3, 4, 5, 6, Apr 16 – Jul 14.
Barbara Lewicki
in A Visit to Namibia, A Woman's Eye Gallery, 678 Portola Drive, San Francisco, June 6 - 28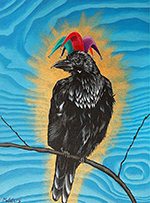 Michelle Waters in These Birdly Delights, Cactus Gallery, 3001 North Coolidge Avenue, Los Angeles, Jun 13 – Jul 7 (image right).
Sandra Yagi in
Garden of Fernal Delights at Bash Contemporary group show, 210 Golden Gate Ave, May 30 - Jun 27.
Members, get your shows and workshops listed in
News & Notes
,
NCWCA Calendar
and on the
NCWCA website
! Send jpg image of your work in the show and information about the show to
ncwcachapter@gmail.com
.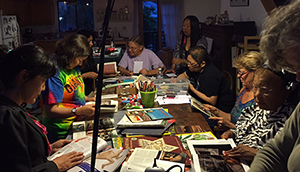 Making Women Do It! postcards at Judy Johnson-Williams' studio
WELCOME MEMBERS!

Welcome new members Jean Gallagher, Kelly Barrett, Monica Neiman Sotomayor and Christine Cianci.
Thanks for renewing Bernadette Howard, Susana van Bezooijen, Vera Ximenes, Olga Evanusa-Rowland, Cosette Dudley, Pallavi Sharma, Val Richman, Helen Poole, Sandy Kelly, Laura McHugh and Susan Kraft.
We're glad to have you and hope to see you soon at our monthly meeting or one of our special events.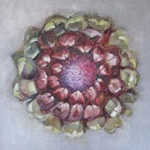 JOIN OR RENEW ONLINE


It's easy! Click here.



NEW P.O. BOX


Our new mailing address is
NCWCA
P.O. Box 31101
San Francisco, CA 94131



2015 MEETING LOCATIONS & DATES

Chapter Meetings are on the second Tuesdays of each month. Look for details on our webpage.
Jun 9: Oakland
Aug 11: San Francisco
Sept 8: Oakland
Oct 13: San Mateo
Nov 10: San Francisco
December Year-End Party: Oakland
Jan 12, 2016: Oakland



ART TAG NOW IN PLAY


Oakland group topic is Women + Technology. Participants are Jacquie Rubenstein, Lilia Walsh, Ariella Seidenberg, Salma Arastu, Deborah Green, Judy Johnson-Williams, Anna Kaminska, Pamela Spears, Sally Stewart, Zoe Thiele-Seidenberg, Miriam (Mimi) Blumenfield, Caskey Weston, Kelly Hammargren and Sande Anfang. Round ends Sept 12.

San Francisco group topic is also Women + Technology. Players are Tanya Wilkinson, Judy M. Johnson, Priscilla Otani, Miwako Nishizawa, Anne Shulenberger, Trudi Chamoff Hauptman, Sara Spence, Mary Shisler, Gretchen Blais, and Julie Mevi. Round ends Sept 13.


Peninsula group (San Mateo)
topic is "Ritual." Participants are Carla Periat, Judy Shintani, Sandy Kelly, Nancy Margulies, Uma Rani Iyli, Margaret Lindsay, Elizabeth Addison, Irma Velasquez, and Marian Yap. Round ends August 23.

The National Art Tag group concluded its Unravel round and will discuss the results via conference call next week. To take a peek at what was made, click ISSUU.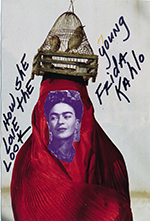 Patricia A. Montgomery's Women Do It! Postcard





TIPS FOR FORWARDING NEWS & NOTES TO YOUR CLIENT LIST


Before forwarding your copy of the News & Notes to your client list, delete the "Unsubscribe" sentence at the bottom of the newsletter. Otherwise, if one of your clients decides to unsubscribe to your email, they will inadvertently unsubscribe you from future editions of our News & Notes.
Alternatively, you can go to the Publications page of our website and include the URL of any of our newsletters in your own e-news.



NCWCA CALENDAR





June 26

Art Tag piece #1 due for Women + Tech groups in SF & Oak.



July 2

Opening reception for "12" at Warehouse 416, 416 26th St, Oakland, 5-6 PM



July 14

NCWCA chapter meeting at Irma Velasquez' studio in San Mateo



July 17

Art Tag piece #2 due for Ritual group in the Peninsula



July 19

National WCA summer board meeting in Plymouth, NH



August 5

deadline for Women Do It! postcard show phase 2. For details and to submit your postcards, click here.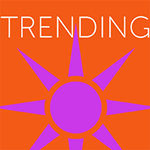 2016 WCA National juried exhibition in Alexandria, VA. For details & to apply, click here.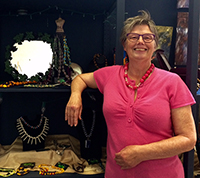 Mary Shisler at her her Sawtooth studio during East Bay Open Studios