HOW DID WE DO WITH OUR 2018 CHAPTER GOALS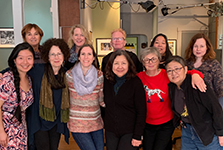 The NCWCA Board concluded a very productive retreat on January 13 at Mague Calanche's beautiful Sunnyco Studios. Full board pictured on the left:
Top row (L to R): Marguerite Elliot, Karen Gutfreund, Melisssa Harmon, Judy Shintani, Tanya Augsburg. Bottom row (L to R): Angela Han, Elizabeth Addison, Sawyer Rose, Priscilla Otani, Mary Shisler, Sandy Yagi.

2018 Goal Results
With our new President Sawyer Rose,taking the lead, we developed NCWCA's strategic plan, which has an overarching objective of creating more visibility and desirability of NCWCA within our community. To support this, we developed a branding strategy that added a new tagline and created a consistent look and feel to our communication across all platforms. For the first time, NCWCA is organizing a national curatorial exhibition, F213, that will include nearly 100 artists and writers. It is scheduled to open on April 13 this year. We kicked off a mentorship program, developed a speaker's bureau, and published Exhibition Guidelines
to help individuals interested in organizing their own exhibitions. We established a presence at Art Market with a table of information and slideshow of NCWCA activities. With our members interacting with visitors throught the ArtMarket week, we achieved many signups and applications for membership.

Added accomplishments beyond our goals included the launch of Bay Area Art Stars, a meetup between arts professionals and artists/art students; the completion of the video, "F*ck U! In the Most Loving Way," which will be entered into film festivals this year; and Ghost Ranch Artists' Residency, which has sold out and is scheduled for September, 2019.
There were several goals that were not met: NCWCA group studio site for ArtSpan Open Studio and Formation of Subgroups for remote area members. The Open Studio goal will be added to the 2019 goals and the Formation of Subgroups will be postponed until further notice.
The accomplishment of so many ambitious goals that benefit our membership and the community-at-large is the result of an active board and membership. Members who have great ideas that support our Mission are encouraged to present proposals and budgets and show ownership in the work required to make their ideas a reality.

In the February News we will share the 2019 Goals established by the Board.
---
NCWCA CHAPTER FLAG FOR NATIONAL WCA CONFERENCE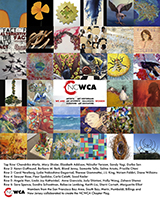 Thank you members for contributing to the Chapter Flag for the WCA Conference in New York City. As a chapter that fosters collaboration and inclusivity, our flag is a mosaic of all kinds of works by artist members.

Participants in the Flag Project
Chandrika Marla, Mary Shisler, Elizabeth Addison, Niloufar Farzam, Sandy Yagi, Durba Sen, Karen Gutfreund, Barbara M. Berk, Blond Jenny, Samanta Tello, Salma Arastu, Priscilla Otani, Carol Newborg, Lydia Nakashima Degarrod, Theresa Giammattei, J.L. King, Miriam Fabbri, Diane Willaims, Sawyer Rose, Fleur Spolidor, Carla Caletti, Soad Kader, Angela Han, Linda Joy Kattwinkel, Anne Giancola, Judy Shintani, Holly Wong, Zahava Sherez, Sara Spence, Sondra Schwetman, Rebecca Lambing, Kerith Lisi, Sherri Cornett, and Marguerite Elliot.


---
NCWCA POSTCARDS FOR THE WCA BRIDGE THE GAP EXHIBIT AT THE AIR GALLERY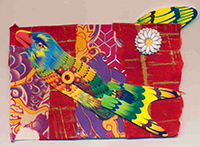 Thank you members for creating postcards for the Bridge the Gap exhibit! Our box of cards have been shipped to Noreen Dean Dresser, WCA Exhibition Chair.

Participating Artists
Elizabeth Addison, Inga Loyeva Bard, Gretchen Blais, Carla Caletti, Laurie Toby Edison, Marguerite Elliot, Miriam Fabbri, Theresa Giammattei, Angela Han, Melissa Harmon, Trudi Chamoff Hauptman, Blond Jenny, Kay Kang, Katherine Leung, Kerith Lisi, Carol Newborg, Priscilla Otani, Pamela Pitt, Helen Poole, Sawyer Rose, Judith Schonebaum, Durba Sen, Judy Shintani, Anne Shulenberger, Sara Spence, Tomye, Nany Torossian, and Tanya Wilkinson (card pictured is by Tanya Wilkinson).
---
CHANGES IN MEMBER ANNOUNCEMENTS
Effective immediately, we have made the following changes to member announcements:

1. No forwarding of member announcements: We will no longer forward exhibition, workshop and other member announcements through ncwcachapter@gmail. We have listened to member concerns that too many emails were being forwarded to them. Google has also limited the daily number of forwarded mass emails and has rejected several emails over the last year.

2. Broader subject matter included in monthly News & Notes: We have expanded announcement categories to include exhibition, workshops, publications, open studios, conference speaking engagements, and artist residency acceptance announcements.
---
MEMBER SHOWS, WORKSHOPS AND PUBLICATIONS
By Mary Shisler
PUBLICATIONS
Niloufar Farzam, Magazine article ,VOYZX International Art Magazine, ISBN 2561-5130, Online and purchase at Magcloud- VOYZX Art #3, vol. 1 2018, page 26 and 27
Kerith Lisi,Book, Encyclopedia of Inspiration: Ephemera", Uppercase Publishing Inc.
WORKSHOPS
Diane Williams
& Chuck Potter, Mark Making, Developing your signature Style in Abstract Painting, Jan 19 & 20, 2019, $155, Marin MOCA, 500 Palm Drive, Novato, CA, Sign up with Marin MOCA or on website dianewilliamsart.net
Judy Shintani
, "2019 New Year Mandalas," 1/1-30, Free,
https://www.facebook.com/groups/340689060061778/
(see left)
Judy Schonebaum
, "CREATIVE REUSE ART CLASS," Saturday, Jan. 26th, 11:30 - 1:30, Ecology Center 2530 San Pablo Ave. Berkeley
$7/member; $12/non-member, contact: lily@ecologycenter.org
CONFERENCE
Sandra Yagi,
Conference, Representational Art Conference, Crowne Plaza Hotel, 450 E Harbor Blvd, Ventura, CA, Mar 31-Apr 4.
EXHIBITIONS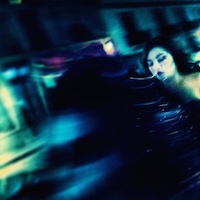 Robin Apple
,
First Annual Artist Showcase
, 2018Pacific Art League, 668 Ramona St, Palo Alto, Jan 1- Jan 24. Also Group,
SNAP!,
Arc Gallery 1246 Folsom St. San Francisco, Jan. 18. Also
Horse Power,
Curtis Center for the Arts, 2349 East Orchard Road, Greenwood Village, CO, Jan. 12-Feb. 23. (Image left)
Victoria Veedell,
Landscape Imagined
, Benicia City Hall, 250 E. L St. Benicia, Jan 14 - Apr 8. Also,
A Winter's Tale
, Bothwell Arts Center, 2466 8th St, Livermore, Jan 9—Mar 5. Also,
Snap!
, Arc Studios & Gallery 1246 Folsom St, San Francisco, Jan 18.
Zahava Sherez,
Sculpture Now
, Pacific Rim Sculptors, Peninsula Museum of Art, Burlingam, Nov 18, 2018 - Jan 27, 2019. Also,
Balance,
Apero Gallery, International online exhibit + published printed catalogue, Jan.
Jennifer King
,
Discolandia 2
, Wonderland SF, 1266 Valencia St, Dec 2018 -Feb 14, 2019. Also,
Mini Masterpieces,
Revolution Gallery, 1419 Hertel Ave., Buffalo NY, Jan 4 - Feb. 9. Also,
After Dark,
Gristle Gallery, 26 Bushwick Ave, Brooklyn NY, Jan 19- Mar 9. Also,
20
, Penumbra Gallery, Rua Conde Monsaraz 15, Aroeira, 2820-106 Charneca de Caparica, Portugal, Jan 20 - Feb 9. Also,
SNAP!,
Arc Gallery, 1246 Folsom, San Francisco, Jan. 18. Also,
SubVersions
, Arc Gallery, 1246 Folsom St. San Francisco, CA., Jan. 26 - Feb 23. (Image right column)
Fleur Spolidor
,
Old Friends New Art
, The Main Gallery 1018 Main Street, Redwood City, Jan 9- Feb 10. (Image right column)
Danielle Satinover,
One Line, A Daily Journal
, Gratta Wines, 5273 Third St, San Francisco, Jan 5 – Mar 15. Also,
Snap
, Arc Gallery, 1246 Folsom St, Jan 18. (Image right column)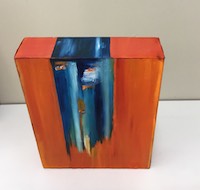 Niloufar Farzam
,
SNAP!,
Arc Gallery, 1246 Folsom St, San Francisco, Jan 18. (Image left)
Sandra Yagi,
The Hive Tarot 10 Show
, The Hive Gallery, 729 South Spring Street, Los Angeles, Jan 5 - Feb 3.
Durba Sen
,
World of Abstraction,
San Francisco Women Artists Gallery, 647 Irving Street, San Francisco, Jan 8 - Feb 2. Also,
SNAP!
, Arc Gallery, 1246 Folsom Street, San Francisco, Jan 18.
Theresa Giammattei
,
Elements
, Marin Society of Artists: 1515 3rd St San Rafael, Jan 10 - Feb 2. Also,
SNAP!
Arc Gallery: 1246 Folsom St., San Francisco, Jan 18. Also,
CATS
, Online Show, Cactus Gallery, 3001 N Coolidge Ave, Los Angeles, Jan 18 - 31. (Image right column)
Beth Cataldo
,
SNAP!
2019, SNAP! Picks Winner, Arc Gallery & Studios, 1246 Folsom Street, San Francisco, Jan 18, 7-9PM. (Image right column)
Diane Williams
,
Go 2019
, Jennifer Perlmutter Gallery, 3620 Mt Diablo Blvd, Lafayette, Jan 12-Feb 13.
Elizabeth Addison
,
Kala Art Institutes Artist's Annual
, Kala Gallery, 2990 San Pablo Avenue, Berkeley, Jan 17 - Mar 2. Also,
SNAP!,
Arc Studio and Gallery, 1246 Folsom St, San Francisco, Jan 18. (Image right column)
Erika Gomez Henao
,
Wander Woman
, Root Division, 1131 Mission St, San Francisco, CA. Also,
7th Xicanx Biennial: Muxeres Rising
, MACLA , 510 S 1st Street, San Jose, Dec 7, 2018 - Mar 10, 2019. (Image right column)
Judy Shintani
,
Breaking the Silence, Sharing Stories of Mental Health & Healing Through the Arts,
LH Horton Art Gallery, 5151 Pacific Ave Stockton, Jan 24 - Feb 14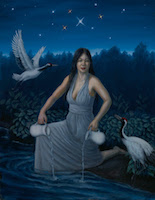 Sandra Yagi,
Night Garden
, Modern Eden Gallery, 801 Greenwich St, San Francisco, Dec 15, 2018 – Jan 4, 2019. (Image left)
Larriane Seiden
,
Passages
, Ritual Coffee Roasters, 1026 Valencia Street, SF, Nov 27 - Feb 27.
Marguerite Elliot
,
Affinity, Ross Common Artspace Gallery, 19 Ross Common, Ross, Jan 12 - Feb 9. (Image right column)
Mary K. Shisler
,
Kala Art Institute Artists' Annual,
Kala Gallery, 2990 San Pablo Avenue, Berkeley, Jan 17 - Mar 2. Also
Mosser Hotel, ArtSpan Art-in-Neighborhoods
, Mosser Hotel, 54 4th Street, September 11, 2018 -March 5, 2019. Also
Mary K. Shisler Berkeley Civic Center Art Exhibition
, Civic Center, 2180 Milvia Street, Berkeley. To Feb 19, 2019. Also
Art Advisor Show,
1 California Street, San Francisco, Jan 12 - Mid-April.
.
Michelle Waters
,
CATS,
Online Sho, Cactus Gallery, 3001 N Coolidge Ave, Los Angeles, Jan 18 – 31.
Members, get your shows and workshops listed in News & Notes, NCWCA Calendar and on the NCWCA website! Send jpg image of your work in the show and information about the show to ncwcachapter@gmail.com.
2018-19 MEMBERS WELCOME! THANKS FOR JOINING OR RENEWING IN JANUARY
Welcome new members Doni Connor, Christine Cianci, Carol Newborg, Sally Allen, Mia Lobel, Samanta Tello and Miriam Owen. Thanks for renewing Chandrika Marla, Ariella Seidenberg, Ariana Davi, Durba Sen, Amanda Chaudhary, Joan DiStefano, m.c.carolyn, Robin Apple, Diane Williams, Orlonda Uffre, Anne Giancola, Laurie Toby Edison, Tracy Ferron, Linda Joy Kattwinkel, Yasmin Lambie-Simpson, Rebecca Lambing, Pamela Pitt, Valerie Runningwolf, Zahava Sherez, Olga Tsoudis, Marian Yap, Christine Cianci, Rachel Tirosh, Nany Torossian, Kathy Fujii-Oka, Deborah Green, Hilla Hueber, Carol Ladewig, Babars Grauke, Anne Ingraham, Kerith Lisi, J. L. King, Sherri Cornett, Marge Healy, Danielle Erville, Lois Cantor, Gretchen Blais, Tanya Wilkinson, Pamela Spears, Karen Gutfreund, Carla Caletti, Mary Shisler, and Tanya Augsburg. We hope to see you at a meeting or event soon!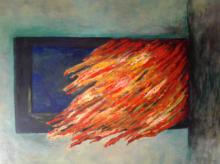 Joan Di Stefano
---
JOIN/RENEW 2019 NCWA
DON'T MISS OUT ON OUR MANY ACTIVITIES & EVENTS!
CLICK
HERE
!
---
F213 EVENT ORGANIZER OPPORTUNITY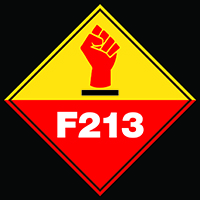 Here's an opportunity for an experienced event organizer to support the F213 exhibition. We are seeking an individual to organize the opening reception, book readings, video screening, and closing panel associated with F213. You will have committee support! Join the team working on this history-making exhibition! Contact Priscilla Otani at mrpotani@ncwca.org.
---
To join this Facebook group, go to the
Women Artists to Know
page and click Join. A moderator will add you to the group. Share your favorite artists! We have over 1000 participants from all over the US and abroad!
January honors Ceramics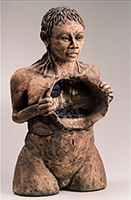 Lorraine Bonner
MONTHLY THEMES
February - literary works, art with text, writings
June - performance/dance/music
Sept -political focus/community engagement
Dec - sculpture, assemblage
---
Feb 12 6-9:30 AM Chapter Meeting at Julie Mevi's studio, Sawtooth Building, 930 Dwight Way, Berkeley
---
ATTENTION! TIPS FOR FORWARDING NEWS & NOTES TO YOUR CLIENT LIST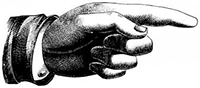 Before forwarding your copy of News & Notes to your client list, delete the "Unsubscribe" sentence at the bottom of the newsletter. Otherwise, if one of your clients decides to unsubscribe to your email, they will also unsubscribe you from future editions of our News & Notes.
Alternatively, you can go to the
Publications
page of our website and include the URL of any of our newsletters in your own e-news.
---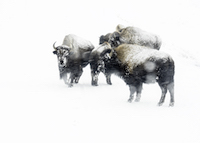 Beth Cataldo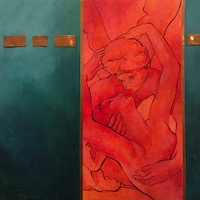 Theresa Giammattei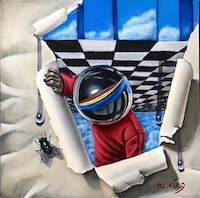 Jennifer King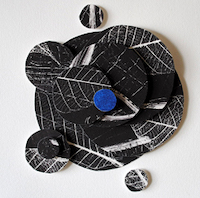 Elizabeth Addison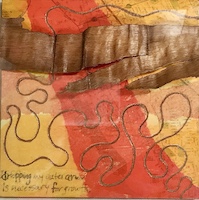 Danielle Satinover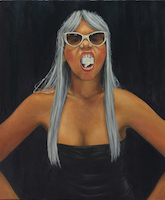 Erica Gomez Henao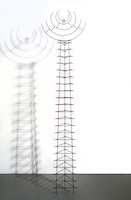 Marguerite Elliot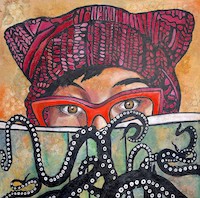 Fleur Spolidor