TOMIE ARAI, 2016 WCA LIFETIME ACHIEVEMENT HONOREE
by Tanya Wilkinson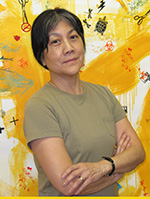 Tomie Arai's art helps us construct a sense of who we are as individuals, as a society, or as a nation. She questions stereotypes and conventions while exploring attributes such as gender, sexuality, race, nationality and heritage. She uses interdisciplinary, collaborative methods to illuminate intersectionality. Her work makes a strong case for the idea that art and artists play key parts in the process defining, depicting and respecting cultural identities.
Arai positions herself as a public artist who brings"art directly to the community" (http://tomiearai.com). Her site-specific public installations present layers of visual information, creating an archeological sense of discovery for the viewer. The artist explores shared histories, often using archival found photographs and imagery associated with traditional Japanese printmaking to produce work that seeks to promote cultural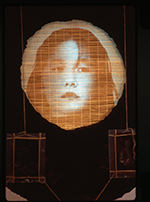 equity. This art practice places her firmly within the Feminist tradition, in terms of both process and intention. Elizabeth Sackler, of the Sackler Center for Feminist Art at the Brooklyn museum, cites "equality, equity, justice" as central values in the decades long project of feminist art. Arai's art pursues these values in ways both obvious and subtle. Her use of autobiography and her evocation of the domestic elevate aspects of life that have, in patriarchal context, been considered stereotypically feminine and therefor trivial. (Image Right: "Portrait of a Young Girl," detail from installation.
Arai is collaborative in her process, seeking to "use social interaction as a medium for both production and investigation." (http://tomiearai.com). She has designed temporary and permanent public works of art for Creative Time, the US General Services Administration Art in Architecture Program, the NYC PerCent for Art Program, the Cambridge Arts Council, the MTA Arts for Transit Program, the New York City Board of Education and the San Francisco Arts Commission.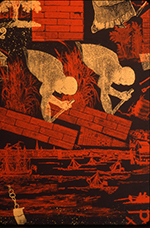 Her public works are both monumental and personal, while her artist books provide a more immediate, in-hand contemplation of the construction of cultural and personal identity. These pieces are permutations of traditional forms, using paper wood, glass, and printed images to construct objects that are both intimate and surprising. (Image Left: "Renewal," public art for the Ted Weiss Federal Building, New York City). Aria's artist books evoke the experience of discovering a forgotten treasure in the attic, an old piece of silk or cache of letters, something that reveals a previously untold story.
Arai's work has been exhibited nationally and is in the collections of the Library of Congress, the Bronx Museum of the Arts, the Japanese American National Museum, the Williams College Museum of Art, the Museum of Modern Art and the Whitney Museum of American Art. She has been a recipient of two New York Foundation for the Arts Fellowships in Printmaking for 1991 and 1994; a 1995 Joan Mitchell Visual Arts Grant, a 1994 National Endowment for the Arts Visual Arts Fellowship for Works on Paper and three MidAtlantic Arts Foundation Visual Artists Residency Grants. In 1997, she was one of ten women nationwide to receive an Anonymous was a Woman Grant for achievement in the visual arts. In the year 2000, Tomie Arai was one of 50 artists nationwide to participate in the Artists & Communities: America Creates for the Millennium Project, sponsored by the MidAtlantic Arts Foundation and the NEA. She was a recipient of a 2003 MCAF grant, a 2007 Urban Artists Initiative Grant, a 2007 Arts and Activism grant from the Asian Women Giving Circle and a 2013 Puffin Foundation grant.
Congratulate Tomie Arai in person at the Lifetime Achievement Awards in Washington, DC on February 4, 2016!
PORTFOLIO REVIEW OCTOBER 6 & 20th!
Q&A with Elizabeth Addison & Stephen C. Wagner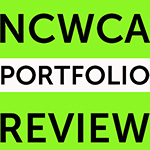 Portfolio Review is coming! In 2014, then-Professional Development Chair Judy Shintani sent a survey to determine what future programs would appeal to NCWCA members. The number one request was for Portfolio Review, with one-on-one time with Bay Area gallerists. In response, NCWCA is pleased to offer Portfolio Review in October to twelve lucky NCWCA members. For details, read the Q&A below with Elizabeth Addison, Professional Development Chair and Stephen Wagner, founder of the San Francisco Artists Network.
Priscilla Otani: What does Portfolio Review cover?
Stephen C Wagner: On October 6, artists will gain insight into creating, designing & organizing their website, writing an effective artist statement, and specific instructions on how to prepare for the review and what the reviewers are looking for. On October 20, each artist will receive three sequential 15-minute one-on-one portfolio reviews with gallery professionals. The gallerists will review each artist's website and comment on the artwork, artist statement, and overall structure of the website. They may make specific suggestions on directions to develop the artwork or places to present the work for exhibition. The gallerists will also be open to answer specific questions that the artists have.
Priscilla Otani: Is the NCWCA-sponsored Portfolio Review the same as the one offered through the San Francisco Artists' Network (SFAN)?
Stephen C Wagner: Yes, this will be the same structure and information as the SFAN Portfolio Reviews.
Priscilla Otani: How popular is the Portfolio Review workshop through SFAN?
Stephen C Wagner: The workshop is one of the most popular in the SFAN series. Many artists have commented that the workshop before the Portfolio Review is as valuable to them as the Portfolio Review itself.
Priscilla Otani: Is there an advantage to taking Portfolio Review as an NCWCA member?
Elizabeth Addison: Enrolling in the NCWCA-sponsored Portfolio Review is a huge value for NCWCA members. Members pay only $60 (normally $99) for this in-demand and effective program.
Priscilla Otani: Who would benefit from Portfolio Review and what are the requirements?
Stephen C Wagner: All levels of artists from emerging to mature will benefit from this program. The basic requirements are that the artist must have a cohesive body of work, a written artist's statement, resume and an existing website that will act as their on-line portfolio. The artwork on the website should present a cohesive body of work with up to 20 of the artist's strongest & most recent pieces. The artist resume should list exhibition and education activity in chronological order. The artist statement should be easy to read and not be too lengthy. On the day of the gallerist reviews, artists are required to bring two actual works of art, no larger than 4 feet by 4 feet. The reviewers will also view and discuss the artist's website portfolio.
Priscilla Otani: Why are the artists required to take the October 6 preparation class before the actual portfolio review?
Stephen C Wagner: The preparatory workshop maximizes the benefit that the artists will receive in Portfolio Review. It allows the artists to make changes or polish their website prior to meeting with the gallerists. It will also give the artists tips and suggestions on what to expect, as well as what to say & not to say.
Priscilla Otani: Who are the gallerists reviewing portfolios? Why were they selected?
Elizabeth Addison: Our three gallerists are Marina Bianchi (Cain), San Francisco Art dealer; Lonnie Lee, ower of Vessel Gallery, Oakland, and Donna Seager, owner of Seager Grey Gallery, Mill Valley. All three are successful art professional women in a male-dominated field and represent San Francisco, Marin County and the burgeoning East Bay Art Scene. Marina, for instance, has researched and promoted artists unknown in the Bay Area to private collections, art critics, galleries, museums and public arts organizations. Lonnie Lee has experience developing long term relationships with artists and her gallery, Vessel, represents a distinguished stable of artists, both emerging and established. Donna Seager is in her 37th year as an art business professional. She opened her own gallery, Seager Grey, in San Rafael in 2005, winning best of Marin in 2008, 2009, 2010. Her energy and keen eye have supported the local art scene greatly.
Priscilla Otani: How many NCWCA members can take the workshop? And what is the selection process?
Elizabeth Addison: We have 12 spaces for this NCWCA event. Only current 2015 NCWCA members may register from Sept. 1-4 for $60, first come, first served. Registration will be open to non-members Sept. 5-11, if slots are still available, at the cost of $99. All registration will be handled through Eventbrite.
Priscilla Otani: If the NCWCA workshop sells out, when is the next time Portfolio Review will be offered through SFAN?
Stephen C Wagner: Additional SFAN Portfolio Reviews are scheduled for Tuesday, February 16th and Tuesday, February 23rd, 2016. For more details go to www.sfartistnetwork.org. (There is no NCWCA subsidy for these sessions.)
Priscilla Otani: Please share some feedback from artists who have taken Portfolio Review through SFAN.
Stephen C Wagner: Sure! Here are some responses:
Anne LaBrie: "The lecture where you gave specific guidelines, the deadline to meet those guidelines and your review were very useful. I also want to compliment you on the handling of the whole event, specifically letting us know what to expect both before the event and during the event – and maintaining the timing and equilibrium of it all!"
Nancy Benton: "The workshops in advance were very good for preparing me since I had no idea what to expect. I think all the gallerists did a good job and it was interesting to meet different kinds of gallerists and hear different perspectives. They all had something different to say! I did receive specific suggestions and will take action on some of them. I can't think of anything that I would change. Overall very helpful experience."
Kathleen Eliot: "What I especially appreciate was the opportunity to talk with three quite different gallerists with their individual points of view. Talking with three people gave a broader perspective as well as different specifics. I did receive specific suggestions I have already taken action on. I also received more long-term, strategic recommendations that I have continued to think about and plan for."
Beverly Mills: "There is no downside to a portfolio review. One gets to sit down with the owner of a respected gallery: priceless. And it was well organized and run, thanks to your efficient self."
WIKIMEDIA DAY SEPTEMBER 13
by Elizabeth Addison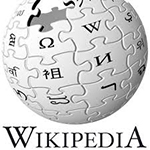 Get educated on how Wikipedia works and how editors are trained.
On September 13, the San Francisco Pacific Felt Factory hosts NCWCA members and speakers Katherine Maher, Chief Communications Officer of Wikimedia Foundation; Cindy Shih, artist & Wikipedia posting trainee; and facilitator Elizabeth Addison, NCWCA Professional Development Chair.
In this unprecedented opportunity to liaise with Wikipedia, NCWCA members and guests will learn about Wikimedia's core principles, guidelines and policies. Wikipedia will share how it engages and promotes less- or under-represented communities (including women artists) by focusing on their broader community issues, experiences and notable people. Attendees will get educated on how Wikimedia finds and trains their editors, and how this avenue gives women artists more visibility. Attendees will go home with quick references and other materials for review, and to consider becoming a future Wikipedia poster. Wikimedia Day event is part of NCWCA's year-long Women and Technology theme and focus. Tickets must be purchased in advance to this event. Members and guests may sign up for Wikimedia Day shortly through Eventbrite. Watch for more information!
MASAKO MIYAZAKI PRESENTS AT AUGUST MEETING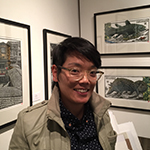 Our August chapter meeting featured Bay Area artist Masako Miyazaki, who is currently in the Art Practice MFA program at Stanford University (photo courtesy of Elizabeth Addison). She is also a Kala artist in residence. Masako shared her video, drawing and printmaking portfolio with our chapter members. It was interesting to see images from her video projections shift and change, depending on where the viewer stood, whether they stood still or walked around and whether the projection stopped or started. As Masako writes in her artist's statement, "Th[e] ceaseless state of change, the resulting flux of movement, and the denial of static forms and meanings are the main tenets of [her] work.
PETER SELZ VISITS SALMA ARASTU'S STUDIO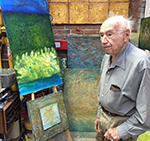 Congratulations to Salma Arastu for being a featured artist at the Berkeley Art Center and for having Peter Selz, Art Historian, Former Curator of MOMA, Founder of Berkeley Art Museum visit her studio in June, 2015 and write about her. This was not a chance encounter. Salma established her contact with Selz through networking and persistence. Way to go, Salma!
MEMBER-HOSTED WORKSHOPS
Japanese Brush Painting/ Sumi-e Class by Fumiyo Yoshikawa
Venue: the Albany Community Center (limited to 8 students), 1249 Marin Avenue, Albany, CA
Sept 16- Oct /21 Wednesdays, 10:00am to 12pm, 6x and
Nov 4- Dec 16 Wednesdays, 10:00am to 12pm, 6x (No class Nov 11)
E-mail for Supply List upon registration: art@fumiyo-y.com
Additional information about supplies and stores will be provided on the first day of class.
Japanese Brush Painting Class by Fumiyo Yoshikawa
Venue: Civic Arts Education-Shadelands Campus (Annex A), 111 North Wiget Ln (at Ygnacio Valley Rd), Walnut Creek
Sept 4 - Nov 16, Mondays 9:00am -12:00pm, 10x
Call or visit website for further information and Registration: (925) 943-5846
Supply List: www.arts-ed.org.
Additional information about supplies and stores will be provided on the first day of class.
MEMBER SHOWS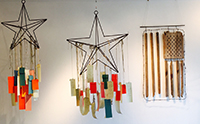 Judy Shintani
in "Paying It Forward: The Light Within," Coastal Arts League, Zaballa Square, 300 Main St, Half Moon Bay. Closing reception Aug 16, 4-9 PM. (See image left)
My Xuan Ho
participating in "Kings Mountain Art Fair," 13889 Skyline Boulevard, Woodside, Sept 5, 6 & 7, 10 am - 5 pm
Patricia Montgomery
in "And Still We Rise: Race, Culture, and Visual Conversations, Bullock Museum, 1800 Congress Ave - Austin, TX, Jun 19 - Aug 30.
Priscilla Otani
in "Collage-a-rama: Running with Scissors," Art on 30th, San Diego, Jul 28 - Aug 18.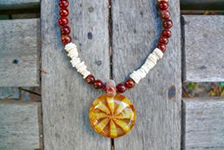 Mary K. Shisler
participating in 2nd Fridays at Sawtooth Building, 2547-8th Street, Berkeley, CA 7-9 pm, Friday, August 14, Studio 31 and 39. (image right)
Salma Arastu
participating in 2nd Fridays at Sawtooth Building, 2547-8th Street, Berkeley, CA 7-9 pm, Friday, August 14.
Diane Abt
participating in 2nd Fridays at Sawtooth Building, 2547-8th Street, Berkeley, CA 7-9 pm, Friday, August 14.
Julie Mevi
participating in "Art in Nature," a multi-disciplinary arts event on Sunday, Sept. 20, 2015, 11 AM-5 PM at Redwood Regional Park, Oakland
Bonnie J. Smith
in solo show "Swimming Upstream," Walnut Creek Community Art Gallery, 1644 N. Broadway Avenue, Walnut Creek, Jun 10-August 15. Also, publication - Quilting Arts Magazine June/July Issue, "Celebrating Silver." (Image left)
Trudi Chamoff Hauptman
in "POINTLESS IN OCCIDENTAL," Occidental Art Center, 350 Doris Murphy Ct, Occidental, July 7-August 23
Laurie Edison
in "No Museum, No Life? -Art-Museum Encyclopedia to Come" From the Collections of the National Museums of Art, The National Museum of Modern Art, Tokyo, Japan, June 16 – September 13, 2015.
Leslie Morgan
in "Reflect+Create: Where Art and History Intersect," Los Altos History Museum, 51 So. San Antonio Rd, Los Altos, May 7 - Oct 4.
Members, get your shows and workshops listed in
News & Notes
,
NCWCA Calendar
and on the
NCWCA website
! Send jpg image of your work in the show and information about the show to
ncwcachapter@gmail.com
.