2015 WCA NYC CONFERENCE
by Sondra Schwetman, 2015 NCWCA Chapter Rep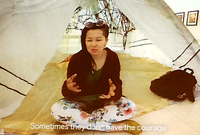 The conference in New York City began with a warm welcoming session and a viewing of "Half the Sky: Intersections in Social Practice Art," which was thought provoking documentation about the Chinese installation of the exhibition by the same name. There was also a discussion MC'ed by Sherri Cornett about the WCA participation in this exhibition. Brenda Oelbaum discussed her issues with importing diet books for her installation. The books were held up in customs because they were determined to be "questionable printed literature". "Fake" books were created in China to take the place of the books tied up in customs, so the installation went on as planned. Also, a lively discussion about "Social Practice Art" took place. (Above: image from Half the Sky video)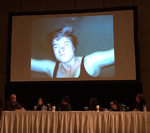 The first official WCA session was entitled "The Difference Disability Makes: Disability, Community, and Art". Petra Kuppers, the Presidents Awardee, chaired the session. "The Space Between" presented by Chanika Svetvilas spoke about her experiences as a bi-polar, Asian artist. Her talk was concerned with the ideas surrounding identification: either as an Asian artist or an artist identified with her disability. Brian Goldfarb presented "Art and Design with Care" which was concerned with non-normative practices and orientation and the introduction of Universal Design. Jenna Alison Reid presented "Appropriating Mad Stories in Community Arts: Conforming to the Neoliberal Agenda of Biomedical Mental Health Literacy" which discussed mental health and an anti-stigma campaign. She spoke of comparisons between Mad Art, Art Brute, Mad Genius, and Naïve Art; and the Canadian "The Crazy Project" voicing stories and organizing psychiatric survivors. Elizabeth Van Arragon presented "Curating Raw Beauty" that addressed the female disabled body. Riva Lehrer presented "When Pain Eats the Picture". She worked as a curator addressing exploitation, the disability community as under attack and the representation of pain. She made reference to the pain and passion of saints. Petra Kuppers presented a talk and slide show about the "Salamander Project: Participatory Performance Practices and Disability Culture" and the Olympias Artist collective which presented live events based on a sense of loveliness, self and pleasure. (Above: Petra Kuppers' presentation)
The next WCA /CAA panel: Igniting Regions Through Art and Activism addressed regional activism with various WCA chapters, student clubs, exhibitions and the discussion of sexism and disconnectedness ensued.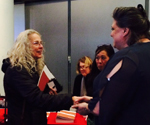 After a day of enlightening sessions we all went back to our rooms to prepare for the Lifetime Achievement Award Reception and Ceremony. The reception was elegant featuring a wide array of snacks and tasty tidbits with vegetarian fare upstairs and meat loving fare downstairs. We had plenty of time to mingle and meet new people and greet old friends. WCA also displayed and viewed the much-anticipated 5 x 7 exhibition and sale. The awards ceremony was a fitting tribute to Lifetime Achievement Award winners Susan Coe, Kiki Smith, and Martha Wilson, and the President' Awardee Petra Kuppers. After the ceremony we further celebrated with a delicious coffee and dessert reception. (Above: Kiki Smith, Riko Takata and Brenda Oelbaum)
The second day of the conference started with the "Luminary Breakfast: Artists and Authors" held at the Maple Restaurant in the Night Hotel. We had a complete buffet of breakfast items and a chance to sit with and talk to a numbers of New York area personalities from the arts. (Luminary Howardina Pindell and New Hampshire Chapter member Debra Claffey)
In the afternoon we gathered for a chartered bus trip to a panel session at the El Museo del Barrio entitled "Transforming Communities: From the Museum Mile to the Bowery. The panel discussion on arts and healing was facilitated by Cheryl Bookout and featured panelists Betsy Damon, Neda Moridpour and Quimetta Perle with two of her artist-clients. We then went our own ways to discover galleries and museums and find dinner. The group I was with decided to dine at a wonderful German restaurant where we enjoyed great fare and conversation between older members and new student members. After dinner we re-convened at Dixon Place, New York's laboratory for performance for an event featuring Petra Kuppers. The performances were sublime. Several solo artists talked about death, suicide and life in general. Kuppers then directed a live performance utilizing members of the audience. Kuppers basically "Painted" with people by arranging members of the audience in a classic rectangular plane on the floor. It gave the sense of a living, breathing painting.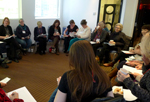 The last day of the conference featured meetings of various groups and caucuses. I went to the Chapters council meeting to present the yearly report about NCWCA's activities and exhibitions. The networking at this meeting was very beneficial. I met with Chapter representatives from all over the country. We exchanged ideas for community outreach, exhibitions, "Art Tag" and other member and chapter activities. I then attended the Young Women's Caucus meeting lead by Jaimianne Amicucci. We brain stormed and participated in a creative exercise about dreams and accomplishments. Our large group met up again for an evening bus trip to the Westbeth Gallery were we explored the theme of "Access" through four exhibitions:
The National Juried Exhibition "Transforming Community: Disability, Diversity and access; Young Women's Caucus "The Difference Community Makes; Eco-Caucus "Ecology: the Difference Perception Makes"; and Jewish Women's Artist Network: "The Difference Spirituality Makes". In addition to traditional media a very interesting performance on "copper" as a disease was presented. After the Artists' reception we made our way to Bamboo 52 for a very special "After Glow Dinner" where conversation and networking continued.
All in all the conference was an amazing experience for everyone involved. From exhibitions to scholarly presentations to receptions and dinners there was a little something for everyone. All left with an anticipation for the 2016 conference which will be held in Washington D.C.
FEB BOARD MEET & GREET A HIT!
Members had an opportunity to check out the upcoming board openings at our February chapter meeting and learn about what's involved with joining the board. The upcoming positions available are Vice President, Membership, Professional Development, Exhibitions and Secretary. Veronica Yazmin and Leisel Whitlock expressed interest in Exhibitions, Elizabeth Addison in Professional Development, Patricia Montgomery in Secretary, Julie Mevi in Membership and Marilyn Host in Vice President. These potential board members will have approximately a year to shadow the current incumbents so that they can learn what the job entails. Board succession-planning is an important 2015 goal for us and this is certainly a great start! If you are interested in a board position, please email us at ncwcachapter@gmail.com.
MEMBER SHOWS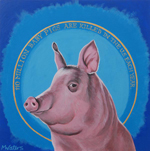 Michelle Waters
in You Are What You Eat, national juried exhibition, Union Street Gallery, 1527 Otto Blvd, Chicago Heights, Feb 27-Mar 28. (See left)
Leslie Morgan:
March 21/22 portrait workshop with Paul Morin, at Twisted Wish Studio, Bonny Doon Mountains. $250, workshop limited to 8 students. Email Dockles@comcast.net
Orlonda Uffre,
Art of Living Black, Black Bean Ceramic Art Center, 561 Emory St, San Jose, Feb 9- Mar 21. (see right)
Sandra Yagi,
Myth, Magic and Lore at Bash Contemporary group show, 210 Golden Gate Ave, Feb 14 - Mar 14. Also Macabre Gallery Group exhibit,, 3 Herbert St, Dublin, Ireland, Mar 26 - May 1. Also solo exhibition at Bert Green Fine Art, 8 S MIchigan Ave Suite 620, Chicago, IL, May 9 - Jun 21. Also Garden of Fernal Delights at Bash Contemporary group show, 210 Golden Gate Ave, May 30 - Jun 27.
Sally Ruddy
in National Association of Women Artists Small Works Exhibition group show, NAWA Gallery, 80 Fifth Ave., Suite 1405, New York, NY, Feb 4-15. Also CCAA Almond Blossom Time Exhibition group show, Mistlin Gallery: 1015 J Street, Modesto, Feb 3 – 27. Also Inspiring Women, Modesto Chapter of the NLAPW group show, Carnegie Art Center: 250 North Broadway, Turlock, Feb 11- Jun 7. (see right)
Susan Kraft
in Rewrite:: Re-Righting: Prepare, Provoke, Prevail, group show at Pyramid Atlantic Art Center, S8230 Georgia Ave, ilver Spring, MD, Mar 4-28.
Mary Shisler
in The Crow Show, The Studio Door & Art Institute of San Diego, 7650 Mission Valley Rd, San Diego, Feb 2- 27
Bonnie Smith
in Meeting on the Roads and Freedom, USA Foundation, Paris, Feb 11, 2015 - January 28, 2016.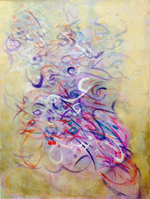 Salma Arastu
in One Exhibit at Inside/Outside Gallery, Levantine Cultural Center, 5998 Pico Blvd, Los Angeles, Feb 27-Mar 28. Also showing at Juanita Salazar Lowe Art Gallery, Imperial Valley College, 380 E Aten Rd, Imperial, CA, Apr 2-29. (See right)
Claudia Chapline
at Claudia Chapline Gallery, 3445 shoreline Highway, Stinson Beach, Jan 17 – Mar 29.
Robin Apple
solo show at North Tahoe Arts, 380 North Lake Boulevard, Tahoe City, Feb 24-Mar 30. Also Solo Exhibition: Downtown Restaurant,2050 Broadway, Redwood City, Jan-Feb. Also in Shadows at the Main Gallery, 1018 Main St, Redwood City, Mar 16 – Apr 19. Also in Colour Burst at the Ph21 Gallery, Budapest, Hungary, Feb 12 –Mar 4. Also in Red, Colors of Humanity Art Gallery, online, February.
Priscilla Otani in
Views from the Edge, Sarah Doyle Women's Center, Brown University, 26 Benevolent St, Providence, RI.
Maxine Olson's
works at The Kingsburg Historical Park honoring individuals for contributions to the town and its history, 2321 Sierra St, Kingsburg, CA.
Miwako Nishizawa
in
Berkeley Civic Center Art Exhibitio
n at the Martin Luther King Jr Civic Center, 2180 MIlvia Street, Berkeley, June 16, 2014 through end of May, 2015.
Members, get your shows and workshops listed in
News & Notes
,
NCWCA Calendar
and on the
NCWCA website
! Send jpg image of your work in the show and information about the show to
ncwcachapter@gmail.com
.