OPENING RECEPTION FOR "12"
by Priscilla Otani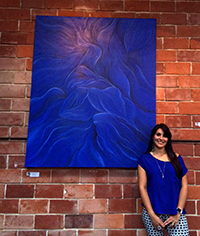 The artists in "12" are Elizabeth Addison, Salma Arastu, Gretchen Blais, M.C. Carolyn, Miriam Fabbri, Jean Gallagher, Kely Hammargren, Trudi Chamoff Hauptman, Xuan My-Ho, Judy Johnson-Williams, Holly Jordan, Juliet Mevi, Barbara Lewicki, Barbara Milman, Jane Neilson, Miwako Nishizawa, Priscilla Otani, Jacqueline Rubinstein, Sondra Schwetman, Ariella Seidenberg, Pallavi Sharma, Judy Shintani, Mary Shisler, Ruth Petersen Shorer, Pamela Spears, Sally Stewart, Zoe Thiele-Seidenberg, Susana vanBezooijen, Michelle Waters, Leisel Whitlock, Marian Yap and Veronica Yazmin (pictured above with her work). The reception on July 3 at Warehouse 416 was a great success, drawing a large crowd from the Oakland Art Murmur in the neighborhood. Although most of the works were wall-hung, sculpture and installations were also represented in our show.
This exhibition was organized in the middle of the transition between former Exhibitions Chair Kelly Hammargren and incoming Exhibitions Chair Leisel Whitlock.
Between the end of March when Warehouse 416 was secured and July 3, Opening Reception, a great of work went into preparing, promoting, administering and preparing the exhibiton. A team quickly formed among Leisel, Veronica and myself. Leisel wrote the prospectus, I added it to Entrythingy, Veronica prepared publicity material and organized volunteer jobs through Volunteerspot. Leisel juried the submitted works and notified the members and I set up the Online Gallery. I created the Facebook event and Judy Shintani improved it. Veronica managed the intake and installation crew members Julie Mevi, Judy Johnson-Williams, Pamela Spears, Miwako Nishizawa, Elizabeth Addison, Ruth Petersen Shorer, Patricia Montgomery and Fumiyo Yoshikawa. With so many people pitching, everyone was able to enjoy the show and agree that it was a success.
Don't miss Sondra Schwetman's artist's talk on Saturday, July 18 from 2-3 pm and the closing reception & panel on July 25 from 1-3 pm.
A catalog is also in the works.
WOMEN ARTISTS TO KNOW
Q&A with Judy Shintani
Priscilla Otani:
Why did you decide to create the Women Artists to Know Facebook page?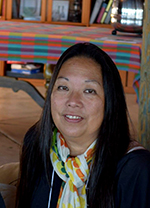 Judy Shintani: As the NCWCA Professional Development Chair (now retired) one of my goals was to create more visibility and knowledge of Women Artists. I had in mind to do something online so people could participate no matter where they live and this supported the NCWCA 2015 theme of Women and Technology.
Priscilla Otani: Why did you decide to use Facebook as the medium?
Judy Shintani: I had some success with a collaborative art-making and sharing Facebook page over the last two years, so my immediate thought was, why not use this same platform? Since most of us post to personal Facebook pages and use the platform as a way to see what's up with friends and family, it's just as easy to click over to the Women Artists to Know page. Also the group members can be alerted to new posts and comments to the page easily.
Priscilla Otani: How did you come up with the content?
Judy Shintani: I came up with monthly categories so there is a focus for each month. Some months are based on medium, others on techniques, and still others on content. And then I let the group members decide which women artists they wanted to post about.
It has become like a Women Artist History resource page. Early on there was some talk about featuring only living artists on the page, but I didn't want to put too many parameters on the content. Some people are posting well-known artists (alive and dead like Georgia O'Keefe) and others are posting local artists in their own circles, and many are featuring contemporary women artists. I like that we are being exposed to women from all over the world. It is great to learn more about the WCA Lifetime Achievement Awardees too.
Priscilla Otani: How much participation have you had? How many people are reading this page?
Judy Shintani: We are up to 705 members as of today and every week, I have more people that want to be part of it. Members are able to add their friends to the page too.
Priscilla Otani: What is the demographic of the posters? And the readers? How far beyond NCWCA members are you reaching?
Judy Shintani: I would say that three-quarters of the members are women artists and the others are art lovers. We have some men members too. There are approximately 60 WCA page members from a mixture of chapters. We have some members who are quite active and that keeps the page fresh. I ask posters to include a link and image for each artist to add to the page so readers click for more information.
Priscilla Otani: Do you intend to continue this into 2016 or will it end in 2017?
Judy Shintani: I'd like to continue with the Women Artist to Know Facebook Page. We may have to repeat some of the categories but I think that is okay. There are an endless number of women artists out there to learn about!
Priscilla Otani: What are some of the surprises you've encountered with this project?
Judy Shintani: I thought more artists would be posting about themselves and their peers. Perhaps the caliber of the well-known artists that are being posted is intimidating. I think it is important to put up emerging artists too, to be our own cheerleaders. I'm happily impressed with the number of postings for women artists of color and those from places beyond the United States. I've enjoyed stewarding the page - updating the group photo, announcing the new focus each month, and monitoring that the content is appropriate. I am learning so much about the artists I don't know and loving seeing favorites appear on the page too.
Priscilla Otani: Can you share some of the feedback?
Judy Shintani:
Ann Marie DeLuca Keep up the great posts. I like the theme. Yes it is informative. I read it when I am interested and have the time. I would like more dialogue with either the artists and or other people sharing more on the subject. Perhaps ideas other people have explored or are playing with. More collaboration about thoughts, ideas etc. Thanks for sharing.
Michelle Wilson I don't post/contribute as often as I should, because my Facebook activity usually consists of quick dashes between periods of insanity, but I'm glad to have the inspiration. I've learned of so many women artists that I now admire!
Marian Press Yap I read the postings all the time because art and feminism are two great interests of mine. What I like most is the new information that is published and I can't really say I have any dislikes.
Della Calfee I think it's a great idea and the page is becoming an important educational entity. I look at all the postings, about every few days. Unfortunately I don't get to look as deeply as I had hoped I would be able. Nothing wrong with the content, it's my life that needs to be changed.
Carl Heyward Redux diversity...inclusion...adventurous...exposure empathy excellence
Susan Kraft I long for the days I can peruse content. After reading these comments your page is on my Good Reads list.
Priscilla Otani: What's next for the page?
Judy Shintani: It would be great if the page became a resource for high school and college students writing about women artists. Perhaps even for curators could reference it. I could see the page being an inspiration for artists to create their own work.
I'd like to think of ways to add more dialogue and collaboration to the page or make a new page for that. Perhaps I could interview an artist a month or invite others to do an interview too.

JUDY BACA: WOMAN ARTIST TO KNOW
by Judy Shintani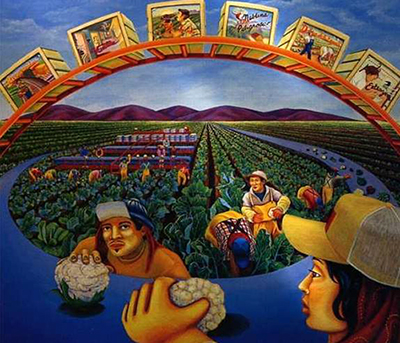 The Great Wall of Los Angeles is a mural that provides 2,435 running feet of art. To create the Great Wall, more than 400 young people, ages 14 to 21, worked for seven summers from 1976 to 1984. Judy Baca describes how she "coordinated the efforts of scholars, oral historians, local artists, and hundreds of community members to create one of the nation's most acclaimed monumental cultural projects dealing with interracial relations." She conceived the Great Wall as a tribute to California. At more than 13 feet in height and nearly half a mile in length, the Great Wall tells the story of Los Angeles' history from Neolithic times through the end of the 1950s. The wall also captures the ethnic diversity of the many groups that shaped California's history, and thus, it narrates a story that is less well known than the stories of the gold rush era with which so many people associate California's chronicle. In an essay that she wrote for Mapping the Terrain: New Genre Public Art, Baca told of the destruction of many of the old ethnic neighborhoods and landmarks as Los Angeles began to sprawl to meet population demands.
NCWCA MEMBERS IN SVWCA'S SEXISM SHOW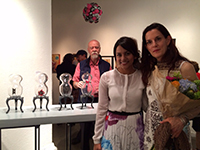 In tandem with the NCWCA "12" members' show, our sister chapter, Silicon Valley WCA, has a members' exhibition at Arc Gallery
(1246 Folsom St, San Francisco) called Sexism: A Touchy Subject. WCA members may join more than one chapter, and several are members of both NCWCA and SVWCA. Our chapter members in the Sexism show are Jill Andre, My-Xuan Ho, Susan Kraft, Jane Peterman, and Monica Neiman Sotomayor (above right). The Sexism exhibition continues at Arc Gallery through July 25 so check it out!
MEMBER-HOSTED WORKSHOPS
Japanese Brush Painting/ Sumi-e Class by Fumiyo Yoshikawa
Venue: the Albany Community Center (limited to 8 students), 1249 Marin Avenue, Albany, CA
Sept 16- Oct /21 Wednesdays, 10:00am to 12pm, 6x and
Nov 4- Dec 16 Wednesdays, 10:00am to 12pm, 6x (No class Nov 11)
E-mail for Supply List upon registration: art@fumiyo-y.com
Additional information about supplies and stores will be provided on the first day of class.
Japanese Brush Painting Class by Fumiyo Yoshikawa
Venue: Civic Arts Education-Shadelands Campus (Annex A), 111 North Wiget Ln (at Ygnacio Valley Rd), Walnut Creek
Sept 4 - Nov 16, Mondays 9:00am -12:00pm, 10x
Call or visit website for further information and Registration: (925) 943-5846
Supply List: www.arts-ed.org.
Additional information about supplies and stores will be provided on the first day of class.
MEMBER SHOWS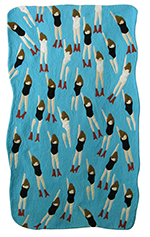 Bonnie J. Smith
in solo show "Swimming Upstream," Walnut Creek Community Art Gallery, 1644 N. Broadway Avenue, Walnut Creek, Jun 10-August 15. Also, publication - Quilting Arts Magazine June/July Issue, "Celebrating Silver." (Image left)
Michelle Waters
in "Animal Lovers, Animal Rights," Chicago Urban Art Retreat Gallery, 1957 S. Spaulding Ave. Chicago, Il, Jul 1-31
Edith Hillinger
, First Prize Award for Moon Gate, in the Viridian Artists' 26th International Juried Exhibition, Viridian Artists, 548 West 28th Street, New York, NY, Jun 10-Jul 18
Trudi Chamoff Hauptman
in POINTLESS IN OCCIDENTAL, Occidental Art Center, 350 Doris Murphy Ct, Occidental, July 7-August 23
Robin Apple
, solo show "Life Abstracted," Corridor Gallery, Pacific Art League, 668 Ramona St, Palo Alto, Jul 1-31
Laurie Edison
in No Museum, No Life? -Art-Museum Encyclopedia to Come From the Collections of the National Museums of Art, The National Museum of Modern Art, Tokyo, Japan, June 16 – September 13, 2015.
Leslie Morgan
in SERENITY: ELEVATED JOY, UCSF Women's Health Center, 2356 Sutter Street Floors 3.4.5.6, San Francisco, Apr 29 - Jul 14. Also Reflect+Create: Where Art and History Intersect, Los Altos History Museum, 51 So. San Antonio Rd, Los Altos, May 7 - Oct 4.
Salma Arastu
in SERENITY: ELEVATED JOY, UCSF Women's Health Center, 2356 Sutter Street, San Francisco, Floors 3, 4, 5, 6, Apr 16 – Jul 14.
Members, get your shows and workshops listed in
News & Notes
,
NCWCA Calendar
and on the
NCWCA website
! Send jpg image of your work in the show and information about the show to
ncwcachapter@gmail.com
.