HELÈNE AYLON, 2016 WCA LIFETIME ACHIEVEMENT HONOREE
by Nancy Ewart

Helène Aylon, is a visual, conceptual, and installation artist and an eco-feminist whose work has been exhibited around the world. Through her art, she has explored the intersectionality among her feminism, the Orthodox Judaism of her upbringing, and her place in a war-torn world.
Helène Aylon (born Helene Greenfield, February 4, 1931) was born in Brooklyn and received an orthodox Jewish upbringing. At the age of 18, she married a rabbi to whom she had become engaged while still in high school. She bore two children and was only 30 when her husband died of cancer.
Prior to her husband's death, Aylon enrolled as an art student at Brooklyn College, where she studied under Ad Reinhardt. After finishing college, she was commissioned to paint a mural for the youth employment center in the Brooklyn neighborhood of Bedford-Stuyvesant. When photographed for a newspaper article, she said that her name was Helène Aylon, in which she used the Hebrew equivalent of her first name as her surname. She subsequently taught at San Francisco State University and California College of Arts and Crafts in Oakland.
Aylon's first notable work, Rauch (Spirit, Wind, Breath) (1965), was a 16-foot mural, commissioned for the now-defunct Synagogue Library at JFK International Airport, that attempted to portray Judaism through the eyes of women.
Her work can be divided into three phases: Process art (1970s), anti-nuclear art (1980s), and The G-d Project (1990s and early 2000s), a feminist commentary on the Hebrew Bible and other established traditions.
Aylon's earliest exploration of process art was done in California in the 1970s. She created a series called Paintings That Change (1974–77), which included Tar Pouring, Drifting Boundaries, Receding Beige, and Oval on Left Edge. All of the works consisted of oil on paper which would slowly transform as the oil moved, relying on chance.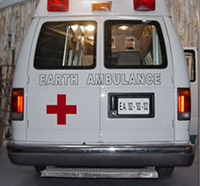 By the 1980s, Aylon, was a self-described eco-feminist. She began to create anti-nuclear and eco-activist art, which included Earth Ambulance (photo right). This work consisted of an "ambulance" (a converted U-Haul van) that symbolized an attempt to save the world from nuclear war. Using the Earth Ambulance, Aylon gathered dirt from Strategic Air Command nuclear bases, uranium mines, and nuclear reactors from across the United States. She stuffed the dirt into pillowcases and used them in a demonstration at the United Nations during the Second Special Session on Nuclear Disarmament on June 12, 1982.
After the death of Aylon's husband in 1961, she began to develop an idea of reformed Judaism that rejected the patriarchal notions in the Five Books of Moses. In the 1990s, Aylon began work on The G-d Project, a nine-part project that spanned two decades. The first work, The Liberation of G-d, contains the five books of Moses, in English and Hebrew, which sit on velvet-covered stands. Each page is covered in translucent parchment. The sound of turning parchment pages was recorded and played in a loop while the work was on exhibition. Aylon placed the 54 sections of the Torah on glass shelves along a wall, adjacent to the five books of Moses, and used a pink highlighter to mark phrases that, according to her, convey patriarchal attitudes. She also targeted words or phrases that conveyed a sense of vengeance, deception, cruelty, and misogyny that had been falsely attributed to God. The work was first exhibited in Too Jewish? Challenging Traditional Identities at the Armand Hammer Museum of Art in March 1996. During the exhibition, Aylon formally invited area rabbis to visit and discuss her work.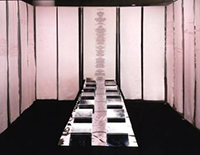 In 1997, she completed The Women's Section (photo left), the second work in The G-d Project, which is dedicated to women whose estranged husbands do not grant them a religious divorce, making it impossible for them to remarry. Included are texts from the Torah that speak of women's "impurity" and "virginity." In 1998, Aylon created the third work in the series, My Notebooks, which consists of 54 blank 8.5 × 11″ notebooks that form a group of columns. The closed notebooks, with their dark covers, form black columns; the open notebooks form white columns. A transparency of Aylon's photographs from a Jewish girl's school is projected across the notebooks. The work is "Dedicated to Mrs. Rashi and to Mrs. Maimonides, for surely they have something to say and was intended to be a statement on women's lack of scholarship and participation in education." It also alludes to the female teachers of Aylon's all-female school, who could only teach commentary from male rabbis. The final work in The G-d Project is All Rise, an imagined feminist court where women who have been forbidden on a Beit Din, the Jewish court of law, can now judge.
In 1999, Aylon created Epilogue: Alone with My Mother and My Bridal Chamber: My Marriage Contract. The latter is a simple bed covered in a white bedspread that Aylon constructed from handkerchiefs and a wedding canopy. Around it are four columns with superimposed projetions of photographs that show the artist in her wedding gown. Behind the headboard, Aylon wrote quotes from Leviticus concerning women's "uncleanliness" and "impurity." The work was meant to be a comment on marital and religious constraints felt by woman. In 2002, Aylon created The Partition is in Place, but the Service Can't Begin, a comment on the segregation of male and female worshippers in the synagogue. As noted by Aylon, "The material I thought appropriate for the Partition that separates male and female worshippers is made of the ritual garb worn by religious men. But if there were nine male worshippers and one thousand female worshippers, the service could not begin because the service requires the presence of ten men."
http://www.heleneaylon.com/
http://jwa.org/feminism
Congratulate Helène Aylon in person at the Lifetime Achievement Awards in Washington, DC on February 4, 2016!
A NOTABLE WIKIMEDIA DAY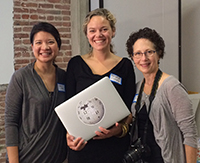 On September 13, Sixteen women participated in Wikimedia Day at the brand new Pacific Felt Factory Studios. Wikimedia Chief Communications Officer Katherine Maher gave an overview of the Wikipedia community and explained some of the core principles such as neutrality, verifiable accuracy and notability. She covered some of the common reasons why some entries are edited or deleted. Texts that are copied and pasted from another source are generally deleted because they may be construed as plagiarism. Editors should paraphrase everything, even actual quotes by an individual if cited elsewhere. She also explained the difficulty of creating an entry about oneself, because it is nearly impossible to be impartial. It is better to have someone else do the writing, with appropriate references to articles, exhibitions or events. We also learned how difficult it is to correct wrong information without reliable resources. A good example is the birthday of Jimmy Wales, the founder of Wikipedia. He has had to live with a wrong birthday on Wikipedia because it was published incorrectly in Encyclopedia Britannia. Despite some of the glitches, Wikipedia is a dynamic resource that will continue to change and correct itself as content evolves. We also participated in a hands-on editing session of the WCA Wikipedia page. Elizabeth Addison deftly added chapter information, including NCWCA information, in the Organization Structure section. After a day with Katherine Maher, our chapter has a clearer direction on how to create its own page in the future. (Photo: Cindy Shih, Katherine Maher and Elizabeth Addison)
INSPIRATIONAL CHALLENGE AT SEPTEMBER MEETING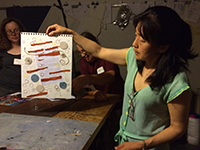 The September chapter activity featured art-making using random quotes and an assortment of art materials. The activity leader, Judy Shintani asked us to respond artistically to a quote we picked from a pile of writings. We had magazines, colored paper, felt markers, acrylics, glue, cardboard rolls, yarn and string to work with. Fortunately, the warm evening helped dry wet media quickly and everyone finished making at least one piece. It was inspirational to see the wide range of creative interpretations to the words we selected.
PORTFOLIO REVIEW SOLD OUT!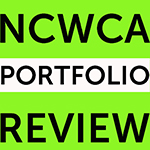 Congratulations to Elizabeth Addison, Jill Andre, Gretchen Blais, Grace Cohen, Beth Fein, Uma Rani Iiyli, Margaret Lindsey, Patricia Montgomery, Miwako Nishizawa, Riko Takata, Lisa Undercoffler, and Leisel Whitlock! They will participate in the NCWCA-sponsored Portfolio Review that begins October 6 with a portfolio review preparation class where participants will gain insight into creating, designing & organizing their website, writing an effective artist statement, and specific instructions on how to prepare for the review and what the reviewers are looking for. On October 20, each artist will receive three sequential 15-minute one-on-one portfolio reviews with gallery professionals, Marina Bianchi (Cain), Lonnie Lee, and Donna Seager,
ALAMEDA ARTS COMMISSION PURCHASES WORKS BY FUMIYO YOSHIKAWA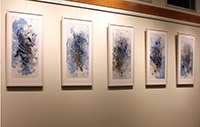 Congratulations Fumiyo! The Alameda County Arts Commission has purchase five works of art titled "Organic Mind #6 - #10" for their Alameda County Arts Collection. Between late 2015 and mid 2016 each piece will be newly framed and planned to be installed in the Dublin County Clerk-Recorder's Office and 1111 Jackson St. Building.
MEMBER-HOSTED WORKSHOPS
Japanese Brush Painting/ Sumi-e Class by Fumiyo Yoshikawa
Venue: the Albany Community Center (limited to 8 students), 1249 Marin Avenue, Albany, CA
Sept 16- Oct /21 Wednesdays, 10:00am to 12pm, 6x and
Nov 4- Dec 16 Wednesdays, 10:00am to 12pm, 6x (No class Nov 11)
E-mail for Supply List upon registration: art@fumiyo-y.com
Additional information about supplies and stores will be provided on the first day of class.
Japanese Brush Painting Class by Fumiyo Yoshikawa
Venue: Civic Arts Education-Shadelands Campus (Annex A), 111 North Wiget Ln (at Ygnacio Valley Rd), Walnut Creek
Sept 4 - Nov 16, Mondays 9:00am -12:00pm, 10x
Call or visit website for further information and Registration: (925) 943-5846
Supply List: www.arts-ed.org.
Additional information about supplies and stores will be provided on the first day of class.
MEMBER SHOWS
Leslie Morgan
in "Mix It Up – Mixed Media," Santa Cruz Art League, 526 Broadway, Santa Cruz, Aug 14 - Sept 13. Also in "Reflect + Create," Los Altos History Museum, 51 So San Antonio Rd, Los Altos, May 7 - Oct 4.
Vicki Cormack
in solo show, "Intentional Dreaming, Half Moon Bay Public Library, Correas Avenue, Half Moon Bay, Sept 1 – 31.
Miwako Nishizawa
in "Four Sqared Alumni," Arc Gallery, 1246 Folsom St, San Francisco, 94103, Aug 29 – Sept 26. Also in "Civic Center Art Exhibition," Martin Luther King Jr Civic Center, 2180 Milvia St, Berkeley, Oct 2, 2015 – September, 2016.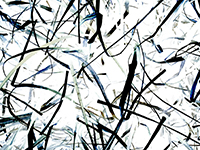 Priscilla Birge
in 29th Annual Emeryville Art Exhibition, 5745 Peladeau St, October 3 – 25. Also in group exhibition at Eddie Rhodes Gallery - Art Building - Contra Costa College 2600 Mission Bell Drive|San Pablo, October 1 – 30. (Image right)
Salma Arastu
in solo show, "Painting Prayers," Museum of Contemporary Religious Art, St. Louis University, 3700 West Pine Mall Blvd, Saint Louis MO, Sept 13 – Dec 6. Also in solo show, "Song of the Soul," Multicultural Center, University of California, Santa Barbara, Sept 30 – Dec 11. Also in solo show, "Golden Moments: Works by Salma Arastu," Savvy Rest and Natural Bedroom, 3001 Telegraph Avenue Berkeley, Sept 10 – Nov 7. Also in group show "29th Annual Emeryville Art Exhibition," 5745 Peladeau Street, Emeryville, October 3 - 25, 2015.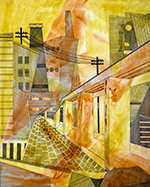 Hilla Hueber
in group show, "Making Senses: Living in an Abstract World," Misho Gallery, 680 Eight St. San Francisco, Oct 8 – 17. Also Fall Open Studios, Fort Mason, Herbst Theater, October 24-25. Also Fall Open Studios, 680 Eight St. San Francisco, Oct 31-Nov 1. (Image left)
Bonnie C Smith
in "Silver," St. George Art Museum, 47 E 200 N St. George, UT, Sept 12 – Dec 31.
Priscilla Otani
in "Visaural," Nave Annex Gallery, Somerville, MA, Oct 8 - 31.
Mary Shisler
in "Visaural," Nave Annex Gallery, Somerville, MA, Oct 8 - 31.
Julie Mevi
n "Art in Nature," a multi-disciplinary arts event on Sunday, Sept. 20, 2015, 11 AM-5 PM at Redwood Regional Park, Oakland
Members, get your shows and workshops listed in
News & Notes
,
NCWCA Calendar
and on the
NCWCA website
! Send jpg image of your work in the show and information about the show to
ncwcachapter@gmail.com
.
WELCOME MEMBERS!
Welcome Celeste Chin, Elle Vayerwulf, Mary B White and Grace Cohen! We're glad you joined us and hope to see you soon at our monthly meeting or one of our special events.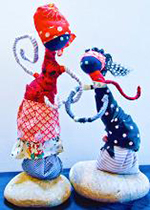 Above: Gretchen McGarigle Butler



2015 MEETING LOCATIONS & DATES

Chapter Meetings are on the second Tuesday of each month. Look for details on our

webpage

. Let's carpool! Please email ncwcachapter@gmail.com if you need a ride or can offer a ride.

Oct 13: San Mateo
Nov 10: San Francisco
December Year-End Party: Oakland
Jan 12, 2016: Oakland




ART TAG NEW ROUNDS



Saturday Group topic is "Clothes."
Sunday Group topic is "Heart."
Artwork due dates are Oct 22 for piece #1, Dec 1 for piece #2, and Jan 9/10 for piece #3 and meeting.

What is Art Tag? Click here to find out. To sign up, contact Kelly Hammargren at kellyhammargren@gmail.com.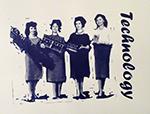 Above: Women + Technology Art Tag piece created by Julie Mevi



TIPS FOR FORWARDING NEWS & NOTES TO YOUR CLIENT LIST


Before forwarding your copy of the News & Notes to your client list, delete the "Unsubscribe" sentence at the bottom of the newsletter. Otherwise, if one of your clients decides to unsubscribe to your email, they will inadvertently unsubscribe you from future editions of our News & Notes.
Alternatively, you can go to the Publications page of our website and include the URL of any of our newsletters in your own e-news.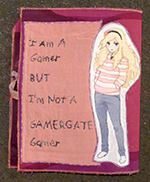 Above: Women + Technology Art Tag piece created by Trudy Chamoff Hauptman




WOMEN ARTISTS TO KNOW BY MONTH

To join this FB group, go to the

Women Artists to Know

page and click Join. A moderator will add you to the group. Share your favorite artists! September features political focus and community engagement artists.

Jan - painting

Feb - textile

Mar - cultural

Apr - eco/land art

May - drawing

Jun - performance/dance/music

Jul - photography

Aug - installation

Sept -political focus/community engagement

Oct - print making

Nov - collage

Dec - sculpture, assemblage

Jan - ceramics

Feb – literary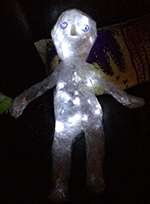 Above: Women + Technology Art Tag piece created by Priscilla Otani



NCWCA CALENDAR




September 30

Deadline for Trending, National Juried Exhibition



October 6

Portfolio Review preparation at Arc Gallery for the 12 registered members.



October 13,

Chapter meeting at Irma Velasquez's studio in San Mateo (49 N San Mateo Dr, San Mateo) from 6-9:30 pm.



October 20

Portfolio Review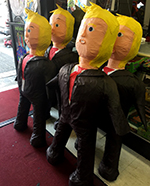 Some Donald Trumps in the Mission spied by Tanya Augsburg