SHEILA LEVRANT DE BRETTEVILLE, 2016 WCA LIFETIME ACHIEVEMENT HONOREE
by Tanya Augsburg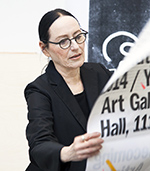 I have never liked jewelry, let alone wearing any. My mother would give me shiny gold necklaces and I would put them in a drawer where they would remain untouched. My mother considered my aversion to wearing jewelry a problem. She would make cutting remarks about how I was not feminine enough when she was not reminding me that she spent good money to buy me nice jewelry. My responses were always the same: I thanked her for the gifts but I also stated that wearing jewelry was not "me." Although at the time I lacked sufficient awareness in feminist theory to articulate my particular gender identity exactly, I was already self-consciously rejecting the kind of girly femininity society imposes on young girls.
Fast forward several decades when I first got my hands on an actual eyebolt necklace designed by Sheila Levrant de Bretteville during the 2012 College Arts Association (CAA) conference. It came with the purchase of two volumes published by Otis College about the Women's Building, where de Bretteville founded the Women's Graphics Center and co-founded the Feminist Studio Workshop with Judy Chicago and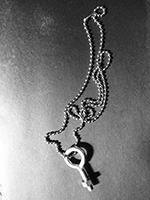 Arlene Raven in 1973. I finally had in my possession a necklace that I truly loved. Why? The eyebolt is shaped like the Venus symbol, which was originally derived from astrology but used in botany and biology long before it was appropriated by the women's rights movement. It is a standard piece of hardware fastener. In appearance it is thick and curvy; it is hard and smooth to the touch. Aesthetically it is multi-functional, plain and minimalist rather than frivolous and ornate. It gives the impression of a strong DIY attitude—what de Bretteville described as "strength without a fist" when she gave Chicago and Raven the first eyebolt necklaces she had designed in 1972.
As a tangible piece of visual communication, de Bretteville's eyebolt necklace embodies a feminist femininity that I can proudly wear rather than hide in a drawer. I get a sense of satisfaction knowing that if I ever lose my necklace I can find its replacement at the local Home Depot rather than have to set foot in a jewelry store. Wearing the necklace I feel solidarity with other women, particularly with its designer, who is an exemplary role model for women arts educators such as myself.
Over the course of my career as an academic I have been part of revamping the curriculum of two large interdisciplinary studies programs. Both times the processes involved were labor intensive. Nevertheless, these efforts seem to me paltry compared to what de Bretteville has accomplished. De Brettville, in addition to her graphic design studio practice, founded the first design program for women at Cal Arts in 1971 before starting up the aforementioned programs at the Women's Building in 1973. She somehow managed to spearhead these monumental projects as the mother of a young child. In 1981 she initiated and founded the Department of Communication Design at Otis/Parsons. In 1990 she moved to Yale, where she was joined the faculty as the first tenured professor in its School of Art. In 2010 her accomplishments were formally acknowledged at Yale as she was named an endowed chair, the Caroline M. Street Professor of Graphic Design.
I missed my chances to meet Professor de Bretteville back in 2009 when she honored Joyce Kozloff at the WCA Lifetime Achievement Awards Ceremony, and again in 2011 when I was asked to contribute to the exhibition catalogue for Doin' It In Public: Feminism and Art at the Woman's Building that was organized by the Ben Maltz Gallery at Otis College of Art and Design October 1, 2011-January 28, 2012. I declined because at the time I was busy with WCA's exhibition Man as Object: Reversing the Gaze that was held at SOMARTS in November 2011. I keep telling myself that it is impossible to do it all, but de Bretteville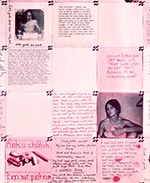 seems to have repeatedly proven me wrong. One only has to take a cursory glance at her website to be amazed by her extraordinary feminist vision and enormous talent as a graphics artist and designer.
I hope to meet de Bretteville finally at the 2016 Lifetime Achievement Awards. I would like to express my admiration to her for her pioneering success as an academic in an elite university—especially since she did not hide the fact that she is a feminist. For example, de Bretteville famously submitted the only entry on the color pink for an American Institute of Graphic Design exhibition on color in 1973. Appropriately titling the poster Pink, de Bretteville amassed together like a quilt small pink sheets of paper upon which numerous women's thoughts about pink as a color had been written.
I am wearing my eyebolt necklace as I write this short text, even more appreciative of its designer than I was previously. Much has been made of Duchamp challenging the limits of art when he signed a urinal with the pseudonym R. Mutt. I am fully confident that feminist art historians in the future will write a great deal more about how de Bretteville challenged prevailing gender conventions in the early 1970s by putting an industrial bolt on a chain, thereby transforming it into an iconic feminist image loaded with meaning. For her many contributions to feminist art and feminist art education, Sheila Levrant de Bretteville is an especially noteworthy recipient of the 2016 Women's Caucus for Art Lifetime Achievement Award. I hope too that you, dear reader, will join me in honoring her at the WCA Lifetime Achievement Awards Ceremony in Washington DC on February 4, 2016!
Congratulate Sheila Levrant de Bretteville in person at the Lifetime Achievement Awards in Washington, DC on February 4, 2016.
2016 MEMBERSHIP WINDOW NOW OPEN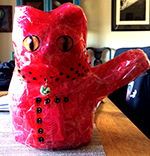 Our 2016 membership window is now open. Current and prospective members should have received a personalized invitation from Membership Chair Miwako Nishizawa last week. Our chapter stands at 136 members - an all-time high. With a larger membership base we can offer more exhibition opportunities and ambitious programs such as, portfolio review, Art Tag, land art and regional conferences. If you have a friend who might benefit from NCWCA, invite her to join up by visiting our website: http://www.ncwca.org/membership-2016.html. New members receive a bonus their first year - immediate membership this year plus all of next year. Remember, our membership cycle runs on a calendar year (Jan 1 - Dec 31) so join early to get the greatest benefit. (above art by Priscilla Otani)



SAVE THE DATE! NOVEMBER 15 LAND ART DAY IN PESCADERO



H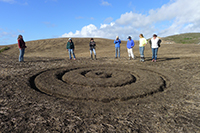 ere's an opportunity to create land art at Irma Velasquez' ranch in Pescadero. If you've never made land art before, you'll learn all about it at this all-day art-making event. And if you've made land art before, either at Irma's ranch or Leslie Morgan's Santa Cruz mountain studio, you know what magic there is in creating beautiful works of art from nature. This November 15 event is a free benefit to our members and you will receive an Evite shortly. Check out land art on Wikipedia and Andy Goldsworthy.

PORTFOLIO REVIEW PREP DAY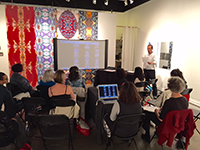 The Portfolio Review professional development program includes a preparation workshop and one-on-one meetings with gallerists Marina Bianchi, Lonnie Lee and Donna Seager.
The portfolio review preparation took place on October 6 at Arc Gallery with workshop leader Stephen Wagner covering practical website design and content. He explained that it was important to understand effective website design because it will be the main tool that each artist will use to review her work with the gallerists. Wagner emphasized clear layout, well-organized resume and exhibition history and an artist statement that clearly explains medium, focus and intentions. The workshop included both lecture and hands-on sharing of participants' websites and statements. Those who may have felt ill at ease at the beginning of the workshop left feeling inspired, confident, and ready to have that sit-down with the gallerists on October 20.



FEEDBACK FROM WORKSHOP PARTICIPANTS



"Although I've been an artist for a long time, I've always been my own worst salesman. The Portfolio Preparation Workshop has been a true eye-opener for me. I love the no-nonsense approach of Stephen Wagner, and find all the information delivered in a clear, concise and compassionate way. I've completely reworked my website, and it's only half done! I feel like I've been given the tools to view my website like a professional business."
-- Riko Takata

"The Portfolio Preparation Workshop was extremely helpful for me. Knowing what was important to have on my website made it easy to make the necessary changes. Having a professional website makes me feel more confident about my artistic career."
--Grace Cohen

"The Portfolio Review workshop information was specific and practical, concise and precise, and generously and respectfully offered. Stephen is very good at this, I greatly appreciate his commitment to helping other artists' navigate the terrain, and his understanding that the prep up front is almost more important than the actual portfolio reviews."
--Margaret Lindsay

"I signed up for the Portfolio Review, then asked myself, "Are you crazy?" I thought of backing out but did not. I got to the workshop and I was apprehensive. I decided to jump in because that is when I get the most out of something. I read my artist statements and that is when the magic began to happen in the form of feedback and suggestions. Someone commented that my statement did not describe my work or convey the edginess of my art or the fact that I am a surrealist artist. Stephen suggested that I look at my work, write down words that come to mind and look them up in the dictionary to help expand how I describe my work and the meaning behind a piece, something I seldom do. I followed his suggestion."
--Gretchen Blais



BARBARA HORIUCHI AT JAPANESE AMERICAN NATIONAL MUSEUM



In honor of Family History Month, UC Santa Barbara Professor of History Luke Roberts will present a lecture on the life of samurai Yoshiki Mori (1768–1807). The lecture will be followed by a panel discussion with two members of the Nikkei Genealogical Society (NikkeiGen), Melinda Yamane Crawford and Barbara Horiuchi. Horiuchi is a third-generation Japanese American writer and artist who creates pictorial, video, and installation work that addresses her own family history as well as sociopolitical issues related to the history of Japanese immigrants in America. October 24 at 2:00 PM at the Japanese American National Museum, 100 North Central Avenue, Los Angeles.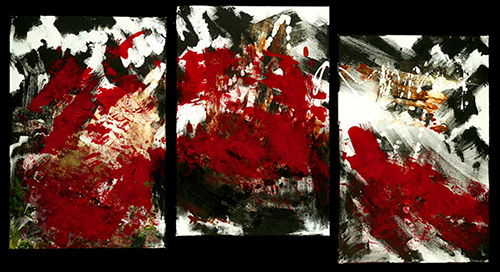 Orlonda Uffre
WELCOME MEMBERS!
Welcome new members Yvana Ambrozino, Melissa Shanley, Mague Calanche! Thanks for your early membership renewal Mary Lou Dauray, Orlonda Uffre, Grace Cohen, Leslie Morgan, Priscilla Otani, Juliet Mevi and Jeannette Kiel! We hope to see you soon at our monthly meeting or one of our special events.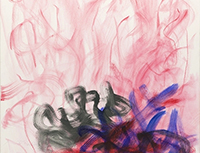 Celeste Chin



2015 MEETING LOCATIONS & DATES

Chapter Meetings are on the second Tuesday of each month. Look for details on our

webpage

. Let's carpool! Please email ncwcachapter@gmail.com if you need a ride or can offer a ride.

Nov 10: San Francisco
December Year-End Party: Oakland
Jan 12, 2016: Oakland




WOMEN ARTISTS TO KNOW BY MONTH

To join this Facebook group, go to the

Women Artists to Know

page and click Join. A moderator will add you to the group. Share your favorite artists! October features printmakers.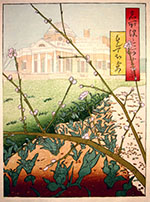 Miwako Nishizawa

Jan - painting
Feb - textile
Mar - cultural
Apr - eco/land art
May - drawing
Jun - performance/dance/music
Jul - photography
Aug - installation
Sept -political focus/community engagement
Nov - collage
Dec - sculpture, assemblage
Jan - ceramics
Feb – literary

NCWCA CALENDAR
October 20
Portfolio Review
November 10
Chapter meeting at Arc Gallery, 1246 Folsom St, San Francisco from 6-9:30 pm.
November 15
Land Art Day at Irma Velasquez's ranch
SAN FRANCISCO OPEN STUDIOS
Kay Kang,
Hunters Point Shipyard, Oct 16-18
Marc Ellen Hamel
, Hunters Point Shipyard, Oct 16-18 (image below)
Hilla Hueber,
Ft Mason Herbst Pavilion, 2 Marina Blvd, Oct 24-25
Hilla Hueber,
Misho Gallery, 680 8th St, Suite 230, Oct 30- Nov 1
Priscilla Otani
, Arc Studios, 1246 Folsom St, San Francisco, Oct 30- Nov 1
Kathy Fujii-Oka,
Arc Studios, 1246 Folsom St, Oct 30- Nov 1
Leslie Morgan,
Arc Studios, 1246 Folsom St, Oct 30- Nov 1
Cindy Shih,
Pacific Felt Factory, 2830 20th St, Nov 7-8
Sandra Yagi,
Pacific Felt Factory, 2830 20th St, Nov 7-8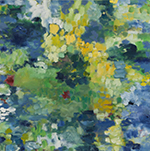 Marc Ellen Hamel
TIPS FOR FORWARDING NEWS & NOTES TO YOUR CLIENT LIST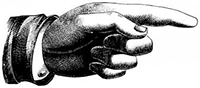 Before forwarding your copy of News & Notes to your client list, delete the "Unsubscribe" sentence at the bottom of the newsletter. Otherwise, if one of your clients decides to unsubscribe to your email, they will inadvertently unsubscribe you from future editions of our News & Notes.
Alternatively, you can go to the
Publications
page of our website and include the URL of any of our newsletters in your own e-news.
CURRENT ART TAG ROUNDS
Saturday Group
topic is "Clothes."
Sunday Group
topic is "Heart."
Artwork due dates are Oct 22 for piece #1, Dec 1 for piece #2, and Jan 9/10 for piece #3 and meeting.
What is Art Tag? Click
here
to find out.
MEMBER SHOWS & EVENTS
Leisel Whitlock
in
A Change Gonna Come
, Augusta Savage Gallery, University of Massachusetts, 180 Infirmary Way, Amherst, MA, Oct 15-30.
Trudi Chamoff Hauptman
in Russian River Watershed In Fabric, San Jose Textile and Quilt Museum, 520 S 1st Street, San Jose, Nov 6, 2015 - Jan 3 2016 (image below)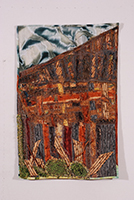 My Xuan Ho
in Landscape, Seascape, & Urbanscape at Pacific Art League, 668 Ramona Street, Palo Alto, Oct. 2 – 30. Also Beasts on Broadway, Santa Cruz Art League, 526 Broadway, Santa Cruz, Oct. 24 - Nov. 15 (image below).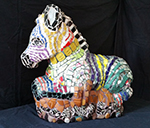 Priscilla Birge
in Magpies @ Contra Costa College, Eddie Rhoades Gallery, 2600 Mission Bell Drive, San Pablo, Oct 1-30.
Grace Cohen
in 57th Annual Art Guild of Pacifica Members Show, Sanchez Art Center Gallery, 1220 Linda Mar Blv. Pacifica, Oct 9 to Nov 15 (image below)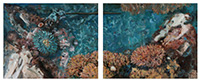 Orlonda Uffre
in Black Artists in Art, Petaluma Art Center, 230 Lakeville St, Petaluma,
Oct 10 - Nov 22
Leslie Morgan
in Wild Women and Weapons, Arc Project Gallery, 1246 Folsom St, San Francisco, Nov 9 – Dec 5
Elizabeth Addison
, Day of the Dead, 934 Brannan St, San Francisco, Oct 9 - Nov 7
Hilla Hueber
in Making Sense: Living in an Abstract World, Misho Gallery, 680 8th St, Suite 230, San Francisco, Oct 8-17 (image below).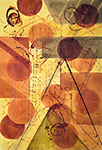 Salma Arastu
in solo show, "Painting Prayers," Museum of Contemporary Religious Art, St. Louis University, 3700 West Pine Mall Blvd, Saint Louis MO, Sept 13 – Dec 6. Also in solo show, "Song of the Soul," Multicultural Center, University of California, Santa Barbara, Sept 30 – Dec 11. Also in solo show, "Golden Moments: Works by Salma Arastu," Savvy Rest and Natural Bedroom, 3001 Telegraph Avenue Berkeley, Sept 10 – Nov 7. Also in group show "29th Annual Emeryville Art Exhibition," 5745 Peladeau Street, Emeryville, October 3 - 25, 2015.
Bonnie J Smith
in "Silver," St. George Art Museum, 47 E 200 N St. George, UT, Sept 12 – Dec 31.
Priscilla Otani
in "Visaural," Nave Annex Gallery, Somerville, MA, Oct 8 - 31.
Mary Shisler
in "Visaural," Nave Annex Gallery, Somerville, MA, Oct 8 - 31.
Members, get your shows and workshops listed in News & Notes, NCWCA Calendar and on the NCWCA website! Send jpg image of your work in the show and information about the show to ncwcachapter@gmail.com.