MARCH CHAPTER MEETING HIGHLIGHTS


Board Succession Planning On-Target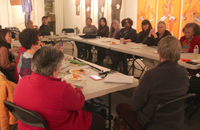 An important 2015 goal set by the board is succession-planning and we have begun to take our first steps. Judy Shintani is training Elizabeth Addison to take over the Professional Development position. Elizabeth organized the upcoming Alcatraz tour and will be working on the Women + Technology panel in the coming months. Miwako Nishizawa will be switching to the Membership Chair position and will be trained in late April by current chair, Gretchen Blais. Kelly Hammargren will be teaching Veronica Yazmin and Liesel Whitlock on Exhibition management. Patricia A. Montgomery will be trained by Mary Shisler to be the new Secretary. These transitions will enrich the capabilities of our entire chapter and allow us to provide a broad range of activities and exhibitions without burning out key contributors. Our membership continues to grow and by alternating meeting locations among Oakland, San Francisco and San Mateo, we are reaching out to members scattered throughout Northern California. (Meeting photo provided by Judy Shintani.)
Half the Sky Screening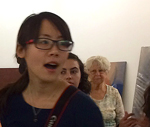 Chapter member Mido Lee presented the International Caucus video, Half the Sky: Intersections of Social Practice Art on March 10. This video documents the social practice art that occurred at the Luxun Academy in Shenyang, China last April. As part of the WCA China delegation Mido played a key role in tech and language support as well as serving as the videographer. Mido will be attending the Open Engagement Conference in Pittsburgh, PA where she will be on a panel with delegates Sherri Cornett, Rosemary Meza Desplas, Christina Giancola, Neda Moridpour and Priscilla Otani. The International Caucus, open to WCA members throughout the country, is one of many national membership benefits. (Photo shows Mido Lee directing artists in Shenyang.)
Akiko Suzuki Contemporary Quilt Artist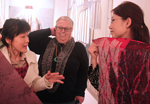 We were pleased to host Akiko Suzuki, a contemporary fiber artist from Osaka, Japan. She showed us beautiful quilts created from kimonos and geisha undergarments and shared unconventional techniques in her quiltmaking. Ms. Suzuki was on her way to a conference in Mexico and we were fortunate to have her as a last minute guest speaker. (Photo provided by Judy Shintani.)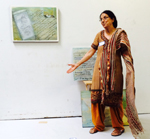 Mary Shisler hosted NCWCA's first ArtTag party at her Sawtooth studio in Berkeley on March 22. This party brought together ArtTag players from the East Bay, Peninsula, San Francisco and National groups. ArtTag started in 2009 with a small group and quickly grew in size. It has become a signature collaborative art-making project for NCWCA and has attracted new membership. The party was the first time that members of different Tag groups came together to share their favorite pieces with each other and to introduce the game to potential players. Mary organized the event through Evite and VolunteerSpot and we had many members pitch in to help with potluck, setting up chairs and photographing the works. Miwako NIshizawa will create a catalog of the works presented and discussions are under way for a possible exhibition. The party will likely become an annual event. (Photo depicts Salma Arastu describing her pieces.)
APRIL OFFERINGS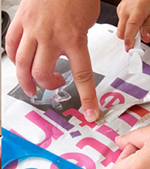 Our April 14 meeting will be held at Irma Velasquez's studio at 49 N San Mateo Dr, San Mateo.
On April 12 enjoy a day of mind, body and art at the Breema Center with NCWCA member Dr. Lisa Chu. Learn how to integrate your whole being to open doorways to your creativity. To sign up and for more details, contact Dr. Lisa Chu at drlisachu@gmail.com. (Photo provided by Dr. Chu.)
NCWCA's April 18 @Large Ai Wei Wei on Alcatraz tour is sold out!
MEMBER SHOWS
Michelle Waters
in Loteria! at the Cactus Gallery, 3001 N Coolidge Ave, Los Angeles, Mar 14 - Apr 8.
Judy Shintani
in Intersectionality Solo Mujeres at the Mission Cultural Center, 2868 Mission St, San Francisco, Mar 6 - May 2.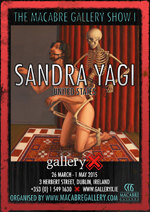 Sandra Yagi,
Macabre Gallery Group exhibit,, 3 Herbert St, Dublin, Ireland, Mar 26 - May 1 (see image right). Also Animal Spirits, group exhibit at the Big Crow Gallery, 1426 41st Ave, San Francisco, Mar 20 - Apr 25. Also Dreams and Divinities at LuminArte Gallery, 1727 E Levee St, Dallas, TX, Mar 21 - May 2. Also Story Book at Modern Eden, 801 Greenwich St, San Francisco, Apr 25 - May 9. solo exhibition at Bert Green Fine Art, 8 S MIchigan Ave Suite 620, Chicago, IL, May 9 - Jun 21. Also Garden of Fernal Delights at Bash Contemporary group show, 210 Golden Gate Ave, May 30 - Jun 27.
Sally Ruddy
in Inspiring Women, Modesto Chapter of the NLAPW group show, Carnegie Art Center: 250 North Broadway, Turlock, Feb 11- Jun 7. (see right)
Susan Kraft
in Rewrite:: Re-Righting: Prepare, Provoke, Prevail, group show at Pyramid Atlantic Art Center, S8230 Georgia Ave, ilver Spring, MD, Mar 4-28.
Salma Arastu
in One Exhibit at Inside/Outside Gallery, Levantine Cultural Center, 5998 Pico Blvd, Los Angeles, Feb 27-Mar 28. Also showing at Juanita Salazar Lowe Art Gallery, Imperial Valley College, 380 E Aten Rd, Imperial, CA, Apr 2-29. (See right)
Robin Apple
solo show at North Tahoe Arts, 380 North Lake Boulevard, Tahoe City, Feb 24-Mar 30. Also in Shadows at the Main Gallery, 1018 Main St, Redwood City, Mar 16 – Apr 19.
Priscilla Otani in
Views from the Edge, Sarah Doyle Women's Center, Brown University, 26 Benevolent St, Providence, RI, through April 6.
Maxine Olson's
works at The Kingsburg Historical Park honoring individuals for contributions to the town and its history, 2321 Sierra St, Kingsburg, CA.
Miwako Nishizawa
in
Berkeley Civic Center Art Exhibitio
n at the Martin Luther King Jr Civic Center, 2180 MIlvia Street, Berkeley, June 16, 2014 through end of May, 2015.
Members, get your shows and workshops listed in
News & Notes
,
NCWCA Calendar
and on the
NCWCA website
! Send jpg image of your work in the show and information about the show to
ncwcachapter@gmail.com
.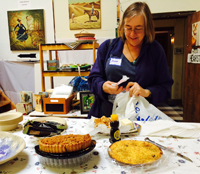 Ann Shulenberger setting up potluck at ArtTag
WELCOME MEMBERS!

Welcome new members, Margaret Lindsay, Gerri Russell, Jane Peterman, Fumiyo Yoshikawa and Barbara Lewicki!

Thanks for renewing Belinda Chlouber, Zeb Dezern, Maxine Olson, Nora Raggio, Joanna Katz, Della Calfee, Kathy Fujii-Oka, Lindsay Alstrom, Mido Lee and Sally Ruddy!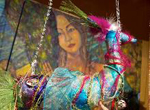 Work by Kathy Fujii-Oka



RENEW YOUR MEMBERSHIP ONLINE



WCA and NCWCA are on a calendar year membership system. Renew your membership now to take advantage of benefits such as announcing your upcoming exhibitions and showing your artwork on our online member gallery. Click here to renew!



2015 MEETING LOCATIONS & DATES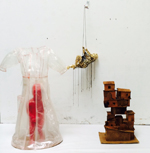 Judy Johnson-Williams' ArtTag

Chapter Meetings are on the second Tuesdays of each month. Look for details on our webpage.
Apr 14: San Mateo
May 12: San Francisco
Jun 9: Oakland
Aug 11: San Francisco
Sept 8: Oakland
Oct 13: San Mateo
Nov 10: San Francisco
December Year-End Party: Oakland
Jan 12, 2016: Oakland



TIPS FOR FORWARDING NEWS & NOTES TO YOUR CLIENT LIST


Before forwarding your copy of the News & Notes to your client list, delete the "Unsubscribe" sentence at the bottom of the newsletter. Otherwise, if one of your clients decides to unsubscribe to your email, they will inadvertently unsubscribe you from future editions of our News & Notes.
Alternatively, you can go to the Publications page of our website and include the URL of any of our newsletters in your own e-news.



MARK YOUR CALENDARS!




March 7

International Caucus' Women Do It! postcard show Phase One deadline. All cards submitted by this date will be exhibited at the March 17 UN Commission on the Status of Women Conference. For details, click here.



March 31

Deadline for renewing your membership. On April 1, 2014 members who have not renewed will no longer receive our newsletters and announcements. Your status will be restored when you renew.



March 30

deadline for submitting to WCA New Hampshire's Force of Nature. To apply, click here.



March 31

deadline for renewing your membership. On April 1, members who have not renewed will no long receive communications from NCWCA. You may still enroll after March 31 - your benefits and communications will be restored when you have done so.



April 12

Art & Healing workshop at the Breema Center with Dr. Lisa Chu.



April 14

Monthly chapter meeting. This meeting will be held in San Mateo at Irma Velasquez's studio. Refer to chapter website for updates on agenda.



April 18

@Large Ai Wei Wei tour is sold out



May 3

Bonny Doon land art day with Leslie Morgan. More details next month!

May 15 deadline for Alameda County Arts Commission Artworks Purchase Program application. For details, click here.



June 5

deadline for submitting to Visaural: Sight, Sound & Action. For details and to apply, click here.



August 5

deadline for Women Do It! postcard show phase 2. For details and to submit your postcards, click here.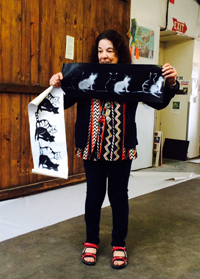 Juliet Mevi showing her ArtTag cats