CALL FOR ENTRY
Exhibition Deadlines
MAN UP! NO BALLS ABOUT IT
Inked Surfaces!
Marin MOCA Summer National Juried Show
Photo Phantasies
Borders/Boundaries
Wabi Sabi
Masquerade
Click
here
for details!
ArtTag Participants
We are looking forward to seeing you with your artwork at our upcoming ArtTag meeting at the Sawtooth Gallery in Berkeley, 10-1 pm on May 20.

Please contact Kelly by email kellyhammargren@comcast.net or cell 510-325-1218 for your questions about ArtTag.
Art Workshop at Ghost Ranch in Abiquiu, New Mexico, May 6-13
I have organized a painting (watercolor, pastel, acrylics, graphite-not oils) week at beautiful Ghost Ranch in Abiquiu, New Mexico, for the week of 6-13 May, 2012. There is room for 3 more people at this wondrous place. There is no instruction, just a full week of painting or doing something creative.
Cost is based on Ghost Ranch pricing of around $850-1300 for the entire stay at the ranch. This price includes room (single or double), food, large studio for all, 24/7 library, museum, hiking areas galore, etc. You will need your own transportation. You can also write poetry, songs, create with collage, make jewelry,etc. etc.!
Check out the website:
www.ghostranch.org
See my website,
Mary Lou
or contact me:
mldauray@gmail.com
More Workshops!!!
Embracing the Mystery
Opening to Your Inner Wisdom
Transformative Art Workshop Series 2012
I'm revving up the Kitsune Community Art Studio again and introducing a whole new series of classes!
"Not knowing" can be uncomfortable at times…and it can also be invigorating!
This transformative art workshop series of 8 sessions is about letting yourself
"be in the mystery" and exploring methods that offer insights, clues, and aha
moments. Through the process of art, expansion and transformation can be yours.
Art is not only about the end product; it is about the process of experiencing materials
and immersing yourself in creating.
The art-making sessions will be fun, exploratory, interactive,
eye opening, and you choose how deep you want to go. You'll make some cool things
that you can share with others or make just for yourself.
Sign up for the whole series or as many sessions as you like. Of course, an accumulative process will
allow you to gain more information about yourself and explore more new art media and subject matter.
Check out the attached class descriptions and calendar. Or click on this link for details:
Obituaries
Rusty Cantor: Aug 6, 1927-Mar 13, 2012
Our beloved member and President Emerita, Rusty Cantor passed away at home on March 13, surrounded by family and friends from NCWCA. Rusty was a leader of our chapter for many years and, as quoted by Eleanor Dickinson, "She had quite a life, loved by most, angered by a lot, starting a lot of issues and causes." She was unabashedly feminist, a strong voice against censorship, and advocate for women's works to be represented in galleries. Margot Comstock wrote a press release for Rusty a few years back. To read about Rusty and see her work, click here,
Visit our website.
Visit us on Facebook.
EXTERNAL COMMUNICATIONS CHAIR MESSAGE:

Dear NCWCA Member:

Your Board had a lively meeting and potluck at Judy Johnson-Williams last month. Thank you to Gretchen for writing the Minutes in Judy Shintani's absence. Please inquire with Judy for the report.

Several Members have work in shows this Spring. Click on the links to our website for more information.

Thank you Judy Johnson-Williams for your submissions to our Newsletter. Please send your articles by May 28 for the next Newsletter. Send your photos, (JPEGS only), no larger than 600 pixels in any direction, and links to your websites with your PDF's for the newsletter, as extracting information from the PDF's is getting cumbersome with the current Vertical Response technology.

Remember to come with your ArtTag pieces to the Sawtooth Gallery in Berkeley on May 20.

We send our condolences to the family of Rusty Cantor, who passed on March 13, 2012.

Thank you,
Elise Cheval
Editor
Honoring Women's Rights: Sept 8
Coming this fall: Honoring Women's Rights, a Pacific Region Conference at the beautiful John Steinbeck Center in Monterey Bay.
A dynamic committee from NCWCA, Monterey Bay, Peninsula, and South Bay Area are working to make this a memorable 40th anniversary conference. Through collaboration and networking, we're lining up a stellar group of speakers, panelists, films and exhibition jurors.
Earlybird tickets go on sale on May 15 so watch this website for a link.
Click here for details about the conference.
Click here to submit to the juried show.
Click here for Facebook information.
For more information, contact Susan Kraft
650-444-1354
www.sbawca.org
www.kraftart.com
From your Vice President, Judy Johnson-Williams
Thanks for the great response to 'why didn't you enter the member show? Because of that response, I'd like to keep the conversation going. The board is looking at the activities and events we've offered and how well (or not) they are attended. We are thinking about two general categories: things that are for developing skills/enhancing our art business and things that are fun and/or inspirational. What is your opinion?
As before, if you'd like to keep your comments anonymous, let me know. Send comments to; mailto:judy_j-w@ix.netcom.com:
Critique Group
We have had a Crit Group for almost a year and have a dedicated band of about 10 members, though we've never all showed up at the same time. We alternate monthly, between a weekday late afternoon and a weekday evening. As a small group that is intensely focused on critiquing work in progress or newly finished work, our discussions have covered a broad range of questions including, "Is it finished?' to 'What do you think I'm trying to say' to 'Why do I sell, but get rejected from shows?' Even when one doesn't have work to show, critiquing other work, increases one's ability to understand work that is foreign to an artist and also, gives us practice in articulating critical concepts. Unlike the perception of critiques, we leave the crit group, fired up and exhilarated about the direction we are going.
If you'd like to know more, contact me.
MEMBERS IN THE NEWS
Members' Spring Shows
Claudia Chapline
, Oliver Ranch Tour, a benefit for Art at the Cheese Factory on June 2.
Elise Cheval
, Check out our progress at Project GREEN RUNWAY, with our upcoming TRASHION SHOW, at the Marin Sanitary Service, June 16, 4-6 pm.
Belinda Chlouber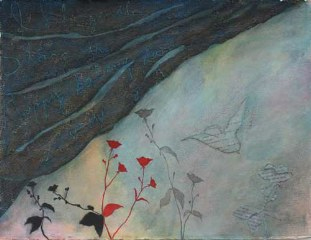 A Collaboration of Words and Images
Redwood City, CA –On view April 25th through May 26th at The Main Gallery is the exhibition The Poetic Image with Belinda Chlouber, Pixie Couch, Diana Herring, Nina Koepcke, Terrie Wilson Moore, Andrea Rosenman, Ginger Slonaker, Teresa Silvestri and Tony Williams.

The gallery, located at 1018 Main Street in Redwood City.

There will also be a closing reception with poetry readings and artist talks on Saturday May 26th from 4:00 p.m. to 6:00 p.m.
The Main Gallery
, an artists' cooperative with some 23 members, showcases the work of some of the best local talent in the Bay Area. The Gallery is located at 1018 Main Street at the corner of Main and Middlefield in the historic yellow Victorian Cottage in Redwood City. The Gallery is open Wednesday through Sunday from 10:00 am to 3:00 pm. For more information, please visit our website at
www.themaingallery.org
or call the Gallery at (650) 701-1018.
M.C. Carolyn,
"Consequences" Show, at ARC Studio & Gallery, Opening 5/12, 6 - 9p.
MARY MAUGHELLI
Early Work: Paintings and Monotypes
are on display at FIG TREE GALLERY from May 3 - June 3, 2012
Sally Ruddy,
"Queen of Hearts" (60x48 inches, Oil on Canvas) March 23 to May 23, 2012 in the "HERstorically Speaking" Juried Multi-media Exhibition, at the Johnson & Johnson World Headquarters Gallery, New Brunswick, NJ. Read more.
Shizue Seigle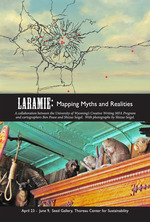 Laramie: Mapping Myths and Realities
A cartographic collaboration between Ben Pease and Shizue Seigel and students of the University of Wyoming Creative Writing program
After our collaboration on the award-winning book
Infinite City: A San Francisco Atlas
, cartographers Ben Pease and Shizue Seigel followed author Rebecca Solnito Laramie, Wyoming, for a collaborative study of place with Creative Writing MFA students and local artists. The resulting maps and essays explore myths and realities about cowboys and feminists, saloons and beauty salons, Cold War and global warming. Accompanied by Shizue Seigel's photographs.
Thoreau Center for Sustainability
Presidio of San Francisco.
www.
thoreau.org
1014 Torney Avenue (at Lincoln Blvd)
Exhibition Dates: Monday, April 23 - Friday, June 8, 2012, Mon-Fri, 9am-5pm
This newsletter is designed to offer NCWCA members a platform to share their works, ideas, stories and opportunities that benefit our communities and fellow art activists. We welcome your feedback and articles. This newsletter will be published on the 1st and 15th of each month. Content must be received three days before the publishing dates to be considered for the newsletter. Email your contact to elisecheval@hotmail.com and put "Newsletter" in the subject line.

Sincerely,

Elise Cheval, Editor
Northern California Women's Caucus for Art