POSTCARD FROM ALCATRAZ
Dear Ai Weiwei,
On Saturday, April 18, 2015 a small group of NCWCA members and their guests took a crowded ferry to Alcatraz Island to visit the @Large exhibit that you conceptualized and designed but were not able to see in person. The art excursion was loosely spearheaded by me with the assistance of Irma Velasquez. I emphasize the word "loosely" as I intentionally did not lead a structured tour given that the exhibition was a meditation on the concept of freedom. We started off by entering the New Industries building together, where we encountered a magnificent dragon, the centerpiece of your kite installation With Wind. The fanciful fierceness of the dragon kite, composed of smaller multiple kites handmade in China, belies the fact that it exists trapped in a room and has never been flown. What a perfect visual metaphor for the situation of political prisoners worldwide, many of whom you honored with Trace, the floor installation in the adjacent room.
Created entirely out of Legos, Trace was truly a sight to behold. I must confess that it was nevertheless a bit unsettling to peer down at 170 portraits of familiar and unfamiliar faces lying on the floor. You made certain that every visitor would encounter the visages of Americans Edward Snowden, Chelsea Manning, and Martin Luther King Jr. by placing them right by the entry way. We spent quite a while in the cavernous gallery before heading upstairs to the narrow gunnery. There through bars and dirty broken windows we could catch a glimpse of Refraction, a sizable installation comprised of Tibetan solar panels, steel, and tea kettles in the shape of a bird's wing. We were able to both be observed and to survey those down below looking at the Lego portraits before climbing a hill to the infamous Alcatraz Penitentiary Cellblock A. Some of us took selfies as we sat on small stools in 12 tiny cells that made up the sound installation Stay Tuned. As feminists we were particularly moved to hear Pussy Riot's "Virgin Mary, Put Putin Away (Punk Prayer)." It took a while to find the right staircase to walk upstairs to the Hospital Wing and Psychiatric Observation Rooms. The delicate porcelain flower sculptures placed in plumbing fixtures created the haunting Blossom installation. We were reminded of the fragility of hope and how easily one's dreams can go down the drain. Standing in tiled isolation chambers of the sound installation Illumination enabled us to reflect on the ongoing oppression of Native Americans in the United States and Tibetan monks in China.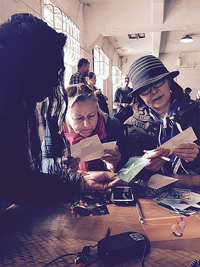 Finally, after splintering off on our own or in pairs for much of the exhibit, a number of us reunited in the former Dining Hall that was turned into the makeshift library installation
Yours Truly
. There we wrote postcards to currently incarcerated political prisons with the postcards that were provided for free. I did not see a postcard with your name on it. While it is true that you are no longer detained in a prison, your passport remains revoked and you cannot leave China. With the seven installations of
@Large
housed at Alcatraz, you enabled us to see the concept of freedom in the following three ways simultaneously: artistic freedom, political freedom, and physical freedom. Thank you so much for your ongoing revelatory courage, and we wish for you and all political prisoners who remain unlawfully detained the immediate restoration of your liberties and human rights. As activists and artists, we regret you were unable to see in person your extraordinary exhibition at Alcatraz.
Sincerely,
Tanya Augsburg
CALL FOR '12' NCWCA MEMBERS EXHIBITION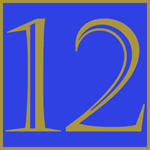 "12" celebrates work completed by NCWCA members within the last 12 months. All subjects, styles, media, and practice disciplines will be considered. It is our intention to represent all members who submit entries by the deadline of June 17. Work selected by the exhibition curators that does not fit into the parameters of Warehouse 416 will be exhibited through our online gallery and represented in our exhibition catalog. For detailed prospectus and to apply, go to
http://www.ncwca.org/12-2015-ncwca-members-exhibition.html
.
LAND ART AT LESLIE'S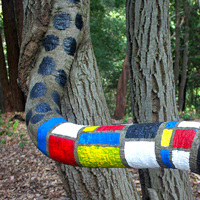 by Judy Johnson-Williams
What a great day of art-making! We met at Leslie Morgan's spacious new studio(check out the retractable hanging bucket lights, rain water recycling in the toilets, furniture made from construction scrap and/or wood milled on the property-especially the charred stump pedestal for the sink in the loo). After gawking, she laid out the ground rules (yes! there were chain saws, blowtorches, chisels, and paint) for the abundant wood from her redwood forest. We traded ideas, formed into small groups and off we went. My group used Annie Ingraham's idea of a giant yo-yo, partially because it meant chain saws. What a difference the scale of tool makes--cutting through a 16" round of dense oak really was like a hot knife through butter. There was also silver painting of gigantic shelf fungi, Mondrian-like branch painting, chiseling into burnt redwood stumps and so many more. Everyone worked until around 4, then a tour of the works, followed by a happy hour and we dispersed. So many more unexplored ideas, we'll have to go back. (Photo by Judy Shintani)
FIVE REFRAINS BY PAMELA BLOTNER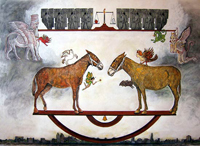 At our May chapter meeting, artist Pamela Blotner presented her body of work, which covers environmental as well as global human rights concerns. She recounted her experiences with the Houston Zoological Gardens as well as her more recent work with the Human Rights Watch, Physicians for Human Rights, the UC Berkeley Human Rights Center, Art for Conservation and the Leatherback Trust. She has created important public works through the Leatherback (turtle) Trust and helped document the effects of genocide in Eastern Europe. It was a fascinating talk by an activist artist.
SOLO MUJERES AT MISSION CULTURAL CENTER
by Judy Shintani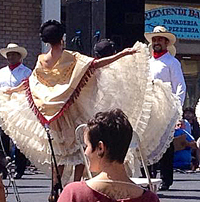 We had a nice turnout of for the field trip to the Mission Cultural Center for Latino Arts in San Francisco. It was the last day of the 29th Annual Solo Mujeres: Intersectionality Art Exhibition. The exhibition invited women artists to explore how womanhood intersects with race, ethnicity, social class, and sexual orientation. With 22 artists and a variety of media from poetry, video, textile, painting, sculpture and installation; we had a lot to see and read about.
We then went to a Salvadoran restaurant, La Santaneca De La Mission, for delicious pupusas and more discussion on art and life.
I had two installations juried into the Solo Mujeres exhibition and highly recommend NCWCA members apply for the exhibition next year. In addition to a dynamic opening and closing with performances and live music by women, each artist got an exhibition catalog. A highlight was meeting the other artists in the show. I invited artist Tessie Barrera-Scharaga to speak at a NCWCA Board meeting in April. (Photo by Judy Shintani)
PRINT PUBLIC WALKING TOUR WITH KALA
What
NCWCA and Kala are co-sponsoring a walking tour of Print Public. Print Public is an innovative place-making project bringing Kala Art Institute and multiple community partners together to create art installations, print kiosks, pop-up projects and other innovative acts of culture along San Pablo Avenue in West Berkeley. Artist-teams are working with UC Berkeley Department of City & Regional Planning and developing distinct projects within the San Pablo Avenue transit corridor, creating an arts-integrated approach to urban planning and community activation.
Where
Kala Art Institute, 1060 Heinz Ave, Berkeley. Kala Art Institute's mission is to help artists sustain their creative work over time through its Artist-in- Residence and Fellowship Programs, and to engage the community through exhibitions, public programs and education. Kala's high quality printmaking and multimedia studios are located in Berkeley, CA.
BOLINAS ART DAY
When
May 31, 12 – 4:30 PM
Enjoy a day of exploration and inspiration in the secretive town of Bolinas. We will start in Watercolorist Sally Robertson's beautiful garden where she will speak about her work and lead us on a tour of a private sculpture garden and art collection. We will also check out the Bolinas Art Museum. Later in the afternoon you can wander to the beach to dip your toes in the water, sketch, and photograph. Open to NCWCA member and friends. Bring something yummy to share for lunch! Click
here
to RSVP.
WHO'S AFRAID OF FEMINISM ARTISTS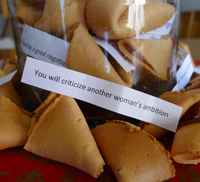 Congratulations to artists selected by juror Catherine Morris for the National WCA exhibition,
Who's Afraid of Feminism.
The exhibition runs from Sept 10 - Oct 11 in AIR's new gallery in Brooklyn.
Artists Laurie Edison, Judy Johnson-Williams, Kay Kang, Priscilla Otani, Cristina Velazquez. Although NCWCA members were selected for the online gallery. We are proud to have such a large number of chapter artists represented in the online gallery and print catalog! (Image right: details from Priscilla Otani's "Ms. Fortune")
JUNE OPEN STUDIOS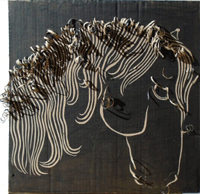 Barbara Lewicki,
May 16-17,
11AM - 5PM at 1168 Date St, Montara. Silicon Valley Open Studio.
Mary Shisler
, June 6-7 & 13-14 from 11AM - 6PM at Sawtooth
Building, Studio 31, 2547 8th St, Berkeley. East Bay Open Studio.
Juliet Mevi,

June 6-7 & 13-14 from 11AM - 6PM at Sawtooth Buiding, Studio 39, 2547 8th St, Berkeley. East Bay Open Studio.



Salma Arastu,

June 6-7 & 13-14 from 11 AM - 6PM at Sawtooth Building, 2547 8th St, Berkeley. East Bay Open Studio.
Joanna Katz

, Jun 6-7 & 13-14 from 11AM - 6PM at 1307 Channing Wy, Berkeley. East Bay Open Studio.
Judy Johnson-Williams

, Jun 6-7 & 13-14 from 11 AM - 6PM, 347 Lewis St, Oakland. (Image above). East Bay Open Studio.



Joanne Yeaton,
June 6 - 7, 11AM - 6PM, 2733 Alcatraz Avenue, Berkeley. East Bay Open Studio.
Priscilla Birge

, Jun 6-7 & 13-14 from 11 AM - 6PM, 4250 Horton St., #3, Emeryville.
MEMBER SHOWS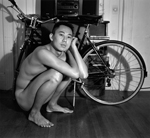 Laurie Edison
in
No Museum, No Life? -Art-Museum Encyclopedia to Come From the Collections of the National Museums of Art, The National Museum of Modern Art, Tokyo, Japan, June 16 – September 13, 2015. (See image Left)
Leslie Morgan
in SERENITY: ELEVATED JOY, UCSF Women's Health Center, 2356 Sutter Street Floors 3.4.5.6, San Francisco, Apr 29 - Jul 14. Also Make It Work - Art Inspired by Tools and Work, Studio Gallery, 1641 Pacific Avenue, San Francisco, May 14 - June 8. Also Reflect+Create: Where Art and History Intersect, Los Altos History Museum, 51 So. San Antonio Rd, Los Altos, May 7 - Oct 4. Also Hospitality House 30th Anniversary Art Auction, White Walls Gallery, 886 Geary St, San Francisco, May 8, 2015 6pm.
Kathy Fujii Oka
in solo exhibition, Oceanscape and Nature Paintings, Firehouse Art Center, 444 Railroad Ave Pleasanton, May 2nd through June 10. (See image Right)
Salma Arastu
in solo exhibition, Unity of Sacred Symbols and Texts, 300 Jefferson Street Gallery, 300 Jefferson Street, Oakland, May 14 – 17. Also SERENITY: ELEVATED JOY, UCSF Women's Health Center, 2356 Sutter Street, San Francisco, Floors 3, 4, 5, 6, Apr 16 – Jul 14.
Barbara Lewicki
in A Visit to Namibia, A Woman's Eye Gallery, 678 Portola Drive, San Francisco, J
​Fumiyo Yoshikawa
solo show at Walnut Creek City Hall, 1666 N Main St, Walnut Creek, Mar 17 - Jun 1.
Sandra Yagi
solo exhibition at Bert Green Fine Art, 8 S MIchigan Ave Suite 620, Chicago, IL, May 9 - Jun 21. Also Garden of Fernal Delights at Bash Contemporary group show, 210 Golden Gate Ave, May 30 - Jun 27.
Sally Ruddy
in Inspiring Women, Modesto Chapter of the NLAPW group show, Carnegie Art Center: 250 North Broadway, Turlock, Feb 11- Jun 7.
Salma Arastu
in Serenity exhibit at the UCSF Women's Health Center, Apr 15 - Jul 14.
Maxine Olson's
works at The Kingsburg Historical Park honoring individuals for contributions to the town and its history, 2321 Sierra St, Kingsburg, CA.
Miwako Nishizawa
in
Berkeley Civic Center Art Exhibitio
n at the Martin Luther King Jr Civic Center, 2180 MIlvia Street, Berkeley, June 16, 2014 through end of May, 2015.
Members, get your shows and workshops listed in
News & Notes
,
NCWCA Calendar
and on the
NCWCA website
! Send jpg image of your work in the show and information about the show to
ncwcachapter@gmail.com
.
WELCOME MEMBERS!

Welcome new members Christina Velazquez, Lynn Letterman, Holly Jordan, My-Xuan Ho, and Robin Schreiber! Thanks for renewing CJ Grossman and Ruth Peterson Shorer!
We're glad to have and hope to see you soon at our monthly meeting or one of our special events.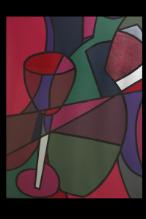 Work by Robin Schreiber



JOIN OR RENEW ONLINE


It's easy! Click here.



NEW P.O. BOX


Our new mailing address is
NCWCA
P.O. Box 31101
San Francisco, CA 94131



2015 MEETING LOCATIONS & DATES

Chapter Meetings are on the second Tuesdays of each month. Look for details on our webpage.
Jun 9: Oakland
Aug 11: San Francisco
Sept 8: Oakland
Oct 13: San Mateo
Nov 10: San Francisco
December Year-End Party: Oakland
Jan 12, 2016: Oakland



ART TAG NOW IN PLAY




Peninsula Group (San Mateo)


Topic is "Ritual." Participants are Carla Periat, Judy Shintani, Sandy Kelly, Nancy Margulies, Uma Rani Iyli, Margaret Lindsay, Elizabeth Addison, Irma Velasquez, and Marian Yap. Round ends August 23.



National (Virtual)


Topic is "Unravel." Participants are Priscilla Otani (San Francisco), Sherri Cornett (Billing MT), Kelly Hammargren (Berkeley), Rosemary Meza DesPlats (Dallas, TX), Judy Johnson-Williams (Oakland), Sondra Schwetman (Arcata, CA ), Amanda Rogers (Dearborn Hts, MI), Tracy Brown (Tucson, AZ), Samantha Dabney (Charlottesville, VA) Round ends on June 15 via conference call.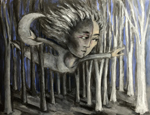 Miriam Fabbri's Art Tag creation
JOIN NEW ART TAG ROUND
May 16 at Judy Johnson-Williams' studio, 3347 Lewis St, Oakland at 10 AM. "Masks" round is concluding and attendees will view/discuss artwork created and decide theme for next round.

May 17 at Arc Gallery, 1246 Folsom St, San Francisco at 10 AM. "Decay" round is concluding and attendees will view/discuss artwork created and decide theme for next round.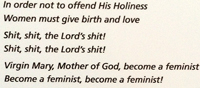 Excerpt from Pussy Riot song exhibited at Ai Wei Wei show





TIPS FOR FORWARDING NEWS & NOTES TO YOUR CLIENT LIST


Before forwarding your copy of the News & Notes to your client list, delete the "Unsubscribe" sentence at the bottom of the newsletter. Otherwise, if one of your clients decides to unsubscribe to your email, they will inadvertently unsubscribe you from future editions of our News & Notes.
Alternatively, you can go to the Publications page of our website and include the URL of any of our newsletters in your own e-news.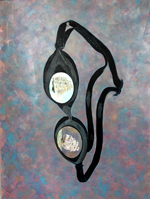 Work by Leslie Morgan above



MARK YOUR CALENDARS!





May 15

deadline for Alameda County Arts Commission Artworks Purchase Program application. For details, click here.



May 16

Print Public Walking Tour with Kala Institute



May 16

End of ArtTag round, "Masks," and new ArtTag round beginning.



May 17

End of ArtTag round, "Decay," and new ArtTag round beginning.



May 25

Deadline for (Dis)Comfort, a Young Women's Caucus exhibition.
Click here for details.



May 31

Bolinas Art Day, 10:30 AM - 4:30 PM



June 5

deadline for submitting to Visaural: Sight, Sound & Action. For details and to apply, click here.



June 9

monthly chapter meeting at Judy Johnson-Williams' studio at 347 Lewis St, Oakland. Check website for agenda closer to meeting date.



June 17

submission deadline for "12," NCWCA members' show.



July 19

National WCA summer board meeting in Plymouth, NH



August 5

deadline for Women Do It! postcard show phase 2. For details and to submit your postcards, click here.